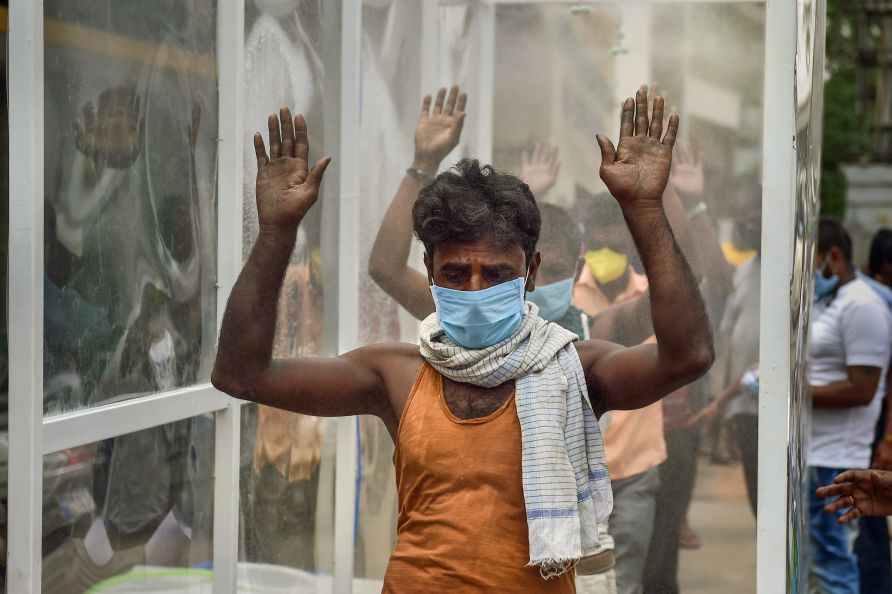 COVID-19 disinfectant tunnels may harm humans more than virus
Both the Central and State governments have been quick to set up disinfectant tunnels to sanitize people in public places amid the COVID-19 outbreak. But what has gone unnoticed is the chemical component — sodium hypochlorite, which is the main ingredient in bleach — present in the sanitizers. Experts suggest sodium hypochlorite can harm certain membranes in the body, instead of killing the virus.
It all started in Uttar Pradesh, where migrant workers were doused with the disinfectant used to sanitise buses. This sparked a controversy as it contained sodium hypochlorite. People took to social media to condemn the incident, forcing the District Magistrate of Bareilly, Nitish Kumar, to order action against officials responsible for the incident.
But when State governments make people enter disinfectant tunnels and spray the same sodium hypochlorite over them, in an organised way, the public seems to have accepted it. Recently, Tirupur Collector Vijayakarthikeyan initiated the setting up of a disinfectant tunnel at a vegetable market in Thennampalayam in the district in Tamil Nadu. It was claimed to be a wise move and a first-of-its-kind in the state.
Related News: COVID will die but not hate, Muslims in TN feel after Delhi incident
According to the Collector, two sets of three nozzles in the tunnel will spray the chlorine compound as people walk inside the tunnel for about five seconds. He told reporters that people had been advised to raise their hands while entering the tunnel for effective disinfection. He also cautioned that the tunnel was only a supplement to other precautions like washing hands and maintaining social distancing.
But according to the World Health Organisation (WHO), the disinfectants will work on surfaces, but not on the human body, and can also harm people. "Spraying alcohol or chlorine all over your body will not kill viruses that have already entered your body. Spraying such substances [alcohol or chlorine] can be harmful to clothes or mucous membranes [eyes and mouth]," WHO said in its advice to the public.
Impressed with the technology, disinfectant tunnels, however, are being widely used in a lot of government offices in Tamil Nadu, Karnataka and Telangana.
Related News: Combo packs of fruits, veggies reach doorsteps in Chennai
Explaining the effects of sodium hypochlorite, a dermatologist, who had retired from a government hospital in Tamil Nadu, said there was no evidence that it can kill the virus on the human body. "Instead, people doused in the chemical compound will get a tan when they are exposed to sunlight. Some will become alright in a month, but for many, the tan remains until they undergo medication," the doctor said.
Another retired doctor, who had been working in the Tamil Nadu Health and Family Welfare Department, too was sceptical about the impact of sodium hypochlorite on the human body. "Since Vijayakarthikeyan is a doctor, I am surprised that he was convinced to use sodium hypochlorite to sanitise people. No results have proven that it would kill the virus in humans," the doctor said.
Sodium hypochlorite is widely used in toilet clearners and mosquito repellents. In some toilet cleaners, 0.5 per cent of the chemical is used. Local bodies in Tamil Nadu use 1 per cent of sodium hypochlorite along with Lysol as mosquioto disinfectant. This sprayed in open drains and streets for vector control.
Related News: Tele counselling centre in Chennai checks on home quarantined
When asked, Vijayakarthikeyan said they were using only 0.5-1 per cent of sodium hypochlorite and opined that it was effective. When informed about the WHO's advice, he cited reports from the European Centre for Disease Prevention and Control (ECDC) and Indian Council of Medical Research to substantiate his claim.
"We had consulted experts and only based on their recommendation, we have launched the initiative. So far, it has been set up in various places and over one lakh people have used it. There has been no issue anywhere. Even in swimming pools, about 2% of Sodium Hypochlorite is used and people continue to go to swimming pools," he said.
However, a retired dermatologist said people usually would be asked to take a shower after a swim. "If not, as everybody knows, people will have eye irritation and rashes," the dermatologist said.
Related News: Palaniswami's Twitter avatar: Tweetheart for some, opportunist for others
When The Federal accessed the reports cited by Vijayakarthikeyan, both ECDC and ICMR have recommended the use of sodium hypochlorite only on surfaces and not the human body. The ICMR, in its infection control guidelines, has recommended the use of 1 per cent of the chemical compound to clean surfaces with blood and body substance spills and they must be left to dry.
According to the ECDC's report, 0.05 per cent of Sodium Chlorite must be used for cleaning surfaces and 0.1 per cent for toilets. Even to clean clothes and Personal protective equipment (PPE) ECDC has not recommended the use of Sodium Chlorite.
Initially, disinfectant tunnels had been set up in China, where COVID-19 was first identified. But even in China, the usage of bleach to douse people came under sharp criticism as it would only harm people.