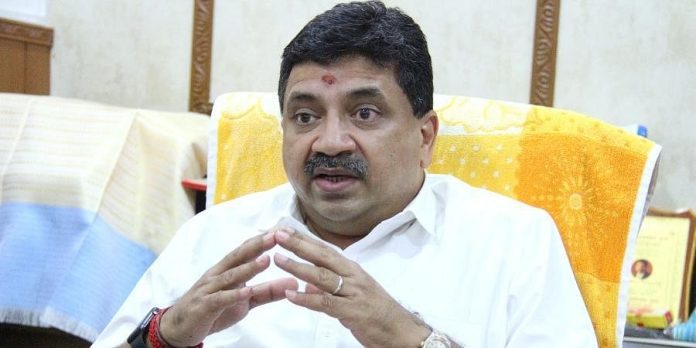 Ending speculation about Tamil Nadu Finance Minister Palanivel Thiagarajan (PTR)'s ouster from the state cabinet over the audio tape controversy, party president and Chief Minister MK Stalin has finally spoken on the issue while condemning the "cheap politics" by state BJP chief K Annamalai.
The chief minister addressed the issue for the first time in 10 days since a leaked audio clip emerged in which PTR is purportedly heard saying that Stalin's son Udhayanidhi and son-in-law Sabareesan made ₹30,000 crore through corrupt practices. Even though PTR responded twice on the issue saying that the audio files were digitally altered using Artificial Intelligence, the DMK refrained from giving any clarification on the tapes and appeared to wash its hands off the issue by putting the onus of explanation on PTR.
Also read: Audio clip leak: Stalin stands by PTR, accuses Annamalai of 'cheap politics'
Stalin indirectly defended PTR as part of the latest episode of his recorded video show 'Ungalil Oruvan' (One among you), a programme akin to Prime Minister Narendra Modi's Mann Ki Baat, released on Tuesday (May 2).
"The minister has responded twice, in detail. I am tied up with work for people's welfare. I do not want to talk further on this and give publicity to those indulging in 'cheap politics'," Stalin said in the Ungalil Oruvan show.
PTR safe, for now
Even though Stalin hasn't given PTR a clean chit, his latest statement is being viewed as proof that the state finance minister may not lose his cabinet portfolio anytime soon. PTR had met the chief minister twice after the audio tapes got leaked, leading to speculations about his imminent removal from the cabinet. There were reports that Stalin didn't accord PTR importance when he came to the airport to send him off on his Delhi visit last week.
DMK senior leader TKS Elangovan's remark which indirectly meant PTR has to defend himself fuelled the fire. Even though Elangovan called the audio tape fake, he said it was a "personal issue" on which PTR has to take legal action and not the DMK.
Also read: 'DMK Files': Udhayanidhi slaps legal notice on Annamalai, seeks ₹50cr as damages
Pressure on Stalin to respond
Although Stalin's latest clarification has temporarily put the controversy to rest, a new clip might put PTR under further pressure as the party or its leaders haven't directly defended him till date. Even though Stalin has called the release of the clips "cheap politics," he hasn't been very wordy in his defence of PTR.
Stalin was under pressure to respond to the issue from multiple fronts. AIADMK leader Edappadi Palaniswami slammed him for not coming clean on the issue last week after meeting BJP president Amit Shah in Delhi.
Even though BJP state unit chief Annamalai, who leaked the audio files, didn't provide the context of the alleged conversation in the audio clip, the party used it to paint DMK as a "corrupt party." The BJP also raised the issue with Tamil Nadu governor RN Ravi, with whom DMK is having a raucous relationship, to conduct a forensic audit of the audio clip. The sequence of events seem to have led the DMK president to officially respond on the issue.
Controversy has a silver lining, say political observers
Political observers don't see an escalation of the PTR audio issue, at least from the DMK's side.
"PTR was upset with the party when the IT wing chief's position was taken away from him and handed over to TRB Rajaa," said Jagadheeswaran D, a political analyst and former leader of the Lok Satta party.
Also read: PTR pooh-poohs audio clip; Annamalai to meet Governor, seek forensic audit
"That's an old disgruntlement. Even if the audio is true, it must have happened during the time period. I don't see much of it in the present day," he said. Party sources also pointed out that PTR's first meeting with Stalin after the controversy had set things right.
The recent controversies that rocked DMK, including PTR's alleged audio file, have come as a blessing in disguise for the Dravidian party, said a professor with a state university who follows Tamil Nadu politics keenly. "This has given DMK president MK Stalin the opportunity to set the house in order, who has tried to cultivate a pro-people, clean image all these years. Especially, it is a wake-up call one year ahead of the parliament polls which is more than enough time for any political party," he said.