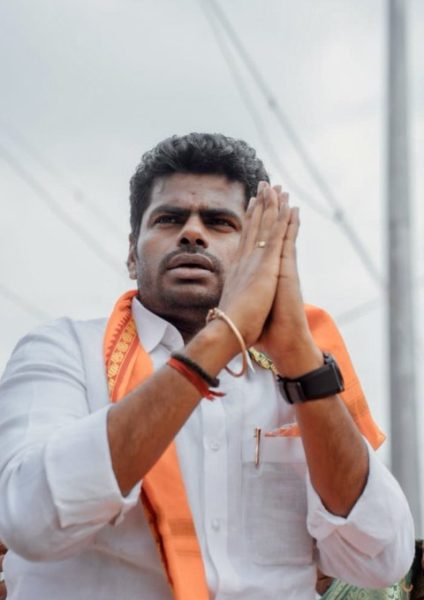 BJP leader K Annamalai in a file photo
Hitting back at the DMK over its legal notice seeking apology and Rs 500 crore in damages for his graft allegations against party president and Chief Minister MK Stalin, Tamil Nadu BJP leader K Annamalai on Monday sought a similar amount from the ruling party for making certain "baseless" allegations against him.
In a statement titled "I am ready for legal action," uploaded on his Twitter page, the state BJP president also claimed there was proof for alleged corruption in the Metro rail project in the earlier DMK regime and said "we are going to submit them to the CBI."
Takes a swipe at RS Bharathi
Taking a swipe at DMK Organisation Secretary R S Bharathi who had issued the legal notice, Annamalai asked him to "remain patient till (CBI) summons are issued to your party president and others involved" in the issue.
Also read: BJP's Annamalai stops media from questioning him, sparks outrage
In its legal notice dated April 15, issued after Annamalai levelled corruption charges against Stalin and other party leaders titled "DMK files", Bharathi had insisted the allegations were "false, baseless, defamatory, imaginary and scandalous."
"The DMK President has not received a single paisa as illegal gratification from any person throughout his 56 years of public life," he had said and demanded an unconditional, public apology from the former IPS officer within 48 hours of receiving the notice. The party had also demanded Rs 500 crore in damages from the BJP leader.
'Baseless and false accusation'
Annamalai, referring to Bharathi's allegations of him receiving illegal gratification from a finance company accused of duping investors, called it "baseless, false" accusation.
Also read: DMK Files: Annamalai claims 27 leaders have assets worth Rs 2 lakh crore
"I demand Rs 500 crore as damages for making baseless allegations against me and the Bharatiya Janata Party (BJP) in the public domain. I wish to pay the sum to PM CARES fund," Annamalai added.
He said he will soon respond to DMK's legal notice, besides sending one demanding damages for making "baseless" charges against him.
(With Agency inputs)