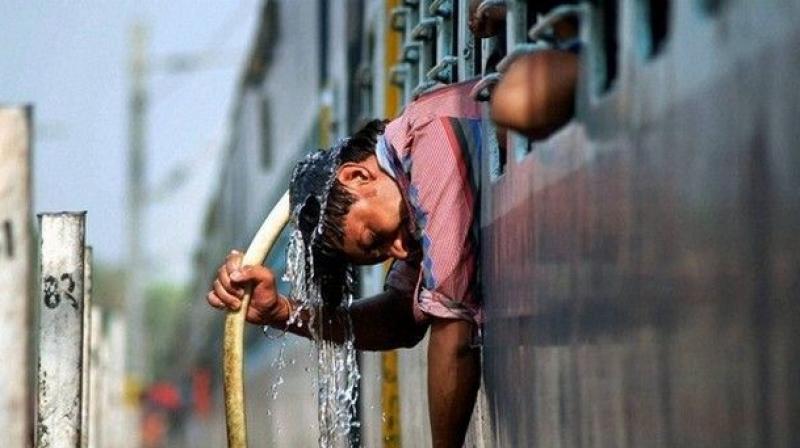 History, state data contradict Centre's huge Kerala heatwave death figure
A Health Ministry statement in the Lok Sabha last week, attributing the highest number of heatwave-related deaths among all states till June-end to Kerala (120), raises questions about the reliability of such data and the data-collection method.
Replying to a question by Ramalingam S, an MP from Tamil Nadu, Satyapal Singh Baghel, the minister of state, ministry of health and family welfare, said in Lok Sabha on July 21 that heatwave claimed 120 lives in Kerala till June-end, the highest in the country.
The state with the next highest number of heatwave-related deaths was Gujarat, at 35, less than a third of Kerala's. Telangana came next, with 20 deaths, Maharashtra had 14, Tamil Nadu and Uttar Pradesh had 12 each, West Bengal had 11, and Madhya Pradesh 10 heatwave deaths.
Among the other states, Himachal Pradesh recorded nine heatwave-related deaths till June, Bihar had eight, Odisha seven, Andhra Pradesh four, and Delhi one, according to Baghel's statement.
Also read: Intense heatwaves singe Asia as summer keeps eating into spring
Abnormally high figure
Ramalingam's questions were on whether the government had any reliable data on heatwave-related deaths across the country over the past 10 years, the remedial measures taken to prevent such deaths, the policy and action plan.
Baghel said the Union Health Ministry had released guidelines to strengthen health systems for heat-related illnesses (HRI) in April 2023.
However, Kerala's placement at the top of the list with such an abnormally high number, has raised eyebrows. The southern state, with summer temperatures usually fluctuating between 29°C and 40°C, is not associated with heatwave-related deaths.
March is usually the hottest month in Kerala, and this year was a particularly hot one for the state around March-April, when it recorded an unprecedented heatwave with record-breaking temperatures, especially in the northern parts. The 40-degree mark was breached several times in several parts of the state. But then, so was the situation, or worse, in many other parts of India.
Figure belies history
The Times of India quoted state government data to say that until the 2023 figures, only one person died of heatwave in 2016 and another in 2019 in Kerala. Even more surprisingly, some other states, which have higher summer temperatures and are more prone to heatwaves, seem to have far fewer numbers than Kerala.
For instance, northern India also suffered deadly heatwaves this summer. The states of UP and Bihar recorded 45°C even in June, with at least 96 deaths from heat-related reasons, of which half of the deaths were reported from a single district — UP's Ballia. The UP government even ordered a probe into the cause of deaths after the high numbers raised a stink.
Interestingly, in the Lok Sabha numbers, the combined heatwave death figure for both UP and Bihar is a mere 20. The TOI report pointed out that according to the Centre's data, more people seem to have died of heatwave in Kerala than of communicable diseases, which accounted for 96 deaths till June 30.
Also read: Why temperature touching 50°C in North India may be the new normal
Question on data source
State Disaster Management Authority officials told TOI that zero heatwave deaths were reported in Kerala in 2023. An official told the newspaper that only 98 cases of heat rashes and sunburn were reported in Kerala till June 7.
It is the SDMA's responsibility to supply information to the National Disaster Management Authority (NDMA) regarding deaths related to heatwaves and heat-related illnesses. It also receives district-wise information on heat-related events from the state health department.
So, the questions that arises is, what was the Centre's source of data? According to the National Guidelines on Heat Wave, there is a committee to confirm the deaths resulting from heatwaves, says a document published by the NDMA, according to TOI.
The Integrated Disease Surveillance Programme, which is a data-monitoring cell under the National Centre for Disease Control, collects heatwave-related illness and casualty data in heatwave-prone states. A three-member committee verifies the information collected by the state governments at the district level before sharing it with the national authority, according to the document, reported TOI.