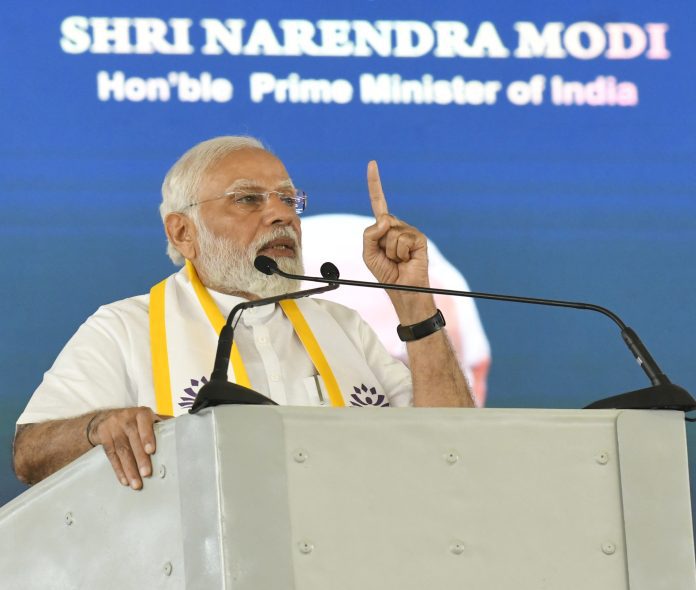 Prime Minister Narendra Modi will be on a visit to Karnataka on Saturday during which he will take part in various official events and address a mega public meet organised of the BJP. This will be his seventh visit to the poll-bound state this year.
The Election Commission is expected to announce the poll schedule for Assembly elections, due by May, in the next few days.
Modi will inaugurate Sri Madhusudan Sai Institute of Medical Sciences and Research at Chikkaballapur, and Whitefield (Kadugodi) to Krishnarajapura Metro Line of Bangalore Metro. He will then proceed to the district headquarters town of Davangere and address a public meeting, to mark the culmination of BJP's Vijay Sankapla Yatre.
Also read: Karnataka polls: Unsure of Hindutva sentiments, BJP on a statue-building spree
According to BJP sources, this is said to be the first party meeting which the PM will be attending, since the poll preparations began in Karnataka. A total of 10 lakh people are expected to participate in the rally, Davangere BJP MP GM Siddeshwar said. The pandal has been erected in 400 acres of land next to GMIT College.
BJP State General Secretary Mahesh Tenginakai said the Yatre covered a distance of 5,600 km and millions of people attended it in 224 constituencies. Catering arrangement has also been made for the rally and 400 counters will be set up. A thousand cooks have been assigned and 44 places have been identified for parking.
Senior Congress leader Siddaramaiah's 75th birthday bash was also held at centrally located Davangere, in August last year, which was attended by a large crowd. Following that large scale event, local BJP leaders had been mounting pressure on the party to organise an even bigger public meet in the region, ahead of assembly polls, according to sources.
Also read: Karnataka polls: Will be back as CM again, says Bommai
Electronics cluster cleared

Meanwhile, the Centre has cleared the third electronics manufacturing cluster for Karnataka, which will be set up in the Dharwad district, Minister of State of Electronics and IT Rajeev Chandrasekhar said on Friday.
According to the documents shared by the minister on Twitter, the electronics manufacturing cluster (EMC) project will cover an area of 224.5 acre at a cost of over Rs 179 crore, comprising central financial assistance of over Rs 89 crore.
The EMC will be spread over two villages of Kotura and Belura, covering an area of 88.48 and 136.02 acre, respectively. It is likely to catalyse investments of over Rs 1,500 crore in the near future and generate employment for over 18,000 people.
"Nine companies and start-ups have already committed to make an investment of Rs 340 crore with employment potential of 2,500 people," the statement said.
(With Agency inputs)