The BJP is heavily leaning on gods and historical icons to help it win the next Assembly elections in Karnataka, the only state in southern India that it rules.
The ruling Bharatiya Janata Party (BJP) has gone on a spree of putting up statues of all sizes across the state in a bid to tap the emotive connect of various groups among Hindus.
The aim is to pick up every single vote that may come its way by tapping the emotion of voters.
Also Read: Kannada actor Chetan Kumar arrested for controversial tweet on Hindutva
BJP sources told The Federal that two dozen iconic legends and heroes, mostly from Karnataka, have been identified so far.
There will be statues and theme parks planned for them. Places associated with them will also be renovated.
BJP rationale
Senior BJP party worker MH Shridhar explains the rationale: "We identify the local culture and local heroes who served the society and nation and give credit to them. The Congress went for statues of one family and named institutes after Gandhi family members. The BJP is not like that.
"The 'Sanskritika Prakoshtha' of Sangh Parivar suggests giving importance to such personalities. It may help politically, but preserving culture is our aim," he told The Federal.
Chief Minister Basavaraj Bommai has taken part in at least 15 such events since November last year.
Also Read: Need destruction therapy? Head for Rage Room, the latest rage in Bengaluru
A statue of Kempe Gowda, who built modern Bengaluru, has come up; so have statue of Goddess Bhuvaneshwari at Kannada Sahitya Parishat in Bengaluru, of Lord Parashurama in Karkala, former prime minister Atal Bihari Vajpayee in Bengaluru, freedom fighter Kedambadi Ramaiah Gowda at Mangaluru, Shivaji in Belagavi, cinema star Rajkumar in Bengaluru, progressive Kannada poet Akka Mahadevi in Shivamogga and Male Mahadeshwara's in Chamarajanagar.
The BJP has also identified Hindu temples to be renovated.
Various communities
A 108-ft-statue of Kempe Gowda, a Vokkaliga chieftain of the Vijayanagar Empire who built Bengaluru in the 15th century, was inaugurated at the Bengaluru International Airport by Prime Minister Narendra Modi in November.
The Vokkaligas are presently backing mainly the JD-S and the Congress in Old Mysuru region. The community's 16 per cent of population is spread across mainly in Bengaluru rural, Ramangar, Mandya, Mysuru, Chamarajanagar, Hasan, Tumkur, Chikkaballapur and Kolar districts.
Also Read: In Bengaluru, rent won't do; some tenants need LinkedIn profile, CIBIL scores
A statue of Kedambady Ramaiah Gowda was unveiled in Mangaluru city, also in November. He, too, was a Vokkaliga and fought the British in the 18th century.
A statue of Basavanna, a 12th-century Lingayat social reformer, will be built at the bank of Ghataprabha river in Belagavi and on the Vidhana Soudha campus in Bengaluru. Lingayats are the major community of the state with around 17 per cent of the population, mainly spread in the North Karnataka districts.
A statue of 12th-century Kannada progressive poet Akka Mahadevi was unveiled at Shikaripura in Shivamogga on March 15. This is meant to appease Veerashaiva Liingayats.
Statues galore
The government plans to install a statue of freedom fighter Kitturu Rani Chennamma (Queen of Kitturu) at Suvarna Vidhana Soudha, Belagavi. Her Lingayat origin may help the BJP.
The government is mulling over building a statue of freedom fighter queen Belavadi Mallama, also in Belagavi. She belonged to the Nayaka community, now a Dalit caste.
Statues of Sangolli Rayanna at the Belagavi Suvarna Vidhana Soudha and at the main Vidhana Soudha in Bengaluru besides government schools will aim at wooing the Kuruba votes in Old Mysuru region as well as the central and North Karnataka districts.
A Shivaji statue is being planned at Mangaluru, a strong Hindu belt.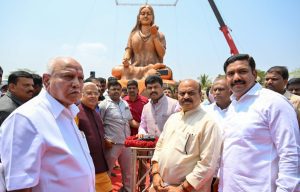 A statue and a theme park are planned for queen Chennabhairadevi, who fought the Portuguese in the 15th century. This will woo the Jain community, which numbers around 5 lakhs in the state.
A statue and theme park of Rani Abbakka Chowta is under process by the government. She was from the Bunt community, which is dominant in the coastal districts of South Kanara and Udupi.
More statues
A statue of Male Mahadeshwara was unveiled in Chamarajanagar on March 18. Dalits and OBCs in Chamarajanagar district and Old Mysuru region revere Mahadeshwara. LIngayats also worship him.
Goddess Bhuvaneshwari's statue is to be built at Kalagrama in Bengaluru.
Statues are being built for Koti and Chennaya, folk legends from the Billawa community, the major community in Dakshina Kannada, Udupi, Shivamogga and North Kanara districts.
Renovation of the popular Rama temple at Ramadevara Gudda, Ramangar, has been announced.
Also Read: Gowda warriors row: Vokkaliga seer steps in, move to make film dropped
Lord Hanuman's statue at Kunigal in Tumkur was inaugurated last year by the Chief Minister.
Prime Minister Modi garlanded the statue of Valmiki Maharshi in Bengaluru. He is said to represent the Nayak or ST community.
The Chief Minister has announced Rs 5 crore to develop the birthplace of Allama Prabhu in Shivamogga district. The 12th-century saint hailed from the Lingayat community.
BJP trick
Social scientist A Narayana, a professor with the School of Policy and Governance at Azim Premji University, has his own take on why BJP is doing what it is doing.
"Installing statues of historical figures representing various communities is part of the BJP's social engineering strategy," Narayana told The Federal.
"Despite its long presence in Karnataka, the BJP's Hindutva agenda is slow to find acceptance among people beyond certain pockets. Desperate to expand its social base, the BJP is employing every possible trick at its disposal. Statue politics is one such trick to reach out to communities, big and small."
Will the statues do the trick? Political analyst C Rudrappa is not sure.
"The statue is symbolic and will not turn into votes. The BJP wants to create a perception and play on emotions. These are all tools to face the elections. It may have some impact but the percentage will be very less. There is an anti-incumbency in the state and the BJP's tools won't work effectively."