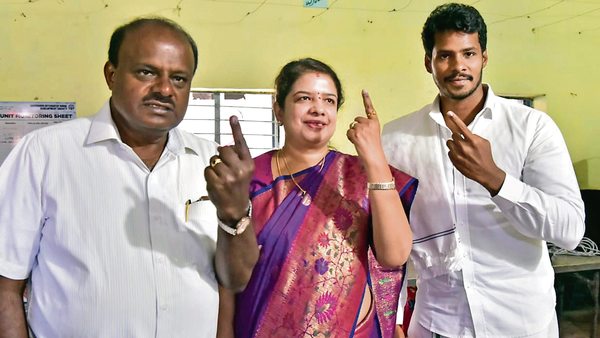 "Hassan politics is different, my wife's politics is different," stated JDS leader HD Kumaraswamy on Tuesday while rejecting media reports about his wife and party MLA Anitha Kumaraswamy's "demand" to contest Karnataka Assembly polls.
"Anitha had earlier contested elections to save the party, when it didn't have candidates in certain key constituencies," he said. She has no interest in electoral politics and has decided to stay away from it, he added. The former chief minister was reacting to media reports that Anitha would press for the Tumkur Rural ticket, if his sister-in-law Bhavani Revanna manages to get the Hassan ticket.
"There is no other confusion among us, there is no confusion even on the Hassan issue. One more thing I saw in a paper and also on a TV channel is that they have brought in the name of Anitha," said the former chief minister.
Also read: Hassan ticket: Kumaraswamy reiterates JD(S) worker will be given priority
'Was in politics for party's pride'

Speaking to reporters in Bengaluru, Kumaraswamy said, "Please, I'm saying this with folded hands. The reason for me to make Anitha to contest in three elections is because there were no party candidates in those seats. To save the pride of the party I got her into politics and made her contest."
The media reports seem to have upset Kumaraswamy amid differences within the family regarding Hassan seat that has become a bone of contention, as Bhavani, who has thrown her hat in the ring, has not relented, despite Kumaraswamy, repeatedly making it clear that she will not be fielded, and instead a "loyal party worker" will enter the fray.
Bhavani, a former Hassan Zila Panchayat member is the wife of Kumaraswamy's elder brother and former minister HD Revanna and daughter-in-law of former Prime Minister and party patriarch HD Deve Gowda. She has the backing of her husband and sons — Prajwal and Suraj Revanna, who are MP from Hassan and a MLC, respectively.
Asserting that Anitha has never made any attempt to harm or destroy the family image and name, Kumaraswamy said she has no interest in contesting polls anymore and she is away from electoral politics. "I had misused her (in politics) when there was no party candidate to save the party's pride….she has no ambition to achieve something in politics. She has stepped aside from electoral politics in favour of son," he said.
Also read: Karnataka polls: Deve Gowda's daughter-in-law claims JD(S) to field her from Hassan
'No competition to fight polls'

Kumaraswamy said there is no competition to fight elections among Gowda's daughters-in-law as being reported in the media. "Hassan politics is different, my wife's politics is different. My wife came into politics to save this party. Don't put her in that category…don't bring my wife's name, there is no question of her contesting, she won't come," Kumaraswamy said.
With signs of the Hassan ticket issue creating a rift within the family, Gowda, who has not been actively involved in political activities for some time now due to age related ailment, on Sunday held discussions with his two sons and Bhavani together, which seems to have failed in breaking the deadlock. Both Kumaraswamy and Revanna have maintained that Gowda's word will be final on the Hassan ticket issue.
Anitha currently represents Ramnagara Assembly segment from where her son Nikhil Kumaraswamy is the candidate for the upcoming polls. Rejecting reports about his mother seeking to contest polls, Nikhil said, "There is no such question. My mother has decided to stay away from electoral politics… I'm too ready to step back from contesting elections, if required and work for the party."
Nikhil, an actor-turned-politician, is JDS youth wing chief and had unsuccessfully contested the 2019 Lok Sabha elections from Mandya.
(With Agency inputs)