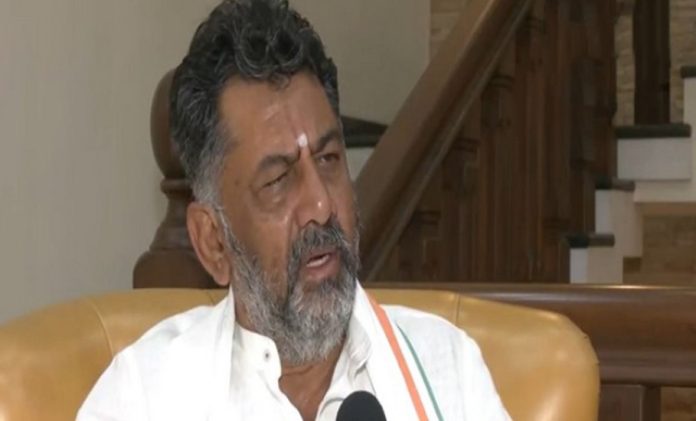 Amid intense lobbying for the chief minister's post, Karnataka Congress president D K Shivakumar, a contender for the top job, is headed to Delhi to discuss the issue of government formation in the state with the party's central leadership.
While the Congress high command had called both Siddaramaiah and Sivakumar to Delhi for discussions, the latter on Monday evening cancelled his visit to the national capital citing health issues, fuelling speculations that all is not well in the party.
Also read: Karnataka conundrum: Congress likely to make Siddaramaiah the Chief Minister
Siddaramaiah is in Delhi since Monday.
DKS, however, has assured that he will not rebel if the party doesn't choose him as the chief minister.
"Ours is a united house, our number is 135. I don't want to divide anyone here. Whether they like me or not, I am a responsible man. I will not backstab and I will not blackmail," he told reporters before leaving for Delhi
A statement from his office said the Karnataka Pradesh Congress Committee president was scheduled to leave for Delhi from Kempegowda International Airport here by a 9:50 am flight.
The three central observers of the Congress, who interacted with newly elected party MLAs on their choice for chief minister, briefed party chief Mallikarjun Kharge and submitted their report on Monday.
The Congress Legislature Party, which met at a hotel in Bengaluru on Sunday, had passed a unanimous resolution authorising Kharge to pick who will be the next chief minister of Karnataka.
Also read: Karnataka: Amid power tussle with Siddaramaiah for CM post, DKS cancels Delhi trip
Shivakumar is locked in an intense power struggle with Siddaramaiah over who will lead the government, after the Congress stormed to power by winning 135 seats in the May 10 elections to the 224-member Karnataka Assembly. Amid speculations about the number of MLAs supporting him and Siddaramaiah for the post, Shivakumar on Monday said his strength is 135, as it was under his leadership, the party won 135 seats.
In just-concluded Assembly elections, the Congress scored an emphatic victory with 135 seats, while the ruling BJP and the former Prime Minister H D Deve Gowda-led Janata Dal (Secular) secured 66 and 19 seats, respectively.
Also read: Tussle for CM post: Under my presidency, Congress won 135 seats in Karnataka, says DKS
(With inputs from agencies)