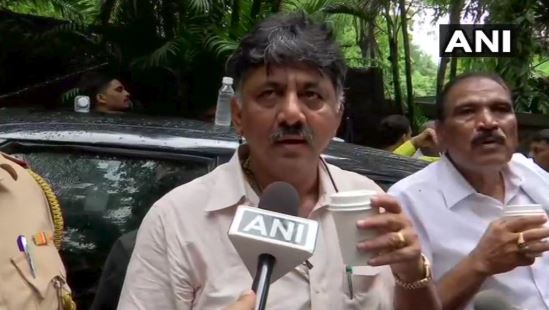 Congress' Vokkaliga leader DK Sivakumar on Monday (May 15) claimed the credit for the party's thumping win in the Karnataka Assembly polls, while stating that he has the backing of all the 135 MLAs, who he claims won because of his leadership.
Sivakumar, also known as DKS in political circles, said he along with Siddaramaiah has been called to Delhi by party high command.
The Congress' central leadership will be deciding on the new chief minister, after its observers submit a report on the opinion of the MLAs which they collected in the Congress Legislature Party (CLP) meeting in Bengaluru on Sunday.
Also read: DK Shivakumar deserves to be CM, says Cong poll stragetist who worked in Karnataka
'My strength is 135'
"We had made a one line resolution, stating we will leave the matter to the party high command. After that some might have shared their personal opinion. I don't have the strength to speak about others' numbers, my strength is 135.  I'm the party president and under my presidency, the party has won 135 seats in Karnataka, against the double engine government, the corrupt administration and suffering of the people. People have supported us and made us win 135 seats," Shivakumar told reporters.
"There has been praise from across the country about Congress' campaign and unity in Karnataka, but the time was not enough and if there was more cooperation from the local level we could have done even better and increased the numbers, but we are happy," he added.
The CLP, which met at a private hotel in Bengaluru on Sunday evening, passed a unanimous resolution authorising All India Congress Committee (AICC) president M Mallikarjun Kharge to pick its leader, who will be the next chief minister of Karnataka.
Noting that the Congress leadership has called him and Siddaramaiah to Delhi, Shivakumar said he might be late in going there.
"Since today is my birthday, a lot of people have come to wish me. I have to visit my deity with my family. After going there, I will leave for Delhi. I don't know what time I will be going to Delhi. I will take whichever flight is available," he added.
Stating that the CLP has passed a single-line resolution leaving it to high command to decide on the chief minister, the KPCC chief said, "Under my leadership 135 MLAs – all of them with one voice have said that the matter should be left to high command."
Also read: Karnataka CM: MLAs' opinion taken, secret ballot done, all eyes on Cong top brass
"I don't have any single number or personal number (of MLAs supporting), whatever my number is Congress number," he said, highlighting that he had assured former AICC president Sonia Gandhi when she appointed him as KPCC chief, as well as Rahul Gandhi and Mallikarjun Kharge that his aim was to deliver a Congress government in Karnataka.
"I'm sure we will keep up our promise, and the rest (CM and ministers), the high command will decide," he said.
Not wanting to respond to a question on claims by other leaders, Shivakumar said, "I don't want to answer any claims or anything. I'm a single man, I believe in one thing that a single man with courage makes a majority. I have proved it. I don't want to disclose what all has happened in the last five years and at a future point of time I will disclose."
To a question on if the "Tiger of Sathanur," as he is fondly called in his constituency, become the chief minister of Karnataka, he said, he will leave the matter to Mallikarjun Kharge, Sonia Gandhi and Rahul Gandhi.
"I'm a single man. Gandhi ji said one thing: Be bold hearted when you are defeated and be large hearted when you are victorious. When all our MLAs – 15-16 of them left the party (in 2019) -, when we had a coalition government and lost it, I did not lose my heart. With courage I had taken up the responsibility (as KPCC President)," he said.
Also read: Karnataka polls I Who will be new Karnataka CM? Kharge to decide
In the May 10 elections to the 224-member Assembly, the Congress scored an emphatic victory with 135 seats, while the ruling BJP and the former Prime Minister H D Deve Gowda-led Janata Dal (Secular) secured 66 and 19 seats, respectively.
(With inputs from agencies)