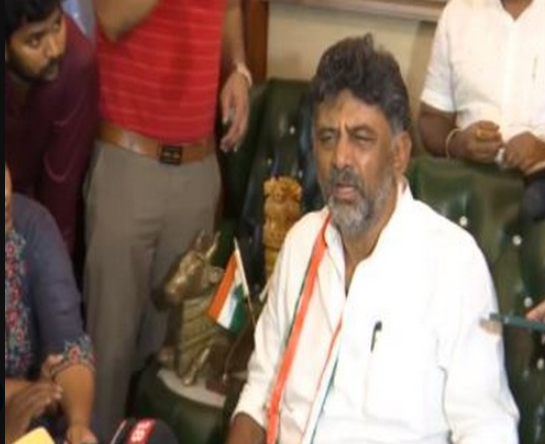 Karnataka Congress president D K Shivakumar on Monday (May 15) cancelled his trip to Delhi, hours after confirming he would be flying to the national capital to meet the party high command, fuelling speculations that all is not well in the ruling camp over the chief minister contender issue.
Shivakumar, who is engaged in a power struggle with Siddaramaiah on the issue of taking reins of the government, cited health reasons for the change in his travel plans.
Siddaramaiah, a former chief minister, had left for Delhi by Monday afternoon to meet with AICC leaders.
Also read: Tussle for CM post: Under my presidency, Congress won 135 seats in Karnataka, says DKS
"I have some problem in the stomach. Doctor is coming in ten minutes. It's burning. It looks like some infection and I have fever…please let me be free…" Shivakumar told reporters.
Sources close to him confirmed he is not going to Delhi on Monday.
Earlier in the evening, Sivakumar claimed the credit for the Congress' stupendous win in the Karnataka Assembly elections, where it wrested power from the BJP by winning 135 seats in the 224-member Assembly.
In an interview with NDTV, Sivakumar said the Congress leadership in Delhi should have the basic courtesy to acknowledge 'his role' behind the party's win in the state.
"Sonia Gandhi told me, 'I have confidence in you that you will deliver Karnataka.' I am sitting here, doing my regular responsibility. You should have the basic courtesy, a bit of gratitude. They should have the courtesy to acknowledge who is behind the win," he told NDTV.
Also read: DK Shivakumar deserves to be CM, says Cong poll stragetist who worked in Karnataka
Speaking to reporters earlier, DKS had said that he and Siddaramaiah have been called to Delhi by the party high command and that he will be going there late due to personal commitments.
"Since today is my birthday, a lot of people have come to wish me. I have to go to my deity with my family, after going there, I will leave for Delhi. I don't know what time I will be going to Delhi. I will take whichever flight is available," he had said.
The central leadership of the Congress is expected to take a call on the chief minister based on the reports of the party's three observers who on Sunday individually spoke and took the inputs of the newly-elected MLAs at the Congress Legislature Party (CLP) meeting in Bengaluru.
The CLP had authorised party president M Mallikarjun Kharge to decide on the chief ministerial nominee, allowing the party chief to decide on an issue that was expected to take centrestage at some point of time post elections in the event of Congress emerging victorious in the hustings. Both Siddaramaiah and Shivakumar have never hid their chief ministerial ambitions.
Also read: Karnataka CM: MLAs' opinion taken, secret ballot done, all eyes on Cong top brass
(With inputs from agencies)