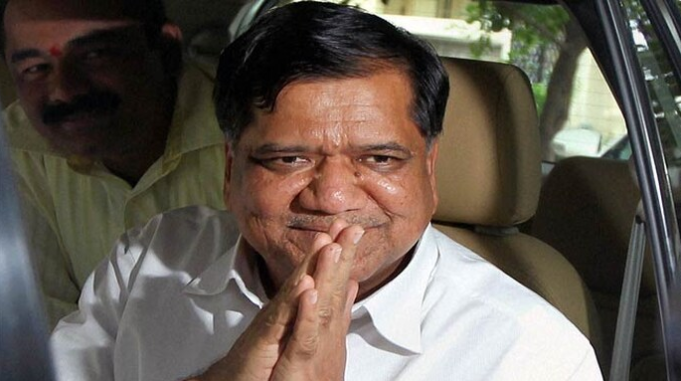 Mahesh Tenginkai, the BJP candidate from Karnataka's Hubbali-Dharwad Central seat, may have pitched his high-stakes battle against Congress rival Jagadish Shettar as a guru-shishya contest, but the former chief minister rejects the billing, saying Tenginkai's "guru is in Delhi".
Shettar, a long-time BJP leader who joined the Congress recently, has blamed the BJP's national general secretary (organisation) B L Santhosh for rejecting his plea for a ticket and fielding Tenginkai for the same seat.
Also read: Karnataka polls: BJP rushes Nadda to Hubbali for 'damage control' after Shettar's exit
An epic battle is on the cards in the constituency with Shettar fighting to retain his traditional stronghold, albeit on a Congress ticket, and the BJP pulling out all stops to beat him and send a message that the organisation is supreme.
Confident Shettar
Shettar expressed confidence that the Congress will get a clear majority and form the government in Karnataka.
"The BJP has disrespected me. My self-respect has been hurt and only for that reason I went to the Congress. I have no expectations from the Congress party. I only expect self-respect and honour. My position will be only of am MLA. I will work for the people," Shettar told PTI on the campaign trail.
Shettar is one of the most prominent political figures in fray in the Karnataka assembly election. His falling out with the BJP over not getting a ticket, and then taking on the party he served for years has been in the spotlight.
Shettar targets BJP leadership
"I have asked the high command and state leaders a number of times to give reasons for denying me the ticket. Is it the age factor, or a survey report or any corruption charges. Any allegation, any scam or any criminal background. But they didn't give any reason. Yesterday, Amit Shah ji said that they have given me the reason but I have not been given any reason and I want to know," he said.
Also read: Jagadish Shettar, ex-Karnataka CM, blames B L Santhosh for denying him BJP ticket
"Even Nadda ji (BJP chief J P Nadda), (Education Minister) Dharmendra Pradhan called me. I asked them whether my popularity has come down? What was the survey report? Both said that in the survey your report is very positive you are a popular leader and you are going to be elected," Shettar claimed.
Asked about Tenginkai recently calling him his guru, the former Karnataka chief minister said, "He (Tengikai) is saying that I am his guru. His guru is in Delhi. He is not my disciple."
Shettar's jibe was apparently directed at BJPs general secretary B L Santhosh, who he has blamed for being denied a ticket. He has many Maanas Putras (a person who is treated like a son), Shettar had said attacking Santhosh after joining the Congress.
Tenginkai told PTI that in 2018 he got a ticket from Kalaghtahi but after filing the nomination, the party asked him to withdraw. "I did that. I did not question the party on their decision. Whatever the party said, I silently followed. I am a worker who follows the party's instructions," he said.
Tenginkai targets Cong
Taking a dig at the Congress, Tenginkai said, "Nobody knows what Rahul Gandhi says in the elections. Everybody will come to know that who is corrupt and who is not. The BJP will form a government in Karnataka with full majority."
Also read: Karnataka polls: Why Shettar's induction is another big boost for Congress
On Shettar questioning his competency, Tenginkai said, "I am very confident that this time I will win the election against Jagdish Atta, my Guru. Jagadish Shettar Sahab will let his shishya win."
Voting will take place in the state on May 10 and the results will be out on May 13.
(With Agency inputs)