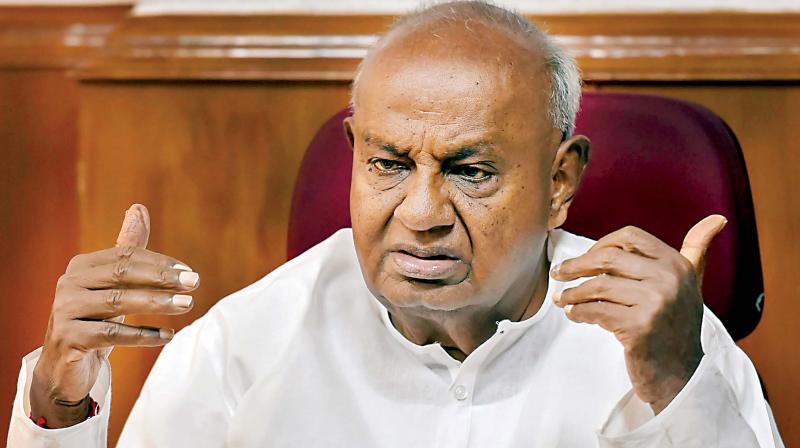 Former prime minister HD Deve Gowda is a worried man. At the ripe age of 90, Deve Gowda, also known as 'Mannina Maga' (Son of the soil), is facing a rift in his family – on two sides are arrayed the families of his elder son HD Revanna and younger son HD Kumaraswamy. To make matters worse, it's getting nasty ahead of the Karnataka Assembly elections, where his party Janata Dal (Secular) hopes to be a king-maker.
The confrontation is brewing between the two sons in the Deve Gowda's family turf of Hassan, from where Revanna's wife, Bhavani Revanna, is seeking a JD(S) ticket to contest. And if the political grapevine is to be believed, HD Kumaraswamy, or HDK as he is known, is opposed to it.
Also read: Hassan ticket: Kumaraswamy reiterates JD(S) worker will be given priority
Two power centres
HDK, the former chief minister of the state, wants to emulate his father by being the unquestionable Vokkaliga leader in the Old Mysuru region. And, he has worked to exercise control over several districts in the region. The only exception is the Hassan district, where the Revanna family is influential.
It all started years ago when Deve Gowda moved HDK to Ramanagar to control the then-emerging Vokkaliga leader DK Shivakumar in the district. HD Revanna was made his successor in the Hassan district politics. This, over the years, has created two power centres in the family — while HDK, his wife Anita Kumaraswamy and his son Nikhil Kumaraswamy concentrated on Ramanagar, Mandya and Mysuru districts, Revanna, his wife Bhavani, sons Prajwal and Suraj focussed on Hassan politics.
Adding a twist to this tale is the friendship between Revanna and Siddaramaiah, former chief minister and Congress leader.
Fight for influence
Ten members of Deve Gowda's extended family are active in politics. The family has two MPs, five MLAs and one MLS. The MPs are Deve Gowda himself in Rajya Sabha and Prajwal Revanna in Lok Sabha; the MLAs are HD Kumaraswamy, Anita Kumaraswamy, HD Revanna, DC Tammanna (father-in-law of Deve Gowda's son HD Ramesh) and CN Balakrishna (brother-in-law of Deve Gowda's daughter Anasuya); and the lone MLC is Suraj Revanna.
Then there is HDK's son Nikhil Kumaraswamy — who lost the Lok Sabha election in 2019 from Mandya and is contesting for the Assembly from Ramanagar this time. And Bhavani Revanna, who is seeking a ticket from the Hassan assembly seat.
The Revanna family wants the control of Hassan district to remain with it – while HD Revanna is an MLA from Holenarasipur constituency in the same district, son Prajwal represents Hassan in the current Lok Sabha and second son Suraj is an MLC from the district. This is the reason HD Revanna is advocating the candidature of his wife Bhavani from the Hassan constituency against BJP candidate Pritham Gowda.
Sources in the JD(S) say that HD Revanna also has a grouse — whenever JD(S) was in power, younger brother HDK became the CM and he a minister in the cabinet. In fact, sources say, when the JD(S)-Congress coalition government was on the verge of collapse in 2019 and there was a bid to save it by changing the CM, Revanna wanted to become Deputy CM to a Congress CM. But the idea didn't work as several Congress and JD(S) MLAs resigned, alleging HDK was neglecting them.
HDK's move
As far as HDK is concerned, he announced his son Nikhil as a candidate from Ramanagar, which in the outgoing Assembly was represented by his wife Anita. Anita has publicly stated that she is sacrificing Ramanagar seat for her son. HDK is said to be telling Deve Gowda that from his side he and his son will be in active politics, and from the Revanna side, the father and two sons are enough to be politically active.
Also read: No question of my wife contesting Karnataka Assembly elections: Kumaraswamy
He is said to be of the view that because JD(S) is always blamed for being a family party, he does not want any more family members to be made candidates in the election as there are several aspirants in the party.
Failed negotiation
The rift between HDK and Revanna factions widened after Bhavani publicly expressed her desire to contest from Hassan and HDK indirectly refused by saying that there were more capable candidates than Bhavani in Hassan.
HDK and his team are firm on not giving a ticket to Bhavani. Instead, they want JD(S) leader Swaroop Prakash to be the party's candidate from Hassan constituency.
HDK is said to have said this in a negotiation meeting held at Deve Gowda's residence for two hours last Sunday night. However, it is learnt that Revanna retaliated by saying that if Bhavani doesn't get the ticket, HDK's candidate Swaroop should not get it either.
Deve Gowda reportedly tried to pacify Revanna's family but Bhavani did not agree and walked out of the house. Spotting Bhavani's fury, Deve Gowda is said to have gone silent. Kumaraswamy reportedly did not like this. In light of this, no final decision could be reached regarding the candidate for the Hassan assembly constituency.
Meanwhile, HD Revanna has reportedly said that Deve Gowda's decision will be final.
Challenging HDK
On the other hand, HD Revanna's son Suraj has said that if Bhavani is made the party's candidate, then the victory in Hassan will be certain, indirectly taking a potshot at HDK for saying that there is a more capable candidate than Bhavani in Hassan. Suraj also said that there is no other person who knows Hassan district like his father 'HD Revanna Saheb', who has been getting six to seven JD(S) MLAs elected from Hassan district. He reportedly said that no one but his father could talk about giving tickets in Hassan district.
Also read: JD(S) will grow beyond old Mysuru and get majority in Karnataka: Kumaraswamy
HD Revanna too has put the blame on HDK in this issue. He told the media recently that he and his father used to take decisions regarding Hassan district politics. He said that this time, even before the ticket issue came up, Swaroop's name was forwarded. "While I was trying to clear the situation, Kumaraswamy had come to help Swaroop. Kumaraswamy's strategy is the reason for this confusion," he said.