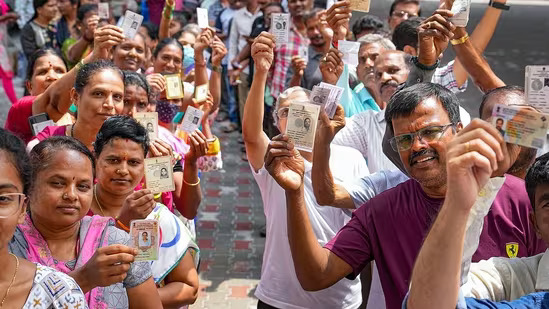 While Karnataka witnessed peaceful elections throughout the state on Wednesday, there were some reports of incumbent MLAs allegedly distributing money and gifts. This invited criticism from the opposition and protesters demanded action against them.
In the Mahalakshmi Layout constituency in Bengaluru, Congress workers protested against the alleged distribution of money in the presence of the incumbent Minister and MLA K Gopalaiah. The workers recorded the visuals of money distribution and staged a protest against the BJP workers, demanding strict action from the Election Commission against the MLA and his team.
Meanwhile, BJP workers in Bengaluru's Chamarajpet constituency alleged that Congress workers, working for MLA BZ Zameer Ahmed, distributed money to voters and filmed the incident. The video, which shows Congress workers urging voters to vote for Ahmed, has now gone viral on social media.
Also read: Karnataka Assembly polls: Ramanagara records highest turn-out; Bengaluru region lowest
In Mandya's KR Pete constituency, BJP workers allegedly distributed sarees and chicken to voters of a Dalit colony. The public threw the items near the house of a local leader and demanded action against the candidate Narayana Gowda and his party workers.
#KarnatakaPollsWithTNIE @KGopalaiahOffi1 faces protest by @INCKarnataka workers as they alleged that his henchman #WaterpountRaami distributed cash to voters at #MahalkshmiLayOut." A CCTV footage is evidence"@XpressBengaluru@AshwiniMS_TNIE @BoskyKhanna pic.twitter.com/DBrAgmHV8C

— Devaraj Hirehalli Bhyraiah (@swaraj76) May 10, 2023
BJP workers in saffron shawls
Additionally, BJP workers and agents were seen wearing saffron shawls near polling booths in several constituencies in Bengaluru and other parts of Karnataka. Opposition Congress protested against this and brought this to the notice of the Election Commission. The workers wore the shawls in protest of Congress's proposal to ban Bajrang Dal in its manifesto, said Ganesh Gowda, a leader of the Youth Wing of the BJP in Vijayanagar. Several polling booths in Bengaluru, such as Malleshwara, Rajajinagar, Rajarajeshwarin Nagar, and Mahalakshmi Layout, saw BJP workers wearing saffron shawls.
In Belagavi district, Congress candidate Dr Anjali Nimbalkar staged a protest against BJP workers wearing saffron shawls and campaigning near the polling station in Khanapur constituency. Allegedly, the BJP workers not only came wearing saffron shawls, but also campaigned for their party near the polling booth. After Nimbalkar objected to the BJP workers, an argument ensued between them.
Also read: Karnataka exit polls: Congress has the edge; hung assembly likely; JD(S) could be the key
Protest by an elderly woman
In another incident, an 85-year-old woman, Muktumbi Doddamani, and her grandson were at a polling station in Mundaragi, Gadag district, when she claimed election officials prevented her grandson from accompanying her during voting. After casting her vote, Doddamani alleged that officials forced her to vote for a different symbol than the one she had intended. She and her grandson protested the alleged misconduct in front of the polling booth.
Villagers crushed the voting machine
In Vijayapura district, villagers destroyed a voting machine and VVPat machine due to misinformation. They also attacked the electoral staff and overturned their car. The officials were carrying additional EVMs and VVPAT machines, which the villagers mistook for something else. The police later registered a case and dispersed the gathering.