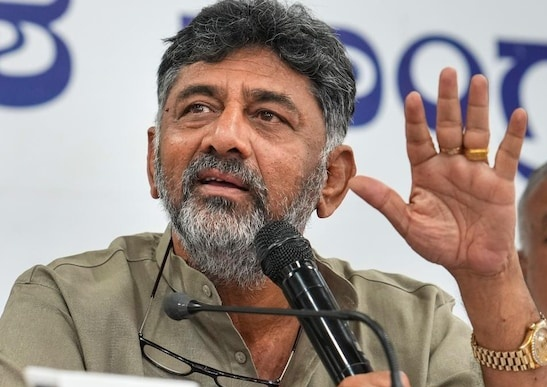 Amid speculations that the Congress may be planning to split the chief minister's tenure between Siddaramaiah and DK Shivakumar in Karnataka, the latter on Monday (May 15) remarked that the post is not an ancestral property to be shared among siblings.
Both DKS and Siddaramaiah are the chief contenders for the post and have made no bones about their claim.
DKS made the comment in an interview with Times of India, soon after he cancelled his plans to visit Delhi to meet the Congress leadership on Monday. The Congress leader is expected to meet the party high command in Delhi on Tuesday (May 16) to discuss government formation in the state.
Also read: Karnataka conundrum: Congress likely to make Siddaramaiah the Chief Minister
While Siddaramaiah took a flight to Delhi on Monday (May 15) to meet the Congress high command, Shivakumar stayed back in Bangalore. He celebrated his birthday with his supporters, and kept himself busy meeting MLAs and his spiritual mentor.
'I have delivered Karnataka to Sonia Gandhi and Mallikarjun Kharge'
In the interview with TOI, he denied that he had given up hopes of becoming the next chief minister of Karnataka. He said that he had promised Sonia Gandhi and Congress president Mallikarjun Kharge that he would deliver Karnataka, and he had kept his promise. He said that it was now for them to make a decision.
He also refuted the claims made by some TV channels that Siddaramaiah had the support of more number of MLAs, and said "there was only one number, 135 (the number of Congress MLAs elected last week)."
In response to a statement that Siddaramaiah had a better image and was better equipped to lead the government, Shivakumar said that he would not stop his opponent's supporters from dreaming, and that he too had a dream to provide good governance and to build the party's image, especially in the rural areas, in preparation for next year's Lok Sabha elections.
Also read: Karnataka: DKS to meet Congress leadership in Delhi today, says 'will not backstab, divide'
On being questioned why he did not go to Delhi on Monday  as planned, he said he wanted to thank his supporters and celebrate his birthday with them. He also said that his blood pressure was high, and that he would be administered a drip in the night.
CM's post cannot be shared: Shivakumar
On the important question of whether he was willing to share the chief minister's post with Siddaramaiah, he made his stand very clear. He said that it was not ancestral property to be shared among siblings, that it was a question of forming a government, and that there could not be any sharing.
When asked if he was being denied just rewards for his hard work, DKS said that he had taken up the responsibility of being the Karnataka Congress president after Dinesh Gundu Rao resigned and the party was in bad shape.
He said he has delivered on his word, given 135 seats to Sonia Gandhi and Mallikarjun Kharge and does not expect any rewards.
Also read: Tussle for CM post: Under my presidency, Congress won 135 seats in Karnataka, says DKS