Even in BJP strongholds across Karnataka, Hindutva falls flat as poll plank
Though Hindutva looks like a formidable electoral strategy in many North Indian states, its limitations in fetching votes are visible in Karnataka. The performance of the BJP in select districts in the latest Assembly elections, which bore the brunt of its communal mobilisation, brings home the challenges it faces in polarising the society.
The strength of Sangh Parivar and the challenges it faces are not uniform across various districts. In a few constituencies it seems to have achieved its polarisation objective, but in most it is work under progress, with the outcome far from given.
Read Part 1: How BJP's Hindutva experiment bombed at electoral box office in Karnataka
On June 16, in the first part of this two-part series, we had published the data relating to Shivamogga, Dakshina Kannada and Bagalkot. Here is the second part of the analysis:
Davanagere
Davanagere, which saw 16 flare-ups, offers another case where a strong Congress sucked the air out of Hindutva. In the six constituencies here, the BJP fell from six seats in 2018 to one. The Congress rose from two to six seats. BJP's vote share dropped by -9.5%, while the Congress won 8.3% more votes.
Mayakonda, a reserved seat for scheduled castes, shifted from the BJP to Congress. The BJP vote share here fell by 11.18% while the Congress' votes went up by 15.41%. Another reserved constituency in Bagalkot, Mudhol, changed hands from the BJP to Congress. The BJP and Congress vote share were -13.86 and +7.52, respectively. These two constituencies show how Dalit votes consolidated against the Hindutva and the BJP.
Kodagu
Kodagu, one of the most polarised districts in Karnataka, saw five communal incidents  in 2022, The BJP bastion brings to light a new headache for Hindutva that threatens to become chronic in Karnataka.
The vote share of the BJP in the two constituencies of the district went up by 0.83%, showing a further consolidation of its ideology.  But the Congress won both the seats by increasing its vote share by a whopping 17.1%. The JD(S) vote share dropped proportionately by -17.5%.
Polarisation strategy is fraught with the risk of provoking a consolidation of anti-Hindutva votes from much larger social groups. Dalits and Mulims rallied behind the Congress party in Kodagu, which also seems to have gained the working class support.
A repeating pattern
Last year, the state government had identified seven more districts Belagavi, Ballari, Gadag, Haveri,  Kalaburagi, Vijayapura and Tumakuru where communal clashes were on the rise. In the 65 constituencies of these districts, BJP's seats came down to 15 from 31 in 2018 and the Congress seats went up from 27 to 43.
There were more setbacks in several other constituencies and districts where the BJP had sought to polarise aggressively. In Chikmagalur district, the site of its years-long successful campaign against the Bababudangiri dargah, the party lost in all five constituencies.
In Chikmagalur constituency, C T Ravi, a prominent Hindutva face and a hate speech repeat offender, lost his seat. In Aland, the BJP had launched a high-profile campaign to install a Shiva linga in a dargah. Its sitting MLA lost to a socialist candidate from Congress.
Why polarisation flopped
"Hindutva is strong enough to override anti-incumbency in many North Indian states. Communalism is so deeply rooted in Gujarat, people have stopped voting for development, but that is not the case with Karnataka," says Aakar Patel.
Scholars point to several factors that have historically made Karnataka a moderate state. The southern Karnataka is dominated by a large proportion of  small owner cultivators and the proportion of landless labourers is relatively small, a condition that pre-empts steep economic inequality. The princely Mysore state also had a head start in implementing reservations to empower backward classes and minorities.
Also read: Karnataka polls: Unsure of Hindutva sentiments, BJP on a statue-building spree
The dominant castes, Lingayats and Vokkaligas, do not consider themselves to be twice born and the social distance between them and the other castes is not stifling. North Karnataka developed a deep-rooted syncretic tradition under the influence of Lingayat and Sufi saints.
Professor Muzaffar Assadi of Mysore University says Karnataka does not have a history of violent communalism and caste identity is stronger than the communal identity in the state.
The BJP's high vote share
Despite a huge fall in seats, the BJP held on to a vote share of 36%. It was the steep jump in the Congress vote share from 38.1% to 42.9% that made the verdict look lopsided.
Many analysts have interpreted the sustaining vote share of the BJP as evidence for the continued potency of Hindutva. The party scored unusually high votes in many constituencies such as Srirangapatna where it just had a token presence.
This interpretation misses the deeper churn in the BJP base. The party lost votes in its strongholds in Kittur (-3.7%), Kalyana (-2.6%)  and Central Karnataka (-8.3%), and gained in southern Karnataka (3.2%) and Bengaluru region (5.4%).
BJP identified Southern Karnataka, dominated by Vokkaligas, as a growth region and tried several strategies ranging from targeting a masjid in Srirangapatna, Modi roadshows and creating fictional Tipu assassins to break into the region.
But more than its attempt to polarise, it was the implosion of JD(S) that bumped up its vote share along with the Congress'. The traditional rivalry between Congress and JD(S) supporters is so intense that many would rather vote for the BJP than for their arch rival.
The BJP also gained from strong local politicians who cut their teeth elsewhere and joined the party one or two years ago.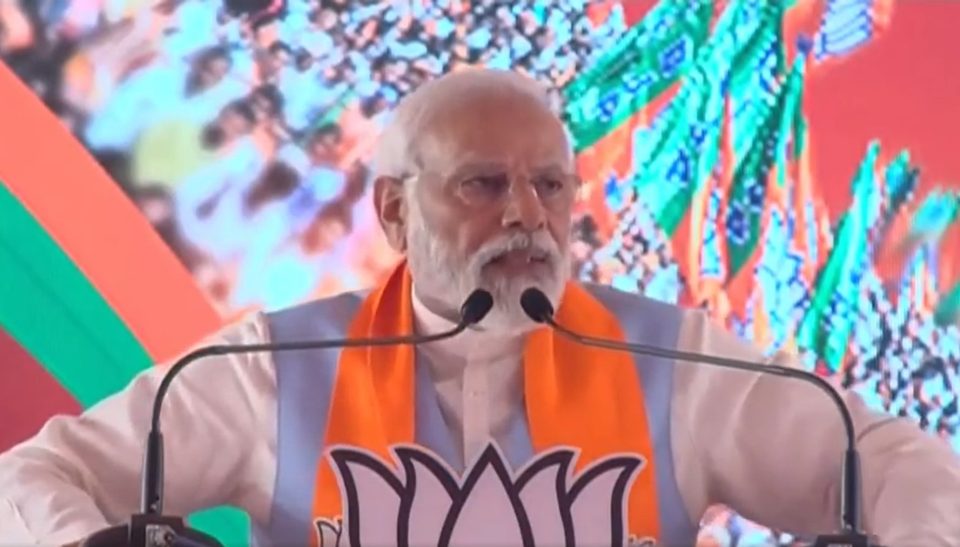 In the seven constituencies of Mandya, the BJP drew a blank while managing to boost its vote share by 7.8%. The vote share of the Congress increased by 7.4% and the JD(S) lost 17.1% vote share, a little more than the combined gains of its two other rivals.
In Maddur, Srirangapatna and KR Pet, the BJP did exceptionally well but the local heavyweights, who fought on its ticket were with either Congress or JD(S) in 2018 and joined it less than a year ago.
It is difficult to say if the BJP can consolidate its gains in southern Karnataka and polarise it effectively. To get there, it would have to develop the ideological domination, home-grown leaders and organisational strength it enjoys in Coastal Karnataka.
In many regions, the BJP benefited from the Congress missteps. Its vote share in Kalyana Karnataka dipped by a mere 2.6% despite anti-incumbency and a chunk of Lingayats breaking away.
Siddappa Moolge, a political analyst, says the Congress president Mallikarjuna Kharge's decision to not give tickets to Left hand (LH) Dalit castes in any of the eight reserved constituencies helped the BJP.  LH and Right Hand (RH) caste Dalits have a longstanding political rivalry and Kharge is the most influential RH leader today.
Not all votes for Hindutva 
Though a small number of Vokkaligas are seen moving towards the BJP, many observers insist that the bulk of the community vote for the BJP is more due to different political compulsions than the Hindutva pull.
Raghava, a political analyst, says Vokkaligas have no special affection towards either the RSS or the Muslims. "They are like any other group we deal with. Though, in the last few years, Vokkaligas prefer not to buy halal meat during festivals probably due to Hindutva influence. Otherwise, we are usually equidistant from both," he says.
Lingayat activists insist that the community backing for the BJP has never been a vote for Hindutva. "Lingayats vote as a caste to protect their interest not to support the RSS," says J S Patil of Jagatika Lingayat Mahasabha. A young activist from Shivamogga says a few youths are in Bajrang Dal, but Lingayats by and large vote for B S Yediyurappa, who is from the district, and not particularly for the BJP.
The ideological trap
So, the BJP finds itself over-invested in a strategy that is not fetching votes and worse, not finding traction with the large sections of voters. The obsessive focus on Hindutva is also distracting it from other issues such as quality of governance that has more resonance with the voters.
But many observers are sceptical of the possibility of the BJP diluting its Hindutva focus and aligning more with the priorities of the people.  "They may continue to emphasise on Hindutva, but it may not yield results," says Shastri.
Also read: BJP lands in quota quagmire ahead of Karnataka assembly elections
Patel sees very little chance of the BJP giving up on its core agenda as it is 'both a political party and an ideological force.'  "The top leaders, who have grown up in the RSS, are true believers. There is no other way for them. Hindutva is fetching them votes in other states, so rolling it back in Karnataka would affect them elsewhere," he says.
Professor Phaniraaj, a well-known social activist, says even if the BJP shrinks to 20 seats, it will not give up its priorities. "Political power is not more important than its social agenda. It may do caste politics to gain power, but it will always be secondary to Hindutva politics," he says.
He points out that the RSS remains a potent force in many districts. "They will continue to work to incorporate Dalits and backward classes into a social hierarchy within the Hindutva framework as they have done in coastal districts," he says.
The BJP was defeated at its weakest moment, but the RSS continues to work without any opposition, he points out. "A defeat in an election is not enough, a massive social mobilisation is required to counter them, which is not happening. I am not celebrating this win," he says.
(Concluded)