Muniratna Naidu, Karnataka's Minister of Horticulture and Planning, Programme Monitoring & Statistics, has stirred a controversy after allegedly inciting violence in a viral video on social media.
The video shows the Rajarajeshwari Nagar (RR Nagar) MLA and minister addressing a public event in Khatanagar, a ward in Bruhat Bengaluru Mahanagara Palike (BBMP), where he is heard urging his supporters to chase and beat up anyone who comes to a ward in his constituency.
The incident reportedly took place in the Jalahalli Ward of RR Nagar, and someone captured the video. The minister's call for violence in his speech, delivered in Tamil, has raised concerns and sparked widespread condemnation ahead of the Assembly elections, scheduled to be held on May 10.
In the video, a person resembling minister Muniratna, is heard saying: "If anyone comes in, chase and beat them. I will take care of the rest. You have to beat them in such a way that they run without turning around." He also asks the crowd, "Who else is ready for this? Let me see who will raise their hand." The person further adds, "Tomorrow is ours, the vote we cast tomorrow will decide our future."
ಜಾಲಹಳ್ಳಿ ವಾರ್ಡಿನ ಖಾತಾನಗರಕ್ಕೆ ಯಾರಾದರೂ ಬಂದರೆ "ಹೊಡೆದು ಕಳಿಸಿರಿ" ಎಂದು ಕ್ಷೇತ್ರದ ಶಾಸಕ ಸಾರ್ವಜನಿಕ ಸಭೆಯಲ್ಲಿ ನಿಂತು ತಮಿಳಿನಲ್ಲಿ ಪ್ರಚೋದಿಸಿ ಚುನಾವಣೆಯ ಸಮಯದಲ್ಲಿ ನೇರವಾಗಿ ಅಶಾಂತಿ ಸೃಷ್ಟಿಸಲೆತ್ನಿಸುತ್ತಾರೆಂದರೆ ರಾಜರಾಜೇಶ್ವರಿನಗರ ಕ್ಷೇತ್ರದಲ್ಲಿ ಹದಗೆಟ್ಟಿರುವ ಕಾನೂನು ಸುವ್ಯವಸ್ಥೆಯ ಬಗ್ಗೆ ಆತಂಕ ಹುಟ್ಟಿಸುತ್ತದೆ. pic.twitter.com/t0VBMUcc6l

— Kusuma Hanumantharayappa (@KusumaH_INC) March 31, 2023
Congress candidate lodges complaint
Kusuma Hanumantharayappa, the Congress candidate who is contesting against Muniratna from RR Nagar, has lodged a case with the Bengaluru Police Commissioner Pratap Reddy after. In her tweet, Kusuma accused Muniratna of instigating unrest during the elections by speaking in Tamil at a public meeting.
Also read: Election officials conduct search of Karnataka CM Bommai's car
She expressed concern about law-and-order situation in Rajarajeshwari Nagar and questioned who would be responsible if Muniratna's instigation results in violence and loss of life. She also questioned whether Muniratna values the lives of his supporters and common people, given his irresponsible statements.
Kusuma is the wife of the late IAS officer DK Ravi, who committed suicide in 2015. Kusuma, who is an MS graduate from UMASS, Boston, US, is now contesting elections from Rajarajeshwarinagar on a Congress ticket.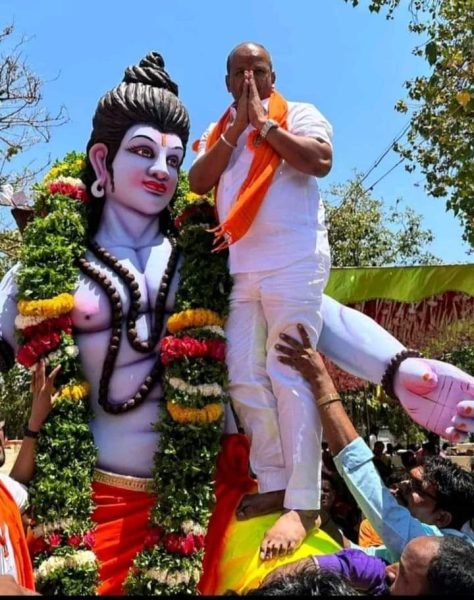 The Congress has called for immediate action by the Election Commission against Muniratna for inciting violence.
ರಾಮ ಮೂರ್ತಿಯ ಮೇಲೆಯೇ ಕಾಲಿಟ್ಟ ಬಿಜೆಪಿ ಶಾಸಕ ಶರಣು ಸಲಗರ ಅವರ ರಾಮಭಕ್ತಿ ಹೀಗಿದೆ!@BJP4Karnataka ಗೆ 'ರಾಮ' ಎಂದರೆ ಚುನಾವಣಾ ರಾಜಕೀಯದ ಸರಕು ಹೊರತು ನೈಜ ಭಕ್ತಿಯಲ್ಲ.

ಬಿಜೆಪಿಯ ಭಯಂಕರ ಧರ್ಮರಕ್ಷಕರಾದ @CTRavi_BJP @ShobhaBJP @Tejasvi_Surya @nalinkateel ಅವರುಗಳು ರಾಮನಿಗಾದ ಈ ಅಪಚಾರದ ಬಗ್ಗೆ ಬಾಯಿ ಬಿಡುತ್ತಿಲ್ಲವೇಕೆ? pic.twitter.com/C1nw05G7JU

— Karnataka Congress (@INCKarnataka) March 31, 2023
Also read: Karnataka polls: Will Yediyurappa's son Vijayendra take on Siddaramaiah in Varuna?

MLA  stands on Ram's statue
Meanwhile, another controversial incident has brought embarrassment to the BJP ahead of elections. BJP MLA from Basavakalyan, Sharanu Salagar, was photographed standing on the lap of a statue of Sri Ram. The photo has gone viral, and Congress has mocked Salagar's supposed devotion to Lord Ram.
The Congress has questioned why the BJP's vocal leaders, including CT Ravi, Shobha Karandlaje, Tejasvi Surya, and Nalin Kumar Kateel, are silent about this apparent insult to Lord Ram, hinting that for the BJP, Lord Ram is nothing more than a political commodity, and not a figure of genuine devotion.