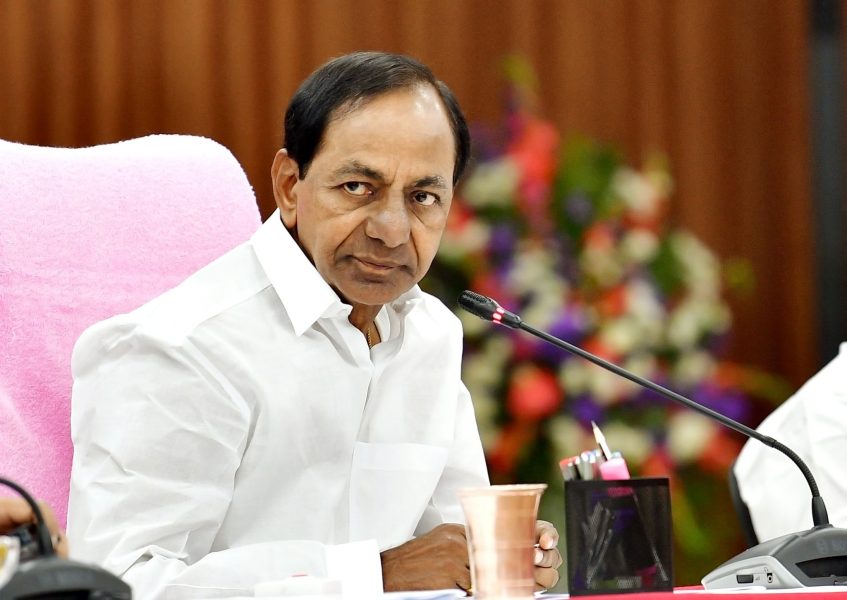 Telangana Chief Minister K Chandrashekar Rao's (KCR) bid for partnership with Vizag Steel Plant (VSP) in Andhra Pradesh took a curious turn, with Opposition parties questioning his sincerity in the fight against privatisation.
The move did generate some positive vibes across Andhra, but the opposition has raked up a controversy by reviving three important failures of chief minister KCR in Telangana.
Opposition parties in Telangana allege KCR's VSP is a ploy to make an entry for Bharatiya Rashtra Samithi (BRS) into Andhra Pradesh.
KCR's dubious record
The Opposition parties cite three instances to show chief minister KCR's dubious record in his purported love for the public sector. They are — failure to revive the Nizam Sugar Factory, inaction over the Bayyaram steel plant and privatisation of higher education at the cost of state universities.
Also Read: Vizag Steel Plant bid: How KCR upset the cart for rivals YSRCP and TDP
Nizam Sugar Factory, once Asia's biggest sugar producer, was established as Nizam Deccan Sugars Limited (NDSL) in Bodhan town in 1937 by Nizam VII (Mir Osman Ali Khan). It remained under government control till 2002. But it was privatised in the united Andhra Pradesh when TDP's Chandrababu Naidu was the chief minister.
When Congress came to power in 2004, chief minister YS Rajasekhar Reddy promised to revive it as a PSU. But the idea did not take off. The issue became one of the battle cries of KCR during the Telangana movement and an important poll promise of TRS in 2014 and 2018 Elections. The new Telangana state also backed out of reviving the plant. But on Wednesday (April 12), Industries and IT minister KTR Ramarao revealed that the government was negotiating with ITC for a takeover.
Similarly, the government's failure to convince the Centre to set up a steel plant at Bayyaram, as promised in the Andhra Pradesh Reorganization Act 2014 that created the state of Telangana, is also drawing flak. The BRS government could have possibly achieved this goal as it was friendly towards Prime Minister Modi during KCR's first stint.
Another highly controversial step that promotes privatisation is the adoption of Telangana Private Universities (Regulation) (Amendment) Bill 2018. Pointing to all these instances, the Opposition parties say KCR's fight against privatisation of VSP is purely a political move.
"KCR's decision to bid for VSP is purely a political move to gain some space for BRS in North Andhra where Vizag Steel Plant is located," said Telangana Congress senior vice- president and former MP Dr Mallu Ravi.
"KCR had been promising to revive Nizam's factory since the days of the Telangana movement. It was his main assurance in the run-up to 2014 and 2019 election. He had promised to revive it even while speaking on the floor of the Assembly. Who has stopped him? Besides providing jobs to youth, the factory would have boosted rural economy in Telangana," he said.
"BRS loves private sector"
Talking about the privatisation of higher education, Dr Mallu blamed the BRS government for the decline of state universities in Telangana.
"Even nine years after the state's formation, not a single teacher has been recruited for state universities. The universities are functioning without professors, associate professors and assistant professors. Yet, the state is allowing private universities owned by cabinet ministers and friends of BRS. Is it not rolling out a red carpet for privatisation of education?' Mallu questioned.
KCR's third biggest failure, according to Dr Mallu, is inaction over getting the Bayyaram steel plant plan rolling.
"CM KCR has never fought for Bayyaram, even when TRS (now BRS) was a friend of Prime Minister Modi between 2014 and 2018. On many occasions, KCR claimed that Modi and he were friends and frequently exchanged notes on issues of mutual interest. Then, why didn't he use the bonhomie to get iron ore allocated for the Bayyaram steel plant? Now, by bidding for VSP, KCR wants to fool Andhra people as well," Mallu said.
Also Read: Andhra's Bhogapuram airport: All you need to know
Mallu objected to Industries and IT minister KT Ramarao's statement that the government was negotiating with ITC to revive the Nizam Sugar Factory. "Is it not privatisation? Mallu asked.
BJP state president Bandi Sanjay said instead of rushing to neighbouring states to save their steel plants, KCR should think of issues at home.
"KCR had promised many times to strive to establish the Bayyaram steels. He also promised to provide 20,000 jobs at the Bayyaram plant. Doesn't KCR know that investing in the Bayyaram plant is more beneficial to the state than bidding for a steel plant in Andhra," Bandi said.
Reacting on similar lines, Professor M Kodandaram, President of Telangana Jana Sena, described KCR's bid for Vizag as emotional blackmail for a selfish political goal.
Also Read: 'Telangana govt not cooperating, delaying central projects': PM Modi attacks KCR
"KCR's aim is not to strengthen the Vizag Steel. His agenda is limited to gaining some toe hold for BRS in Andhra through emotional blackmail. If he is really committed to PSUs, let him revive Nizam Sugars, which would help lakhs of farmers and youth. In the case of Nizam Sugars, he is not even honouring the HC judgement," Professor Kodandaram said.
Notwithstanding the criticism, the BRS took the battle for steel plants to Kadapa district, the Andhra chief minister's home turf, where the Centre too had promised to set up a steel plant in the 2014 State Bifurcation Act, but later backed out.
KTR hits back
Reacting to the criticism from Opposition parties, Telangana industries and IT minister KT Ramarao said the Centre is deliberately harming the interests of Telugu states by denying iron ore to VSP and other proposed plants.
If the Centre makes iron ore available from Bailadila – besides saving VSP from losses, the proposed steel plants in Bayyaram and Kadapa could also be materialized, KTR insisted.
Also Read: Telangana: At least 1 dead in cylinder explosion near Khammam BRS event
"The Centre has not allotted iron ore to VSP from Bailadila which is just a few kilometres away. Instead, it has been considerate towards Adani's plant located in faraway Gujarat. It looks like an attempt to make VSP suffer losses and use it as an alibi to privatise the unit. Similarly, Bayyaram in Telangana is just 130 km from Bailadila. Still, the Centre is not keen to make it a reality," KT Ramarao said, while adding that the BRS wants to expose the Centre's indifference towards Andhra Pradesh and Telangana.