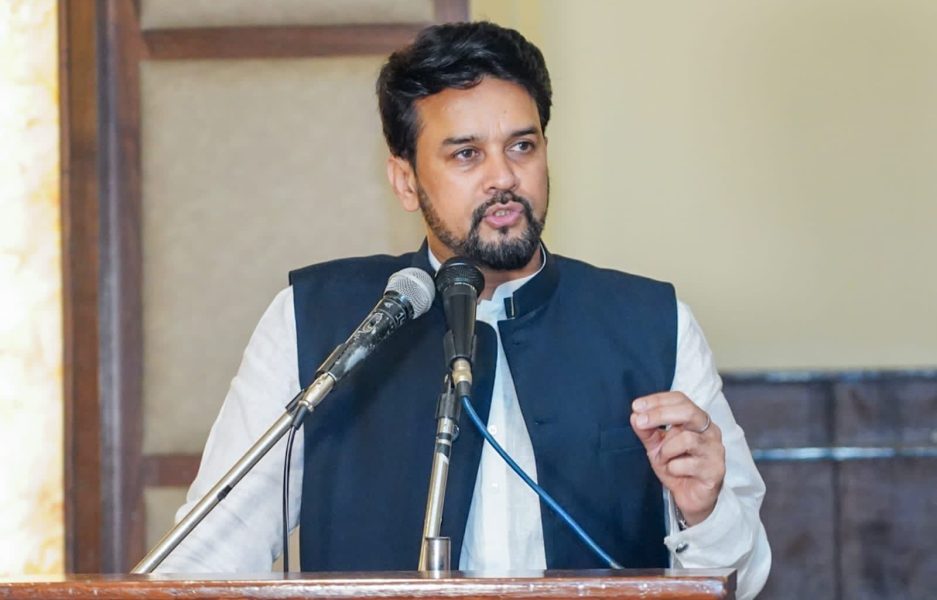 Sports Minister Anurag Thakur on Friday (May 5), said the state of Uttar Pradesh was once notorious for witnessing riots but has now transformed into a sports hub.
Thakur's comment came ahead of the third edition of Khelo India University Games (KIUG), scheduled to be held from May 25 to June 3 across four cities in the state as more than 4700 athletes from 200-plus universities are expected to participate.
Thakur launched the logo, jersey, mascot and anthem of the Games in presence of UP Chief Minister Yogi Adityanath.
Also Read: Atiq-Ashraf killing: SC to hear plea seeking independent inquiry on April 28
"UP which was known for danga is now known for khelon ka dangal. Khelo India not only unearths sportsmen but also hone their skills," Thakur said adding that Khelo India centres will be set up in all the districts of UP.
"A few days back we completed five years of Khelo India, which has progressed very fast. The players have also won medals for the country and today I can say that the third biggest event of Khelo India University Games is going to be held in Uttar Pradesh," he said.
"The way chief minister Adityanath has worked to promote sports here, I can say that If India win medals anywhere in the world, Uttar Pradesh will have a big contribution in it."
He said Prime Minister Narendra Modi has made a provision of Rs 3200 crore for Khelo India scheme so that athletes do not face any kind of inconvenience in their efforts to bring laurels for the country.
Chief Minister Yogi Adityanath said the University Games will prove to be a milestone in promoting sports activities among the youth of the state.
"Today Uttar Pradesh is not only the state with the largest population, but every event held there inevitably grows to be the biggest. I can assure that this will be the biggest event ever," he said.
Also Read: UP: Hathras DM denies namaz was offered during school event, orders probe
The third edition of the KIUG will feature 21 sporting disciplines, the highest-ever in the history of the Games as rowing is set make its debut.
The competition will be hosted in Varanasi, Noida, Gorakhpur and Lucknow.
The shooting competition will be organised in New Delhi at the Dr Karni Singh Shooting Range.
Two indigenous sports — Mallakhamb and Yogasana — were part of the last edition of the KIUG held in Karnataka.
Adityanath and Thakur also flagged off the torch relay on the occasion.
These four torches will travel through all the districts of Uttar Pradesh before returning to Lucknow on May 25.
(With agency inputs)