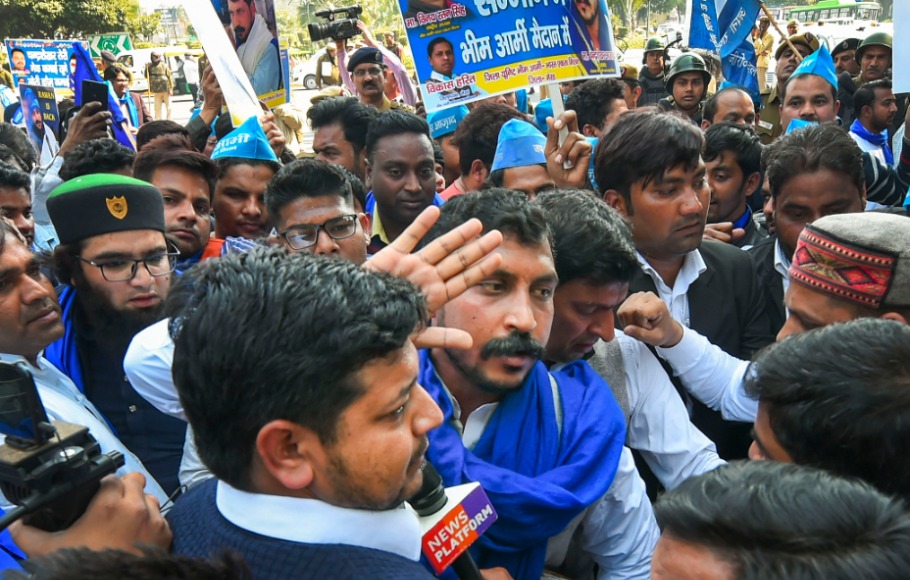 Man held for threatening social media post against Bhim Army chief
The police announced the arrest of a man in connection with a threatening post on social media targeting Bhim Army chief Chandra Shekhar Aazad, on Friday (June 30). This incident follows the recent attack on Aazad by unidentified attackers two days earlier.
A bullet grazed Aazad's abdomen when unidentified assailants opened fire at his car in Saharanpur district's Deoband on Wednesday. The car used in the attack has been recovered while the Bhim Army chief was discharged from hospital on Thursday (June 29).
Also Read: Bhim Army chief Chandrashekhar Aazad's condition stable; vehicle used by assailants seized
In a statement on Friday, Amethi's Superintendent of Police Elamaran G said that taking cognisance of the death threats to Aazad on the Facebook page Kshatriya of Amethi, the police on Thursday registered a case under section 506 of the Indian Penal Code and the Information Technology (IT) Act.
Vimlesh Singh (30) was arrested on Thursday in connection with the post. Prima facie, Singh was not found to be involved in the attack on Aazad, but preventive action was taken to maintain peace and order, the police statement said.
Advance legal action will be taken if any new fact comes to light during the investigation in the case, it said.
Six days ago, a post on the Facebook page claimed that Aazad would be killed by the Thakurs of Amethi in broad daylight.
Also Read: Bhim Army chief Chandra Shekhar Aazad shot at in Uttar Pradesh
On Thursday, another post on the same page said that Aazad has been shot in the waist, but "next time he will not survive". It also warned of a massive agitation if any innocent Rajput is implicated in the attack against the Bhim Army chief.
Talking to reporters after being discharged from Saharanpur District Hospital on Thursday, Chandra Shekhar Aazad accused the Uttar Pradesh chief minister of turning a blind eye towards incidents of crime in the state.
"Chief Minister Yogi Adityanath's silence on this incident shows that he is patronising crime in Uttar Pradesh," he alleged.
(With agency inputs)