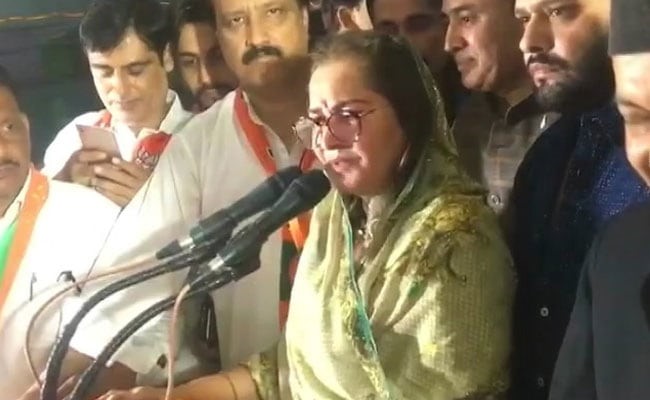 Notably, Jaya Prada and Azam Khan had run into many controversies in the past
Actor-turned-politician Jaya Prada slammed embattled Samajwadi Party leader, Azam Khan, and said he was punished for all he had done and he will have to "pay for his sins".
The former Rampur MP, who was in Meerut for attending a programme, told reporters on Sunday (February 19) that in politics, there are differences between different parties, but there should not be "so much arrogance of power that one forgets to respect women and starts doing injustice to the poor and downtrodden".
"Azam Khan and his son Abdullah Azam do not know how to respect women. Azam Khan has been punished for his doing," added the BJP leader. Further, she pointed out, "Azam Khan's game is over. They (Azam and his son) will have to pay for their sins."
Notably, Jaya Prada and Azam Khan had run into many controversies in the past. An FIR was lodged against the senior SP leader over his "khaki underwear" remarks against the BJP leader, who was then fighting the Lok Sabha polls from Rampur against him in 2019.
Also read: Azam Khan booked for 'khaki underwear' taunt against Jaya Prada
Azam Khan, who was elected MLA from Rampur Sadar seat in the Uttar Pradesh Assembly elections held last year, was disqualified after being sentenced to three years imprisonment for his hate speech that he had made during the campaign for the 2019 Lok Sabha elections.
His son Abdullah Azam, who won from the Swar seat, was also disqualified after being sentenced to two years in prison recently for holding illegal sit-in demonstrations in 2008.
Also read: Revenge in Rampur: Jayaprada brings worst out of Azam Khan
Talking about the upcoming 2024 general elections, Jaya Prada said the Bharatiya Janata Party (BJP) will once again get a huge majority and form the government under
the leadership of Narendra Modi.
Rampur seat will also be won by the saffron party, she added.