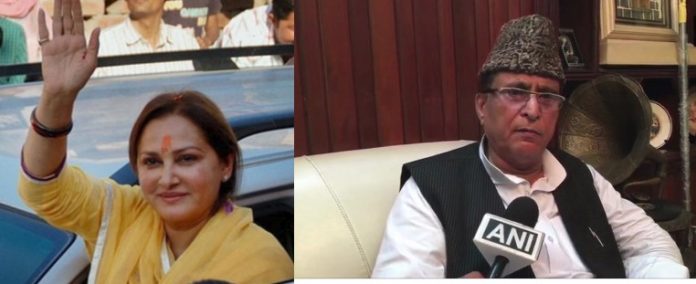 An FIR was lodged against Samajwadi party leader Azam Khan on Monday (April 15) for his alleged obnoxious remarks against BJP candidate Jaya Prada, who is contesting the Lok Sabha polls from Rampur in Uttar Pradesh, at a public rally on April 14.
"Main 17 din mein pehchan gaya ki inke niche ka underwear khaki rang ka hai" (I understood in 17 days that the underwear she wears is of khaki colour) Khan had commented alluding to Jaya's association with the RSS. Incidentally, such a comment was made in the presence of former Uttar Pradesh Chief Minister Akhilesh Yadav and senior SP leaders.  Azam Khan is fighting the elections from Rampur on a Samajwadi Party ticket.
Jaya Prada on April 15 lashed out at Khan, seeking cancellation of his candidature. "It isn't new for me, you might remember that I was candidate from his party in 2009 when no one supported me after he made comments against me. I'm a woman and can't even repeat what he said. I don't know what I did to him that he is saying such things," ANI quoted her as saying.
"He shouldn't be allowed to contest elections. Because if this man wins, what will happen to democracy? There'll be no place for women in society. Where will we go? Should I die, then you'll be satisfied? You think that I'll get scared and leave Rampur? But I won't leave," Jaya said.
Khan in his defence, denied having made any statements directed at Jaya. "I was referring to a person in Delhi who is unwell, who had said, 'I came with 150 rifles and I would have shot Azam if I had seen him.' Talking about him, I said, 'it took a long time to know people and later it was found that he was wearing RSS shorts'," ANI quoted him as saying.
He also vowed that he will not contest the elections if the allegations against him are proved to be true.
Condemning Khan's comments, Rekha Sharma, chairperson of National Commission of Women (NCW) called Khan's in her tweet called it 'disgraceful' and said the commission will send a notice to him and request the Election Commission to bar him from contesting elections.
मुलायम भाई – आप पितामह हैं समाजवादी पार्टी के. आपके सामने रामपुर में द्रौपदी का चीर हरण हो रहा हैं. आप भीष्म की तरह मौन साधने की गलती मत करिये. @yadavakhilesh Smt.Jaya Bhaduri, Mrs.Dimple Yadav.pic.twitter.com/FNO5fM4Hkc

— Sushma Swaraj (@SushmaSwaraj) April 15, 2019
BJP leader Sushma compared Jaya's situation with that of Draupadi in The Mahabharata and lashed out at SP supremo Mulayam Singh Yadav of being a mute spectator like 'Pitamah Bhism' during the disrobing of Draupadi.