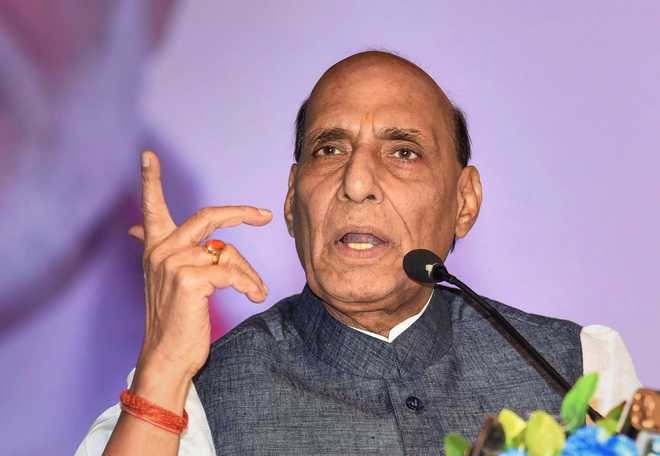 Defence Minister Rajnath Singh on Saturday took stock of the situation in Jammu and Kashmir's border districts of Rajouri and Poonch where terrorists have killed 26 soldiers and nine others since October 2021.
The visit to Rajouri comes a day after five elite para commandos of the army were killed in an anti-terrorist drive in the forested Kandi area.
Rajnath Singh, accompanied by Army chief General Manoj Pande and Jammu and Kashmir Lt Governor Manoj Sinha, reached the Ace of Spades Division headquarters in Rajouri after a brief halt in Jammu.
Also Read: JKNPP founder's son gets emergency visa after apology to Modi
He interacted with the troops engaged in the ongoing operation against terrorists, officials said.
Five soldiers were killed and a Major-rank officer was injured during a combing operation in the Kandi area on Friday. A terrorist was killed while one more was believed to have been injured on Saturday.
The army chief reached Jammu ahead of Rajnath Singh. Several senior army officials also accompanied the minister to Rajouri.
Security review
After being briefed on the operation in Kandi forest, the minister chaired a meeting regarding the security situation in Jammu and Kashmir, especially in Rajouri and Poonch, the officials said.
Rajouri and Poonch in Jammu, which were declared terrorism-free over a decade ago, have been rocked by a series of deadly attacks by terrorists in the past 18 months.
Rajouri and Poonch districts have witnessed more killings of soldiers than the militancy-hit Kashmir Valley.
Also Read: In a first, women cops deployed for night duty in Jammu
The loss of five soldiers in Kandi forest is the third major incident this year.
It took place amid a massive combing operation for the past 15 days following an ambush on an army truck at Bhata Dhurian in Poonch.
Five soldiers were killed and another was injured on April 20 when terrorists bombed and fired at an army truck carrying fruits and vegetables for Iftar.
Military officials say terrorists have adopted a strategy of engaging troops or attacking people and then laying improvised explosive devices to harm security forces engaged in combing operations.
Growing killings
This happened in Dhangri village in Rajouri where terrorists killed seven civilians in two attacks in January.
In two major incidents in Rajouri in 2022, five soldiers and two terrorists were killed in a suicide attack at a security camp at Pargal-Darhal on August 11.
Also Read: J&K: Centre bans 14 mobile messaging apps to curb terrorist activities
Two civilians were killed in a firing incident outside an army camp near Rajouri town.
Nine soldiers were killed in two gun battles with terrorists in Bhatta Durrian in Mendhar tehsil of Poonch district in October 2021.
Two soldiers were killed when a mine exploded in Nowshera sector of Rajouri on October 30, 2021.
(With agency inputs)