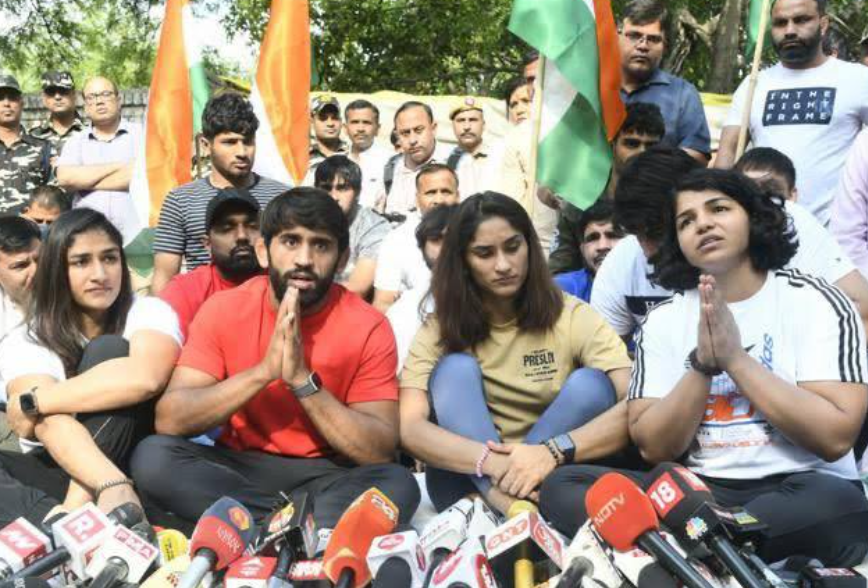 With students, farmers union, khap leaders and members of social groups rallying behind the protesting wrestlers in Delhi's Jantar Mantar, the ongoing agitation against Wrestling Federation of India (WFI) chief Brij Bhushan Sharan Singh over sexual harassment allegations has gathered momentum.
The pouring of support for protest came after the late-night scuffle between the wrestlers and the Delhi Police.
The Samyukta Kisan Morcha (SKM), Bharatiya Kisan Union (BKU) and other khaps issued an ultimatum to the central government to arrest the WFI chief by May 21.
Also read: Wrestlers' protest: Panel gives May 21 deadline for arrest of Brij Bhushan
A 14-day blueprint
Preparing for a long fight, various unions are now devising strategies for the agitation as they did for the farmers' protest against the now-repealed farm laws. During an interaction with The Federal, BKU General Secretary Yudhvir Singh provided a 14-day blueprint for the next phase of agitation.
The famer unions are planning to organise a nation-wide agitation in form of public meetings and protests from May 11 to 18 in various state capitals and district headquarters. According to the plan, at least 30-35 people from each district will visit the respective protest sites every morning and return by evening.
"As the wrestlers' agitation has now become a people's movement, it is important to maintain a high number of supporters," Singh said.
Rejecting the charge that the protest has been hijacked by farmer leaders, Samyukt Kisan Union leader Baldev Singh Sirsa said: " The farm bodies and the khaps are only strengthening the fight. We are fighting collectively and will take a big decision on May 21 if the government does not offer a solution. We will not accept anything less than Brij Bhushan's arrest."
Students to the fore
Several student organizations like the All India Democratic Students' Organisation Delhi (AIDSO), Students' Federation of India (SFI), All India Students' Association (AISA) and students of Delhi University and Jawaharlal Nehru University have come out to express solidarity with the ongoing protest.
Also read: Wrestlers' protest | Will hang myself if sex offence charges are proved: WFI chief
"It is a bigger fight and not only for one woman or a group of women. It is a fight for the safety and dignity of daughters in the country. The WFI chief should be arrested and his arrest will set an example and deter any man from committing such an act," said Nandita Menon, a second-year student of Jawaharlal Nehru University.
Explaining why students have decided to take a proactive stand, AIDSO member Adrija said the agitation has now evolved into a fight against "injustice".
"Earlier it was seen as a fight against the wrestlers' federation and the WFI chief. But now students throughout the country can relate to their struggle. The political apathy, police inaction and the repeated attempt to shield the accused has become apparent," Adrija said.
"University campuses have been privy to such high-handedness. The shrinking of democratic spaces and silencing of students' voice is the 'new normal'. Therefore, the student fraternity sees this as an opportunity to voice its discontent against the ruling dispensation," observed the young scholar.
"Carrying on an agitation of this scale in an isolated manner many not yield much. Therefore, various student groups have decided to launch nationwide protests highlighting the wrestlers' fight for justice," Adrija said, calling for WFI chief's arrest.
Women power
Over the last few days and on Sunday's Mahapanchayat, one could see a massive rise in women participation from Delhi's neighbouring states. Nishita Jain, a 44-year-old working professional from Gurgaon, stressed it was very important for women to be united behind the agitation. "We might not know the wrestlers in person, but our cause is the same. This is why I have been coming to the site from Day 1. If women don't come out unitedly in support of the wrestlers today, who will stand with us if something happens to us tomorrow?" she asked.
Also read: Delhi: Security beefed up at Jantar Mantar as farmers join wrestlers' protest
She also sought some answers from the Delhi Police. "Initially the Delhi Police had recorded statements of the complainants under Section 161 of the Criminal Procedure Code (CrPC), but they are yet to record statements in relation to the allegations under Section 164. Why?" she asked.