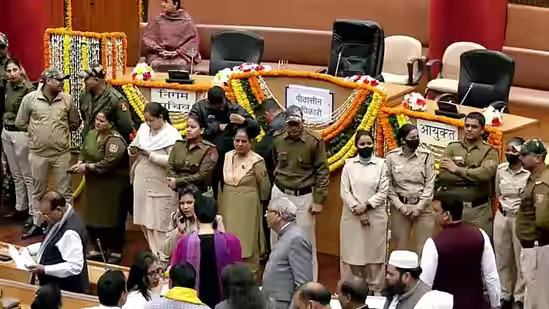 On Friday, the Supreme Court declared that members of the Municipal Corporation of Delhi (MCD) who were nominated rather than elected will be ineligible to cast their vote in the upcoming mayoral election.
A bench comprising Chief Justice DY Chandrachud and Justices PS Narasimha and JB Pardiwala directed that the election of the Delhi mayor shall be conducted at the first MCD meet and once elected, the mayor shall preside over the deputy mayor's election.
Also Watch: Delhi mayoral election riddle: Who's right? AAP or BJP?
"We have heard the counsel for the parties. We are unable to accept the submission on behalf of the municipal corporation. The Constitution has imposed a restriction in terms of which nominated members do not have the right to vote. The prohibition on nominated members in the exercise of the right to vote applies on the first meeting.
"The notice for the election of mayor and the first meeting of the MCD shall be issued within 24 hours and the notice shall fix the date at which the elections of mayor, deputy mayor and standing committee members shall be held," the bench said.
Also Read: I-T officials leave BBC offices in Delhi, Mumbai after 3 days of questioning
The top courts order came on a plea moved by the ruling Aam Aadmi Party's (AAP) mayoral candidate, Shelly Oberoi, seeking an early conduct of the election.
'Victory of democracy'
"SC order victory of democracy. Many thanks to SC. Delhi will now get a mayor after two-and-a-half months. It has been proved how the LG and the BJP together were passing illegal and unconstitutional orders in Delhi," AAP leader Arvind Kejriwal tweeted in Hindi.
SC का आदेश जनतंत्र की जीत। SC का बहुत बहुत शुक्रिया। ढाई महीने बाद अब दिल्ली को मेयर मिलेगा।

ये साबित हो गया कि LG और बीजेपी मिलकर आये दिन दिल्ली में कैसे ग़ैरक़ानूनी और असंवैधानिक आदेश पारित कर रहे हैं

— Arvind Kejriwal (@ArvindKejriwal) February 17, 2023
The apex court had, on February 8, sought the responses of the lieutenant governor's (LG) office, MCDs pro-tem presiding officer Satya Sharma and others on Oberoi's plea.