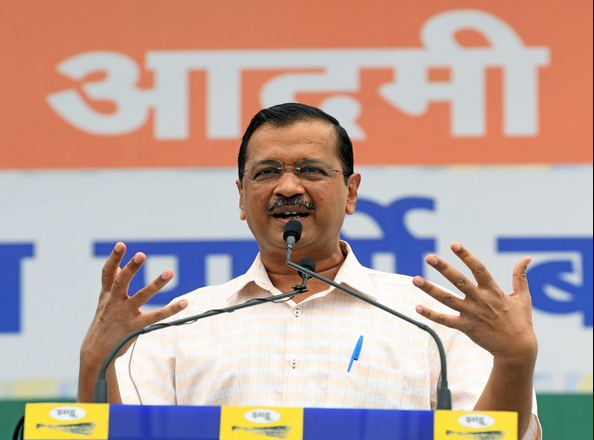 Delhi Chief Minister Arvind Kejriwal on Friday (May 26) said he had sought a meeting with Congress president Mallikarjun Kharge and party leader Rahul Gandhi to seek their support in Parliament over the Centre's executive order over the control of Delhi's bureaucrats.
"Sought time this morning to meet Khargeji and Rahul Gandhiji to seek Congress support in parliament against undemocratic and unconstitutional ordinance passed by the BJP government and also to discuss the general assault on the federal structure and prevailing political situation," the Aam Aadmi Party (AAP) leader tweeted.
Also read: Miffed at Maken against supporting Kejriwal, AAP says Centre can bring similar ordinance in Karnataka
Kejriwal's rare gesture to the Congress comes amid attempts by the disparate Opposition parties to unite against the BJP ahead of the 2024 Lok Sabha elections.
Kejriwal, who is the AAP's national convener, has sought support of various political parties, including the NCP, the Shiv Sena (UBT) and the TMC, on the Delhi services issue.
Also read: Kejriwal: Delhi services control ordinance shows Modi govt's lack of faith in SC
The bill will replace an ordinance passed last week to override a recent Supreme Court order that said the elected government in Delhi, not the Centre, has control over the transfer and appointments of bureaucrats.
The Supreme Court had handed over the control of services in Delhi, excluding police, public order and land, to the elected government.
Also read: Congress's dilemma over ordinance aimed at clipping Kejriwal's powers
The Centre's ordinance seeks to set up a National Capital Civil Service Authority for transfer of and disciplinary proceedings against Group-A officers from the DANICS cadre.
Transfer and postings of all officers of the Delhi government were under the executive control of the Lieutenant Governor before the May 11 top court verdict.
Also read: Mamata assures Kejriwal of support in his fight against Central ordinance