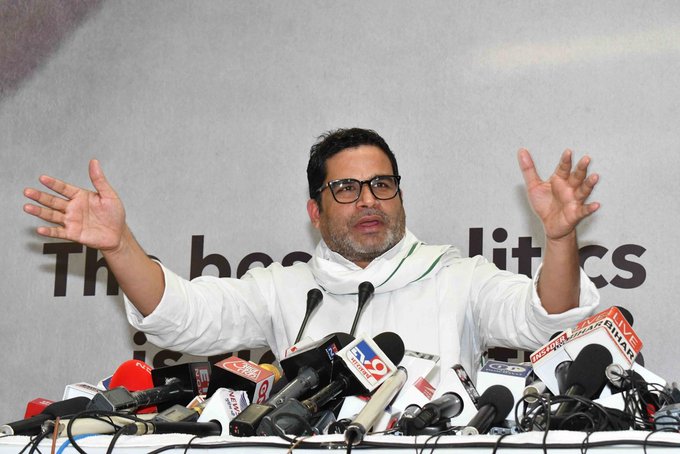 Poll strategist-turn-politician Prashant Kishor in a file photo
Although the Tamil Nadu government and Bihar government have contended that the videos on alleged attacks on migrants in the southern state are fake, poll strategist Prashant Kishor has released videos from his side to counter the claim, reportedly in a bid to keep the issue alive for his future political plans.
Kishor created a flutter in the political circles when he posted a video in his official Twitter account to allege that migrant workers have been attacked in Tamil Nadu. In the video, a man is seen beating two people in a crowded compartment of a train.
Also read: Deft handling by Stalin, Nitish govts helps cool down TN migrants issue
Tamil Nadu railway police had shared the video on February 16, insisted Kishor. The Tamil Nadu government's DGP should also tell about the status of this FIR registered with the GRP Chennai, he asserted.
Seeman's video
He released another video on March 10 in which Senthamizhan Seeman, the chief coordinator of political party Naam Tamilar Katchi, is allegedly making a statement on Hindi-speaking people amid locals.
In the video, Seeman could be heard speaking in Tamil: "Hindi-speaking people will flee from here bag and baggage in desperation. I do not know how many people I would beat up. They (Hindi-speaking people) should pack their bags within a week."
Seeman reportedly made the statement while campaigning for the Erode East by-poll on February 13.
Kishor said, "All those who used fake videos to incite hate and violence must be dealt with as per the law. But this does not absolve those who are openly calling for violence against Hindi-speaking people in Tamil Nadu. Why no action against the likes of Seeman for their vitriolic utterances?"
Also read: Tamil Nadu's MSMEs may take a hit if migrant workers issue is not quickly resolved
Interestingly, Kishor had helped both Bihar Chief Minister Nitish Kumar and Tamil Nadu Chief Minister MK Stalin during elections by with his poll strategies. In the 2021 Tamil Nadu assembly election, when DMK returned to power in the state, he was the poll strategist for the party.
Similarly, Kishor's association with Nitish's JD(U) had created a flutter in the party as there was heartburn among some senior leaders over his elevation to the post of party vice-president. He joined the JD(U) in 2018 but fell out with Nitish later and was expelled from the party in 2020. He had then openly opposed JD(U)'s decision to support the contentious Citizenship Amendment Act (CAA).
Kishor's Jan Suraj Yatra
Kishor is presently on his 'Jan Suraj Yatra' to identify the 'right' people who should be elected to Lok Sabha and assembly for solving the state's basic problems. He is attacking both RJD chief Lalu Prasad and Nitish Kumar, alleging that nothing much has changed during their more than three decades of rule. Although he lists out many problems afflicting Bihar, one constant in his speeches in the yatra is the issue of migration as many youth in Bihar have migrated to other states for earning their livelihood.
On October 2, 2022, Kishor had started his yatra from Gandhi Ashram in Bhitiharwa in West Champaran, from where Mahatma Gandhi had launched his satyagraha movement in 1917. Before launching his yatra, he had announced that he would cover 3,500 km of distance and visit almost all panchayats and villages of the state. He had also claimed that Nitish had offered to work with him again.
Capital beat | Was insider-outsider debate on migrant workers politically motivated?
Jan Suraj Yatra had hosted its first poll among its followers in January and nearly 50 per cent of the respondents had described unemployment and migration as the two biggest problems of Bihar.
Bihar's jobs data
According to the Centre for Monitoring Indian Economy (CMIE) data, Bihar's unemployment rate in February 2023 rose to 12.3 per cent, while the national figure was 7.5 per cent. The scale of Bihar's migrant crisis had come into sharp focus when over 15 lakh workers had returned to their homes during the 2020 Covid-19 pandemic, many of them covering hundreds of kilometres on foot.
Bihar has the maximum percentage of population living in poverty among all States and Union Territories, according to NITI Aayog's Multidimensional Poverty Index (MPI). Over 50 per cent of the state's population has been identified as "multidimensionally poor". 
As per MPI, 51.91 per cent of the population in Bihar is poor, followed by Jharkhand (42.16 per cent), Uttar Pradesh (37.79 per cent), Madhya Pradesh (36.65 per cent) and Meghalaya (32.67 per cent).
Broadening political space
Kishor keeps talking about migration during his yatra. Political analyst Praveen Bagi said Kishor wanted to strengthen his support base by raising the issue of so-called attacks on migrant workers from Bihar in Tamil Nadu.
He said that the poll strategist has been raising the issue of migration from Bihar during his yatra, pointing out how youths have to leave their native places to work as labourers and not to do any decent jobs in other states due to mis-governance all these years.
Had the current and previous regimes focused on setting up factories and creating employment opportunities locally, youths from Bihar would not have to live without families in outside states, Kishor contends. The poll strategist, who also has chief ministerial ambitions, is forming local committees for the execution of his plans, holding public meetings and also discussions with local people during his tour, Bagi added.
Also read: Man arrested from Jamui for fake videos of attacks on Bihar migrants in TN
The political analyst said that Kishor is targeting mainly Lalu and Nitish and not BJP, giving rise to speculation that he will contest the 2025 Bihar assembly election in alliance with the saffron party.
Kishor has the ability to formulate strategy for elections and also has the advantage of a strong database of the poll-related matters, he added.
Political agenda
On the other hand, political observer Pushya Mitra said Kishor wants to make the issue of distress migration a political agenda. It is another matter that he has not been able to create a political buzz during his yatra so far as neither the RJD-led Grand Alliance nor NDA is taking notice of it.
In such a situation, he wants to create a hype on the issue of alleged attacks on the migrant workers in Tamil Nadu to give a push to his ongoing yatra, Mitra added.
Kishor considers that migration is an issue that could be hammered for strengthening his political influence in the state, Mitra added.
Failing to catch attention
Former director of AN Sinha Institute of Social Studies, Dr DM Diwakar, said Kishor has worked more as a professional and now he has undertaken his state-wide journey before he launches his own party. He said the poll strategist wants to make the migration of workers from Bihar a political issue but it is not so easy.
Since there is no organisation that can raise their concerns forcefully, it has not so far caught the attention of the state's politicians adequately. In such a situation, Kishor will also face a huge challenge of making migration a political issue even if he intends to do so, he added.
Political observer Kamal Kant Sahay said Kishor wants to create an impression that he is truly concerned about the well-being of the people of Bihar by promptly lapping the issue for his long-term political ambition. Kishor also wants to prove that he is different from those traditional politicians who work only for electoral advantage, he added.
Former Patna College principal Dr Nawal Kishore Choudhary said the issue of maltreatment being meted out to migrant workers becomes a political issue only when it reaches a flash point. Later, the issue loses its steam as the migration has more to do with the distressing economic condition of a household, he added.