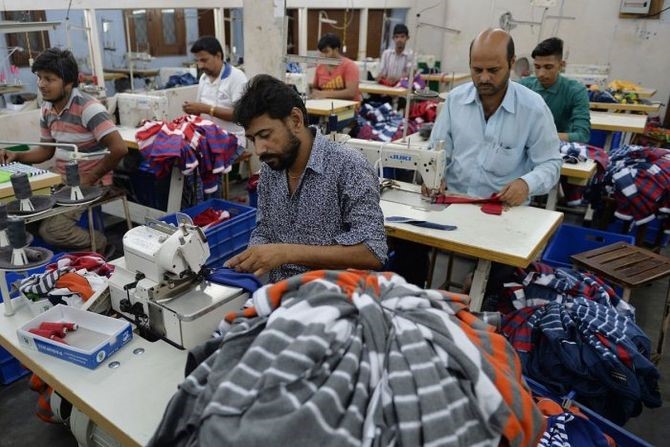 An uneasy calm is reported in the usually bustling textile mills of Coimbatore and Tiruppur in Tamil Nadu. Amid rumours about attacks on North Indian labourers, a large number of workers in these mills who hail from northern cities — particularly from Bihar and Jharkhand — have headed home while others are packing their bags to take the next train.
Amid rumours of migrant workers being attacked by locals doing the rounds — which both the Tamil Nadu and Bihar governments have been trying to quell — the Holi holiday has accentuated the issue. Each year, during this time, North Indian labourers in large numbers take a trip home. This year, the number of migrants heading home for Holi has increased, with no promise that they will return.
"Usually 20-25 per cent of workers leave for their hometown during Holi, but this year the percentage has increased manifold due to panic over fake claims of attacks (on North Indian labourers)," J James, president of the Tamil Nadu Association of Cottage and Micro Enterprises (TACT), told The Federal.
Capital Beat: Was insider-outsider debate on migrant workers politically motivated? 
James said the Coimbatore railway station alone is witnessing an exodus of over 1,000 migrant workers a day because of the panic. "Even though the numbers have come down after the Tamil Nadu and Bihar governments' intervention, we are still worried," he added.
However, N Jagadeesan, president of the Tamil Chamber of Commerce and Industry, expressed the belief that the workers would come back after their Holi break. "It is a relief to the industry that the claims of attacks on migrant workers have proven to be rumours," he told The Federal. "We expect 90 per cent of the labourers who go home for Holi to return. As per the latest developments, it is not going to have a big impact on Tamil Nadu economy." 
Government action
On Sunday, the Tamil Nadu government sought to bring the situation under control, assuring safety and security to migrant workers. With the rumours suspected to be spread through fake videos of 'attacks' on North Indian labourers, the government launched a crackdown on people spreading such footage. Representatives of the Bihar association in Tamil Nadu also met the labourers to allay their fears.
Entrepreneurs in Coimbatore say they are shocked at the way misinformation is spreading.
"On February 13, 24-year-old G Gokul was hacked to death behind the court premises in Coimbatore in what was called a local gang rivalry. Both the gangs hailed from Tamil Nadu. Bystanders were seen shooting the video on their phones. But a few days later, I came across a viral video of the same incident in which the victim was wrongly depicted as a Bihari while the assailants were identified as Tamils," James said.
Also read: TN govt in damage control mode as migrant workers issue gets bigger
He cites another example. "There was an accidental death on the railway track in Coimbatore. But, the body was shown as proof for the rumoured killing of migrant labourers, on social media. I was shocked by the level of fake news involved in the matter. When the Bihar government representative met the labourers, they played such videos to them and said their families are worried over their safety," he said.
The crux of the issue could lie with the fear in the migrants' families back home, said industry representatives. Even if the migrants are convinced that they are safe in their work environment, their aged parents and spouses tend to panic over the videos and tell the labourers to return home.
Jagadeesan is optimistic that a trip home would lay those fears to rest. "Wrong reportage by the media has resulted in this mess," he said. "So, when the migrants go home and tell their families about the ground realities, it would lead to some closure. The issue isn't going to get aggravated."
MSMEs affected
Inside sources said fake news is taking a toll on the functioning of industries in and around Coimbatore. More than 60-70 per cent of the labourers working in the MSME sector in these cities are migrants. Over the years, they have gained experience and become skilled workers, and the factories have become substantially dependent on them. 
James said the industries will be vastly affected if labourers leave for Holi en masse. "The labourers are confident they are in a safe place and safe hands. But their parents and relatives are worried about their safety after watching the fake videos. Yesterday, we met the Bihar government representatives, and appraised them of the situation. They were happy about the lives and safety of workers from Bihar. We asked them to take the message to interior villages of the state so that the wave of panic settles down," he said.
Over a period, migrant workers have assimilated themselves into the labour sector of Tamil Nadu. They plan their holidays and go home in batches, so that the production schedule is not impacted. This schedule is going for a toss now. Mill owners say even if they convince the workers to stay, they leave surreptitiously.
Local employees not available
The MSME sector is paying migrant workers ₹700-800 per day (for skilled workers), apart from taking care of their lodging and food.  It is claimed that local employees for the production industry are next to impossible to get. 
Also read | 'Attack' on migrant workers: Chirag Paswan seeks probe, strict action against culprits
"We would be happy to recruit local employees, as the risk of losing the workforce periodically wouldn't occur. As we don't have locals for employment, we are forced to look at migrant labourers," said James, who also runs an auto parts manufacturing unit.
The Tamil Nadu economy could be impacted unless the current migrant workers issue is not brought under control. While some sectors, such as garments, hospitality and manufacturing, would be the most affected, the cascading effect could have larger implications. 
Hard physical labour
Here, again, Jagadeesan expressed optimism. "The exposure to migrants is limited to the hotel, construction and hosieries industries. Also, large industries are more mechanised and less labour intensive. Jobs which are hard in nature, like loading, unloading goods and construction work, and jobs which involve working late night or double shifts are largely taken up by migrant workers," he said. They work on Sundays and work without taking leave in many cases, giving an advantage to the employer.
"Migrant labourers are recruited through agencies. Such organisations replace the workforce when some of them go home, so that work doesn't get affected — unless there is a crisis," he said.
An exodus of migrants is a significant threat to the MSME sector, which employs such labourers in large numbers. The impact of COVID, increase in GST, price rise of raw materials and hike in electricity fare are already putting pressure on the MSME sector. A labour crisis would exacerbate their woes.