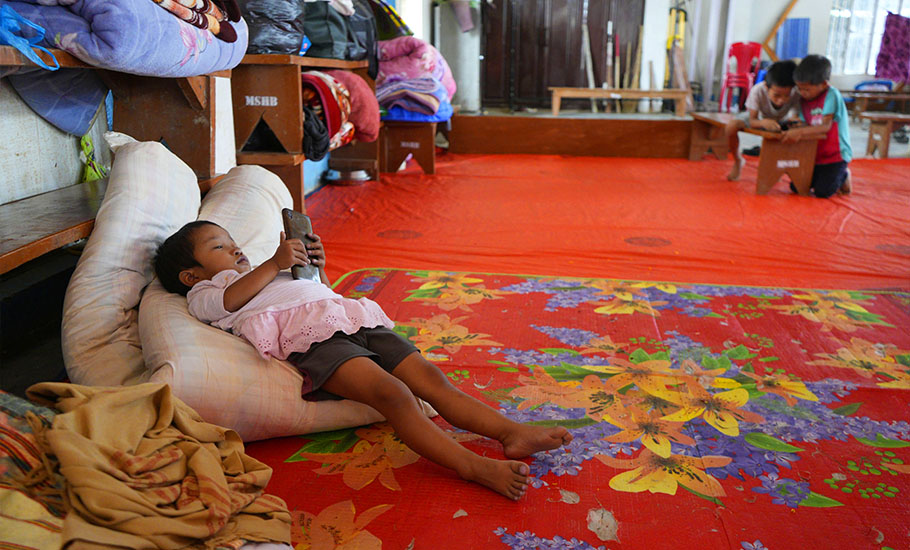 Manipur ground report: How 3 months of mayhem has affected daily life
It was 8 pm on May 2.
Tanthopolis, one of the two movie theatres of Imphal, was running a full house, screening Finnish action thriller Sisu.
Little could anyone in the jam-packed hall in their wildest imagination think that all actions and violence unfolding in front of them would transcend the screen to play out in their real life after a few hours.
Also read: SC slams Manipur police for 'complete breakdown of law and order'; summons DGP
Life after Covid restrictions lifted
Around the same time, same day, some 60 km south of Imphal, people were milling on the streets of Churachandpur.
In the past few months since the lifting of Covid-19 induced restrictions, the nightlife was booming for the first time ever in Manipur's second-largest town.
Streets were flanked by eateries and fast-food joints run by youths who had returned home from various metropolitan cities during the lockdown period.
Also read: Nominate 2 Manipuri women to RS, ask Modi to speak: INDIA alliance urges President
Delicacies they imported with them such as tandoori chicken, kebabs, and Hyderabadi Biryani were being savoured with equal elan as that of traditional favourites like momos and chowmein.
Night football tournaments were another recent fixation of the town, where people would scurry indoors with the fall of dusk even a few years ago.
Guns had long fallen silent as Kuki militant outfits that were involved in fratricidal killings were holding peace parleys with the government having signed a ceasefire agreement.
Also read: Manipur: Curfew relaxation period increased in Imphal; 2 abandoned houses torched
From Imphal Valley to hills in Churachandpur, things were looking up for better. Only about a fortnight ago, Manipur hosted the 59th edition of the Femina Miss India. It was for the first time that the pageant was held outside Mumbai since 2002.
How things changed for the worse after May 3
All that changed on May 3, the day ethnic violence erupted between the state's Meitei and Kuki communities.
The three-month-long mayhem that continues to rage the state has so far claimed over 180 lives. More than 300 were wounded and around 55 thousand people were displaced.
Watch: Manipur violence | Odds stacked against Opposition despite Modi's studied silence
Chilling as it may be, these statistics have now become cliched. Horrifying tales of sexual violence and gruesome killings too were widely reported from the conflict zones.
Yet the story of Manipur's sufferings has not been completely told. Besides macabre and morbidity, there are so many untold tales of ordinary sufferings – the ordeal of mundane life getting torpedoed.
Meena, a professor and a documentary filmmaker, was among the cinephiles viewing Sisu at Tanthopolis, the last time the hall screened a movie.
Also read: Internet bans: At whiff of trouble, 'Digital India' turns into 'gagged India'
"That was also the last time I had been out on a family movie time. There is hardly any normal life left in the state now. We have been living under the constant shadow of violence for the past three months," she told The Federal.
Simple things like going out for a coffee with a friend to unwind or having outings with kids are no longer a ready choice, she added.
Many businesses shut
People in Churachandpur, another conflict hotspot, have similar experiences.
"Before the violence broke out, I used to regularly hang out with my friends in one of these street-side barbeque corners or play night football at these artificial turf grounds that have mushroomed in the town. All these activities have stopped now," said Dhylan, an assistant professor at Churachandpur Rayburn College.
Such "small disruptions" have affected the livelihood of many people in both valleys and the hills.
Twenty-five people were employed with the Tanthopolis. All of them had to be given the pink slip as there is no surety when the theatre could screen a movie again.
"I had no option but to lay off my employees. Without any earnings from the hall, it became impossible for me to carry on with the salary burden. As it is, I had taken a bank loan to lease the hall and refurbish it. I pay a rent of Rs 2.5 lakh per month. If my loan is not waived off by the bank, I am doomed," said Bryan Akojam, the owner of the theatre.
It resumed screening after a gap of 15 years in December last year after Akojam took over the hall and renovated it.
"I am not sure when the situation will get normal and I will be able to restart my business," he said.
Another movie hall Kumecs in Imphal is also out of business for the last three months.
Incidentally, Akojam was in the process of discussions with one of his Kuki friends to start a franchise of Tanthopolis in Churachandpur before the violence broke out.
"That now seems to be an impossible proposition," he said with a chuckle.
Many businesses in the state are now facing existential crisis just like the two theatre halls in Imphal.
Several youths in Churachandpur had ventured into an innovative business model of setting up artificial turf grounds to rent them out for football matches. The rent ranges from Rs 700 to Rs 1,500 per hour based on the size of the ground and the timing of the match. Rents for night matches are higher.
"These grounds are lying unused, ruining the businesses and dreams of several youths," Dhylan added.
Similarly, most eateries, spas and saloons that had sprouted in the hill town have downed shutters.
Students suffer
The economy has been so badly affected that in a recent parents-teachers meeting at the town's Cambridge school, around 70 per cent of the parents reportedly expressed their inability to pay the school fees of their wards.
"They preferred the school to remain closed instead," said a member of the school's governing body who refused to be named.
Students are the worst sufferers in this ongoing conflict.
"Many of my students have given up on their studies because they have to guard their villages against possible attacks," said a teacher at the Churachandpur Government College. He chose anonymity because there is a gag order.
"Considering the prevailing situation, these students may get promoted. But soon our colleges may start churning out too many unemployable graduates," he added.
Apart from studies, extracurricular activities of students too have come to a standstill.
Schools though have opened for classes 1 to 8 from July 5. However, classes are irregular. Many schools, particularly in the hills, could not even resume classes.
"A few weeks ago, I suddenly got a call from my son's school that his classes would be suspended midway because the situation could turn volatile as a protest was suddenly planned in the locality," Meena said. "I was in university, so I had to ask my father to pick my 11-year-old son from school."
"I had enrolled my son into a swimming club. But his training has been suspended since the violence broke out. He is compelled to spend most of the time at home. Even playing games on a mobile phone is not an option because mobile internet services are still banned," she added.
ATMs run out of cash
Broadband internet services can be availed subject to a number of conditions such as connections will only be allowed through static internet protocol (IP) addresses – which means users will not be allowed to change their IP addresses. The users also needed to give a written undertaking that the service would not be misused.
The internet ban has crept in among many the fear of missing out (FOMO) – that uneasy all-consuming apprehension that compulsive netizens often feel when they are not connected virtually.
"We are now easily getting anxious and edgy. This is because of the frustration of not being able to do simple things that were taken for granted even a few months ago," Meena explained. "Even taking out money at an ATM kiosk is quite an ordeal these days. You have to run from one kiosk to another because most of the ATMs are out of cash."
Fluctuating curfew hours are only adding to the uncertainty, she added.