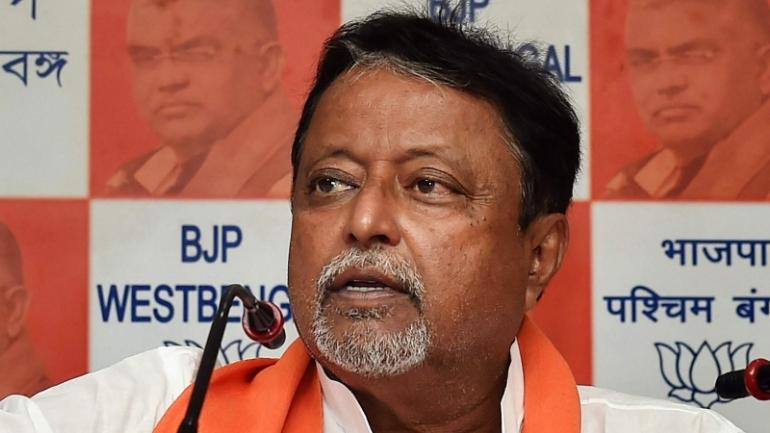 Veteran TMC leader Mukul Roy, who kept the political pundits guessing over his next move, on Tuesday night (April 18) said he was still a BJP legislator and would like to meet Union Home Minister Amit Shah as he was keen on returning to the saffron camp.
Roy, who on Monday night (April 17) travelled to New Delhi for "some personal work", even as his family initially claimed that he was "missing", only to later accuse the BJP of indulging in dirty politics using the TMC leader who is unwell and not in the "right frame of mind".
"I am a BJP legislator. I want to be with the BJP. The party has made arrangements for my stay here. I want to meet Amit Shah and speak to (party president) JP Nadda," he told a Bengali news channel late on Tuesday evening (April 18).
Roy joined BJP in 2017, returned to TMC in 2021
The founding member of the TMC switched to the BJP in 2017. He won as a saffron party candidate in the 2017 West Bengal assembly election. He, however, returned to the Trinamool Congress soon after without resigning from the House.
"I was not keeping well for quite some time, so I was away from politics. But right now, I am fine and would again be active in politics," Roy said.
Also read: TMC's Mukul Roy says he is in New Delhi after family's untraceable claim
He said he was "100 per cent confident that he would never be associated with the TMC".
Roy also had a piece of advice for his son Subhrangshu. "He too should join the BJP as it would suit him best," he said.
The drama over Roy's whereabouts evolved since late Monday evening (April 17) when the former railway minister's son Subhrangshu had told PTI that his father was "untraceable" and "missing" since late Monday evening (April 17).
After reaching Delhi, Roy told reporters that he reached the national capital but had "no specific agenda".
"I have come to Delhi. There is no specific agenda. I have been an MP for several years. Can I not come to Delhi? Earlier, I used to come to Delhi regularly. I am an MLA and MP of Delhi," he had said.
Father is extremely unwell: Roy's son, Subhrangshu
As there was speculation that Roy could rejoin the BJP, Subhrangshu, who too had switched over to the saffron camp, said his father was "extremely unwell" and suffers from "dementia and Parkinson's disease".
"My father is not in the right frame of mind. I would request everyone not to do politics with an unwell person. After he went missing, I had also filed a police complaint last night," he told reporters.
Roy's son also claimed that his father had undergone "brain surgery" last month and failed to recognise even family members and close associates.
Also read: Trinamool Congress leader Mukul Roy untraceable since Monday evening, claims son
Subhrangshu claimed when he came to know on Monday night (April 17) that the TMC leader was travelling to Delhi by air, he had requested the authorities to de-board him, but by then, "the flight had taken off".
"The chief minister herself had called up to inquire about my father's well-being," Subhrangshu, who too had returned to the TMC in 2021 along with his father, said.
Speculation over Roy rejoining BJP
Speculations over Roy rejoining the BJP gained momentum after BJP national secretary Anupam Hazra made a cryptic single word Facebook post: "Comeback".
When contacted by a news channel, Hazra said, "It's time to wait and watch. Please wait for one or two days; everything will be clear very soon".
Reacting to Hazra's comments, Subhrangshu said it was an attempt to malign the TMC and its national general secretary Abhishek Banerjee.
Also read: A tale of two turncoats: Mukul Roy and Himanta Biswa Sarma
"This is shameful that some people have stooped so low and are doing politics over my father's visit to New Delhi. This is an attempt to malign the TMC and our party's national general secretary Abhishek Banerjee," he said.
State parliamentary affairs minister and TMC leader Sovandeb Chattopadhyay accused the BJP of indulging in dirty politics.
"I have known Mukul Roy for the last several decades. He is so ill that he doesn't recognise people and cannot complete a sentence properly. Now if the BJP wants to pursue politics by using an unwell person, we condemn such dirty politics," he said.
Senior BJP leader Suvendu Adhikari, however, said that the saffron camp was not interested in "inducting Roy back into the party."
Police question local BJP leader
Meanwhile, the airport police station under the Bidhannagar police commissionerate questioned Pijush Kanodia, a BJP leader and once a close associate of Mukul Roy during his stint in the saffron camp.
"Following a complaint from Mukul Roy's son, we have questioned one local leader of South Dum Dum for his alleged involvement in the matter. We have also sent a couple of officers to New Delhi to find out what has happened," a senior police official said.
Roy joined the BJP in 2017 following differences with the TMC leadership. He was made BJP national vice president in 2020.
Also read: Mukul Roy is back in Trinamool; party says more leaders on their way
He won from the Krishnanagar North assembly seat on a BJP ticket in 2021 and returned to the TMC just a month after the results were announced, complaining of "ill-treatment" by the saffron party. He, however, didn't resign as an MLA.
Since his return to the TMC, he has remained away from the public glare.
Roy also resigned as the chairman of the Public Accounts Committee in the West Bengal assembly last year, citing ill health.
(With agency inputs)