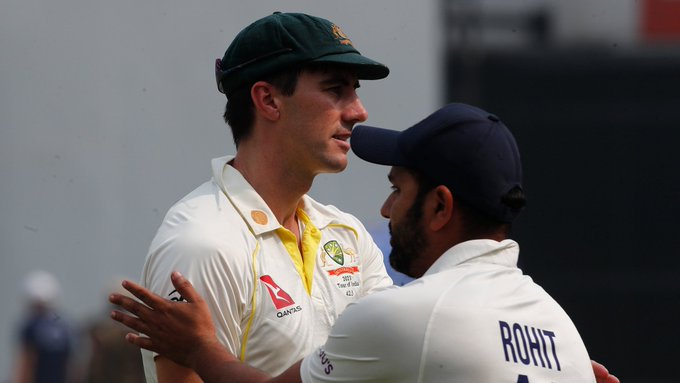 WTC Final | Gill vs Green: Stage set for battle between superstars-in-the-making
A week shy of three months since they both last played a Test match, Australia and India will come face to face in the biggest game of the long-format landscape with precious immediate little red-ball cricket behind them.
The context – the final of the World Test Championship. The prize – the label of the World Test Champion, a tag New Zealand earned two years back by overcoming Virat Kohli's India in the title clash in Southampton.
A topsy-turvy league stage culminated in mid-March with the two most consistent Test sides coming through the nine-team first phase. England, unstoppable since Brendon McCullum and Ben Stokes, both of New Zealand origin, came together as head coach and Test captain respectively last summer, had courted too much disaster in the preceding year for 'Bazball' to bail them out and for the second championship in a row, they will be watching from the outer as two of their fiercest rivals battle it out for the most prestigious crown in Test cricket.
Also Read: When Kohli meets Shubman Gill, there is a lot to talk about batting, techniques
The Oval, the venue for this one-off contest beginning on Wednesday (June 7), is the most spin-friendly of all English grounds, but whether that will count for anything this early in the summer remains to be seen. The consensus is that at some stage, it will start to assist tweakers, but it's possible that by then, the faster bowlers would have already had their say on a surface that has traditionally possessed considerable bounce but where batsmen too have filled their boots.
Australia are coming off a long collective break after departing Indian shores on March 23 at the conclusion of a three-match One-Day International series on the back of a four-Test showdown. Whether having had the opportunity to rest tired bodies and minds and recharge batteries is a boon is something only time will tell. India, by contrast, are match-ready, if two months of 20-over cricket in the form of the Indian Premier League can prepare players for the vastly different challenges that the five-day version will throw up. But will India's top guns be also battle-weary, having traversed the length and the breadth of the country with the IPL returning to the home-and-away format for the first time since 2019?
These are intriguing questions, answers to which will only become apparent once the Test unravels. Were India's top order, of whom only Cheteshwar Pujara didn't figure in the IPL, to click as a unit, their success will be placed at the altar of the IPL. Otherwise, the world's most celebrated franchise tournament will once again be relegated to the status of a punching bag, pilloried for jeopardising if not derailing India's campaign for a global title that is now a decade into a familiar tale of disappointment and frustration.
In the absence of Rishabh Pant and Jasprit Bumrah, recuperating from a terrible car accident and a back surgery respectively, the needle of favouritism has swung just that bit towards Pat Cummins' men. True, they themselves will be without Josh Hazlewood, a late withdrawal with a side strain, and while the metronomic quick will undoubtedly be missed, they have enough back-ups in the form of proven performers such as Scott Boland and Michael Nesser. India don't have that same luxury, of course, because Pant and Bumrah are once-in-a-lifetime cricketers who have nudged into the category of the irreplaceable. The stocky wicketkeeper-batsman is one of the most accomplished game-changers in five-day cricket while Bumrah, him of the unique action and a hyperextension of the right elbow, is virtually unplayable when on song.
Also Read: WTC final | India vs Australia: All you need to know; who wins if it is a draw?
Pant and Bumrah aren't the only influencers missing from the Indian set-up. Shreyas Iyer, like Bumrah rehabbing from back surgery in New Zealand, hasn't been much spoken about in the lead-up to the game, but he leaves a huge vacuum in the middle order. In his brief career, Iyer has been outstanding at No. 5 and 6, batting with purpose and composure and scoring runs when the chips have been down. He and Pant were just about beginning to form an outstanding mid-innings alliance when the cruel hand of injury came to rest on their heads. In the scramble to compensate for Iyer's absence, India have been forced to look backward and pluck Ajinkya Rahane out of the wilderness after a 16-month gap. It is just reward for the Mumbaikar's roaring domestic season and a fabulous first half of the IPL for Chennai Super Kings, for whom he batted with a positivity that shocked even his most ardent fans.
It will be up to skipper Rohit, his predecessor Virat Kohli, Rahane and Pujara, who between them have nearly 350 Test appearances, to lead the batting charge, with the ebullient Shubman Gill for company. The 23-year-old right-hander has lent new meaning to the term 'purple patch', smashing eight 100s across formats in the first five months of this year. Gill is a wonderful amalgam of old-world charm and new-age fearlessness; he is already, unfairly, being compared to Sachin Tendulkar and Kohli. Gill has shown thus far that he is his own man, and he will do his growing reputation no harm with incisive, inspirational efforts against a gun Aussie attack with Cummins, Mitchell Starc and admirable off-spinner Nathan Lyon as the primary weapons.
Mohammed Shami, coming off an outstanding IPL for Gujarat Titans, will shoulder the bowling lynchpin responsibility in his 10th year in Test cricket. Vastly experienced and a massively dangerous proposition when there is a little bit of 'juice' in the surface, Shami must lead the way for Mohammed Siraj and company against a peachy Aussie line-up whose two middle-order pillars, Steve Smith and Marnus Labuschagne, are coming off good county stints, like Pujara. But before that, they must get past David Warner, in his last year of Test cricket, and Usman Khawaja, the doughty left-hander who impressed on the tour to India.
Then, there is Cameron Green, Rohit's understudy at Mumbai Indians who has grown in stature and confidence after his uninterrupted stint with the five-time former IPL champs. Green is an all-rounder in the real sense of the term, a wonderful batsman and more than just a competent quick. Like Gill, he has been earmarked for greater things, and the battle between the two superstars-in-the-making should make for a fascinating subplot.
Also Read: WTC final: India and Australia's road to the Ultimate Test at The Oval
India's desperation against Australia's ambition is a dream script for a match of this magnitude. Australia might have the edge, but having lost four straight series against their opponents, they will know that anything less than at their best, and they will be mercilessly punished.