WTC final | India vs Australia: All you need to know; who wins if it is a draw?
India and Australia will face off in the final of the ICC World Test Championship (WTC) at The Oval in London from Wednesday (June 7).
WTC 2021-23 featured nine teams and Australia topped the table (152 points; 66.67 points per cent – PCT) while India (127; 58.8) finished second.
Also read: WTC final: India and Australia's road to the Ultimate Test at The Oval
Here is all you need to know about the WTC final 2023.
WTC final venue, dates, start times
The Oval in London will host the WTC final. The Test will be played from June 7 to 11. The match starts at 3 PM IST (10:30 AM Local) on all days.
Who won the WTC trophy last time?
In the first-ever WTC final, in 2021, New Zealand defeated India by 8 wickets at Southampton. That match saw reserve day being used, on June 23, after first day and fourth day's play (June 18 and June 21) were washed out. New Zealand paceman Kyle Jamieson won the Player-of-the-match award. India was captained by Virat Kohli while Kane Williamson was the Kiwi skipper.
Also read: Ajinkya Rahane makes a comeback to Indian Test team for WTC final
Is there a Reserve Day?
Yes. June 12 has been marked as the sixth and Reserve Day. According to ICC, "The idea behind having a Reserve Day is to make up for any loss of playing time during the five scheduled days, not to keep playing until one side wins."
As per ICC's playing conditions, "If Lost Playing Time does not exceed 60 minutes, the scheduled hours of play on the 5th day shall be extended to incorporate the Lost Playing Time and the Actual Last Hour. Accordingly, if there are no further suspensions of play on the 5th day, the Reserve Day shall not be utilised."
Also read: India overtakes Australia to become No.1 Test side in ICC rankings
Number of overs on Reserve Day
The maximum duration for the Reserve Day is a minimum of 330 minutes (or 83 overs, whichever is later), plus the last hour (a minimum of 15 overs to be bowled).
Official ball for WTC final
Grade 1 Dukes cricket balls supplied by the ICC will be used in the match. Spare used balls of the same brand will be supplied for use as replacements during the match.
Also read: India vs Australia: Another home series won; India's next focus is global title
What happens if WTC final ends in a draw?
If the match is drawn, tied, or abandoned, the teams shall be declared joint winners of the ICC World Test Championship.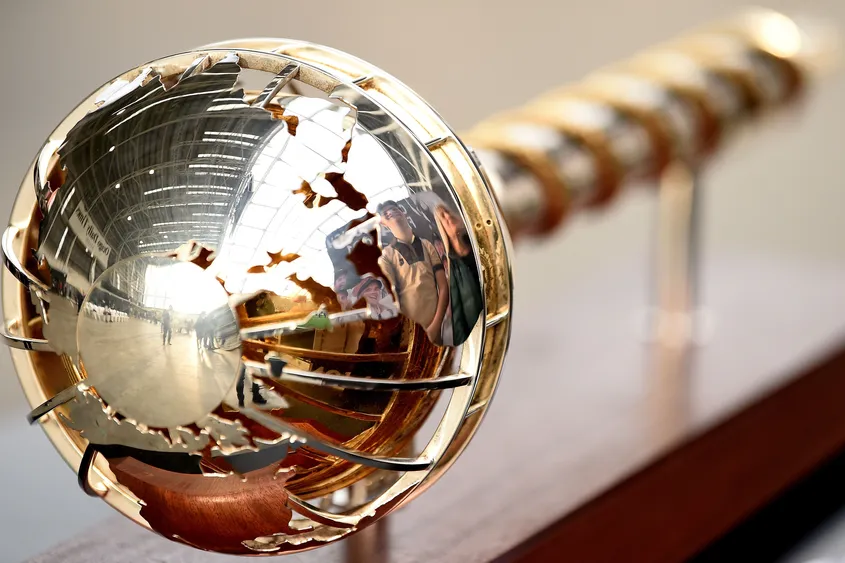 ICC Test Championship Mace
The winner of the WTC final will also get the Test Mace, previously given to teams topping the ICC Test Team Rankings. The Mace will now be given to the WTC winners. In case the final ends in a draw or a tie, the finalists will split the prize money for the first and second places and share possession of the Mace during the time they remain champions.
Also read: WTC final: Ishan Kishan replaces KL Rahul in India squad
ICC Test Rankings
India: No. 1. Australia: No. 2
Number of Player Review requests permitted
In each innings, each team shall be allowed to make a maximum of 3 Player Review requests that are categorised as 'Unsuccessful'.
What captains said
Rohit Sharma (India)
"I think England is pretty challenging conditions for the batters. But as long as you're prepared to have a good grind you can have some success."
"As a batter, you know, one thing I realised batting last year, I think a year before that, it was that you're never in. The weather keeps changing a lot, so you've got to keep concentrating for longer periods of time. And that is the challenge of this format.
"You will get that intuition, when it is your time to take the bowlers on. And that is when you should be ready for it. And, more importantly, you need to be there."
"I've watched a lot of batters opening the batting here in these conditions and you know a lot of the guys who've had success I've seen them how they've gone about you know scoring those runs obviously I'm not gonna try and emulate them because they all have different styles and I have a different style, but it's nice to know the pattern of scoring runs here."
"We know that this is probably one of the best batting wickets as well you get value for your shots you know the square boundaries are quite quick. So it's just about, you know, giving yourself the best chance of having success, which is, you know, to concentrate for longer periods of time. which is, you know, to concentrate for longer periods of time."
"If you're going to play, this is something that you have to come up with mentally. You got to be adaptable, adjust whatever little tweak you need to do in your technique. But more than that, I think it's just talking to yourself and getting mentally ready. Lot of the other guys in the squad haven't done that because we've got a lot of new faces in the squad as well.
"For me, it's just been really talking to myself, getting mentally ready, because that is something that a lot of us have been doing for many years."
Pat Cummins (Australia)
"We try and take a break when we can. I've always said that we have got six Test matches in the next two months, I'd much prefer to be slightly underdone than overdone. That's from a bowler's point of view. I always feel like it doesn't take too much to kind of get ready. And then I want to make sure I'm fresh physically for the matches."
"We have had some really good training at Beckenham the last week. Obviously back home, we did a lot of training as well. So everyone's come in, we've trained really hard, everyone's rejuvenated, refreshed and pretty keen."
Live TV, streaming information
In India, Star Sports network will telecast the WTC final live on TV. Live streaming of WTC fill will be available on Disney+Hotstar.
Top run scorers
1. Joe Root (England) – 1,915 runs (40 innings)
2. Usman Khawaja (Australia) – 1,608 (28)
3. Babar Azam (Pakistan) – 1,527 (26)
Top wicket-takers
1. Nathan Lyon (Australia) – 83 wickets (32 innings)
2. Kagiso Rabada (South Africa) – 67 (22)
3. Ravichandran Ashwin (India) – 61 (26)
WTC prize money
The winners of the WTC final will collect $1.6 million as the winners' prize money. The losing finalists will pocket $800,000.
All nine WTC participants will get a share in the $3.8 million purse. South Africa have earned $450,000 by finishing third in the WTC 2021-23 standings. England ended up fourth on the table – a reward of $350,000.
Sri Lanka, who were in the running for a place in the final before their series defeat in New Zealand, dropped down to the fifth spot. Their prize money share is $200,000.
Sixth-placed New Zealand, seventh-placed Pakistan, eighth-placed West Indies and ninth-placed Bangladesh will be given $100,000 each.
Future WTC cycles
The ICC plans to continue holding the World Test Championship (WTC) every two years over the next eight-year cycle – 2023-25, 2025-27, 2027-29 and 2029-2031.
WTC final squads
Australia: Pat Cummins (captain), Scott Boland, Alex Carey, Cameron Green, Marcus Harris, Michael Neser, Travis Head, Usman Khawaja, Marnus Labuschagne, Nathan Lyon, Josh Inglis, Todd Murphy, Steve Smith, Mitchell Starc, David Warner.
Reserves: Mitch Marsh, Matt Renshaw
India: Rohit Sharma (captain), Ravichandran Ashwin, KS Bharat, Shubman Gill, Ravindra Jadeja, Virat Kohli, Ishan Kishan, Axar Patel, Cheteshwar Pujara, Ajinkya Rahane, Mohammad Shami, Mohammad Siraj, Shardul Thakur, Jaydev Unadakt, Umesh Yadav.
Reserves: Yashasvi Jaiswal, Mukesh Kumar, Suryakumar Yadav
WTC final match officials
On-field umpires: Chris Gaffaney (New Zealand) and Richard Illingworth (England)
TV umpire: Richard Kettleborough (England)
Fourth umpire: Kumar Dharmasena (Sri Lanka)
Match referee: Richie Richardson (West Indies)
The countdown has begun for #WTC23 Final ⏳#TeamIndia pic.twitter.com/7E120W5cV0

— BCCI (@BCCI) June 5, 2023