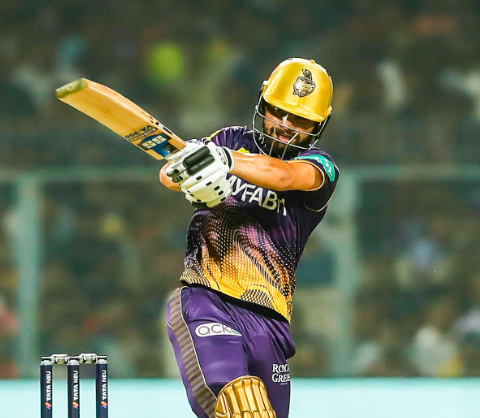 It took five giant sixes off the last five balls of Kolkata Knight Riders' game against Gujarat Titans (GT), the defending IPL champions, for Rinku Singh to storm into the collective consciousness of the Indian cricket fan on Sunday evening. But to more than just the casual followers of Indian cricket, domestic and IPL, this was an explosion waiting to happen.
Rinku is no babe in the woods. At 25, he has a wealth of experience under his belt – 40 first-class matches, 50 List A (domestic 50-over games) and, before Sunday evening, 77 T20 outings for his state, Uttar Pradesh, and his franchise, Kolkata Knight Riders (KKR).
Also read: IPL 2023: Rinku Singh blasts 5 sixes in 5 balls to take KKR to victory over Gujarat Titans
No babe in the woods
The pint-sized 25-year-old averages a jaw-dropping 59.89 in first-class cricket and an equally mind-boggling 53 in the List A format. His T20 numbers are a little less overwhelming, but that's only because the format is fickle and prone to throwing inconsistent graphs. Yet, an average of 26.76 and a strike-rate of 139.75 (both updated after Sunday's encounter) aren't to be scoffed at.
Rinku, of course, won't be remembered for his impressive numbers in all three variants of the game. He won't necessarily be hailed for bouncing back with spunk and fortitude from a knee surgery during the 2020-21 domestic season. His calling card will, forever, be the five successive sixes off Yash Dayal on Sunday, and the nonchalance with which he overturned a lost cause into the most sensational of victories.
Kolkata needed 29 off the final over to seal the deal against unbeaten Gujarat who, despite the loss through illness of skipper Hardik Pandya, always had their noses in front. Rashid Khan, deputising for Pandya and having all but secured the two points with an unprecedented fourth T20 hat-trick, turned to the left-arm pace of Dayal to complete what everyone believed was just mere formalities, until Rinku deigned otherwise.
After Umesh Yadav took a single off the first delivery to bring Rinku on strike, the general consensus was that 28 off the last five deliveries was beyond the left-hander. Beyond anyone. And who could pick holes in that theory? Rinku needed four sixes and a four, or five sixes, to pull off the unthinkable. Kidding, surely?
The 'substitute' makes a mark
Kid you not, replied Rinku, with some of the cleanest ball-striking under pressure in the history of the game. All right, so we say, no pressure. What did Rinku have to lose? Who expected him to make the impossible become reality? Nothing, and no one, really.
And yet, there he was, the quintessential team man, the one overlooked season after season, reduced to occasionally coming on to the field as a substitute fielder and leaving his mark, standing tall as he pulled the rug from under the defending champions' feet.
Also read: IPL 2023: Rahane's fastest 50 of the season steers CSK to 7-wicket win over MI
Rinku's was a familiar tale of the less unfulfilled until the middle of last season when, in a desperate throw of the dice after a hat-trick of defeats, head coach Brendon McCullum chose to give the spunky young man a go. Between seasons 2018, when he first broke into the IPL, and 2020, Rinku had played just 10 matches, and was forced to sit out the entire 2021 season after having gone under the surgeon's knife to sort out a dodgy knee. McCullum, skipper Shreyas Iyer and the franchise owners might not have expected much, but Rinku has made it a habit of exceeding expectations, the topmost ranking in the appraisal policy companies adopt in to rate their employees.
A 23-ball 42 not out, which arrested a string of five consecutive defeats, was the crowning glory as Rinku finished with 174 runs from seven digs, at an average of 34.80 and a strike-rate of 148.71, the second-highest for his team among batsmen who played at least 50 deliveries. He couldn't prevent KKR from crashing out at the league stage, but after years of being on the sidelines, in great anonymity, Rinku had fired a salvo for himself.
'Underplayed achievements'
Sunday's five straight sixes off the last five balls of the match, and an unbeaten 48 off 21 deliveries, were therefore not quite a bolt from the blue. And yet, if that's the magnitude they carried, it's entirely because of how underplayed Rinku's achievements have been.
'Underplayed' could well be the Aligarh-born young man's middle name. The third of five siblings who grew up in a two-room house in his father's LPG distribution storage compound in the town of his birth, Rinku seemed reconciled to the life of a sweeper to help augment his family's income until the cricket bug compelled him to run away from home after Grade 9 to pursue a career in the sport.
His natural stroke-making ability caught the eye of his first coach, Masood-uz-Zafar Amini, and there was no looking back from then as Rinku rose through the age-group ranks in Uttar Pradesh, representing the state team at first the Under-16 level and then the Under-19 category. His senior state debut came when he was not yet 17, vindicating his call to put all his eggs in the cricket basket, and while the initial IPL call-up by KKR, in 2018 for ₹80 lakh, was a reason to celebrate, Rinku wasn't in it only for the financial riches.
Also read: How delayed finishes in IPL matches have become an unedifying spectacle for cricket fans
Sporadic appearances, and consequent failures, prevented him from making a name for himself at the franchise level, though those who shared a dugout with him spoke glowingly of his commitment, his work ethic and his propensity to leave nothing behind in the dressing-room. If Rinku was frustrated by the lack of opportunities, he channelled his angst in the right manner, making the most of the chances that came his way towards the second half of last season and ensuring that his team could no longer overlook him at the beginning of a new season.
Sunday's pyrotechnics have elevated Rinku to stratospheric levels. From being a fringe player, he has made himself a household name, because that's what sixes off the last five balls of a match to translate definite defeat into wondrous victory will do. Having emphatically stepped out of the shadows that threatened to engulf him perennially, Rinku is now in a position to look at the world as his oyster. If it was left to him alone, the sparkling pearls will come along. Plentiful, and in a rush.