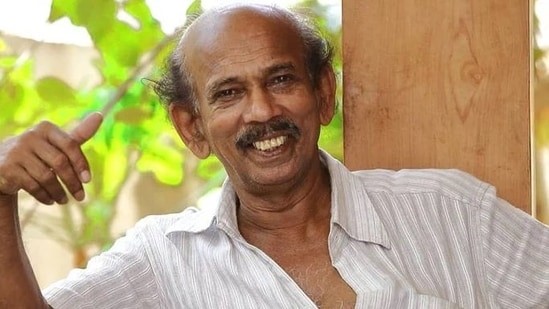 Mamukkoya would flawlessly deliver dialogues in Malabar slang, a regional dialect of the Malayalam language spoken in the Malabar region of Kerala
He was widely considered to be one of the finest actors of Malayalam cinema. The down-to-earth, veteran actor Mamukkoya, who passed away at 77 in Kozhikode on Wednesday (April 26), will always be remembered, however, for his comic roles that had turned him into a household name.
The characters he had played are etched in the minds of fans that they recently even figured in memes when IPL 2023 started. For example, an Instagram reel featuring the stars of Rajasthan Royals, Yuzvendra Chahal and Sanju Samson, had gone viral. Yuzi appeared as Keeleri Achu, an accidental rowdy, a popular meme character on social media adapted from a role that Mamukkoya had played in Malayalam cinema, and Sanju as Raju.
Keeleri Achu is the typical neighbourhood troublemaker. Once, he challenges the entire neighbourhood to fight him even as he brandishes a knife. Raju, who appears to be a commoner, surprises him by standing up. Achu is taken aback but since he is a rowdy, he must keep up appearances. After all, if no one fears him, what good is his title? Achu quickly wraps his arm around Raju's shoulder and resumes boasting; this time, he dares anyone from the crowd to take on both of them – that was Achu's inventive way of getting out of a situation.
Keeleri Achu, a character from the 1991 movie 'Kankettu' is one of the most celebrated roles of Malayalam cinema's finest comedians, Mamukkoya. Besides, of course, Gafoor – who can forget the illegal visa agent of 'Nadodikkattu' and Hamsakkoya of 'Ramji Rao Speaking'?
Also Read: Kerala mulls re-introducing history lessons that NCERT knocked off from school books
As Gafoor the visa agent, who is a con artist, Mamukkoya was matchless. He appeared only in a couple of scenes in the 1987 'Nadodikkatu' but Gafoorkka became a household name after the release of the film.
In the film, Gafoor dupes Dasan and Vijayan, the protagonists convincing them that he has vast experience in ferrying people on boats to the Persian Gulf. He promises to get them to Dubai in a goods vessel (Uru) and advises them on how to behave with the Arabs to avoid trouble. According to Gafoor, they only needed to learn two Arabic phrases, which are As-salāmu ʿalaykum and Va alaikkum assalam — to steer clear of trouble in the Gulf countries.
Dasan and Vijayan fall for Gafoor's smooth talk and they set off to their dream land on an Uru, wearing traditional Arabic attire, only to realise that they have been conned by him as they land in Madras, a neighbouring city along the coast of India, instead of Dubai. This is classic Mamukkoya comedy and audiences lapped it up.
Hamsakkoya of 'Ramji Rao Speaking' (1988), is a village bumpkin, a friend of the hero  Balakrishnan played by Saikumar. He comes to the city to meet his friend who owes him money. This character that Mamukkoya played became an instant hit largely due to the actor's delivery of colloquial Malabar slang dialogues.
Also Read: Modi in Kerala: Launches India's first water metro and state's first Vande Bharat train
Mamukkoya was an actor par excellence known for exceptional comic timing and natural acting skills. He was born on July 5, 1946, in Kozhikode, Kerala. Mamukkoya began his career in the entertainment industry as an amateur theatre artist, acting in several rural plays and dramas. Some of his notable works in theatre include plays by renowned playwrights such as K T Mohammed, Nilambur Balan, and Vasu Pradeep. He was very close to the legendary writer Vaikom Mohammed Basheer, who introduced him to the film industry.
Mamukkoya made his acting debut in Malayalam cinema in 1979 with the film 'Anyarude Bhoomi' directed by Nilambur Balan. He played a rebel in the film but it was not well received. However, Mamukkoya, who went on to act in 450 films, gained immense popularity in the 80s and 90s with his memorable performances in 'Nadodikkattu', 'Ramji Rao speaking', Mazhavil Kavadi, and 'Kankettu'.
One of the most remarkable aspects of Mamukkoya's acting was his ability to flawlessly deliver dialogues in Malabar slang, a regional dialect of the Malayalam language spoken in the Malabar region of Kerala.
A tribute to this actor is not complete without referring to the character Kunhi Kadher, he had essayed for the movie 'Mazhavil Kavadi'. Khader is a small time pickpocket in the temple town of Palani, Tamil Nadu, who is ready to do anything and everything to help his childhood friend Velayudhan kutty to marry his sweetheart. Kunhi Kader's quick-witted repartee with Sankaran Kutty Menon played by late actor Innocent were one of the highlights of the film.
Also Read: Kerala governor on why he didn't receive Modi at Kochi airport; says no official event
Mamukkoya's characters with their sharp one-liner retorts were so popular that they were featured in 'thug lives' online memes and videos. He had made the concept of 'thug lives' famous even before it became a common expression. ( Thug lives mean a life in which one has to go through many struggles to succeed)
Apart from his roles as comedian he was seen donning brilliant character roles like Abdu in 'Perumazhakkalam' and Moosa Khader in 'Kuruti'. Muhasin Parari's 2012 rap video, 'Native Bappa' revealed another face of Mamukkoya. In the critically acclaimed music video that spoke volumes against Islamophobia and the witch-hunt against the minorities, Mamukkoya played the role of the father of a slain Muslim youth, who has been labelled as a terrorist.
As a staunch secularist by his heart, Mamukkoya was never reluctant to express his convictions and had been a vocal advocate for communal harmony.