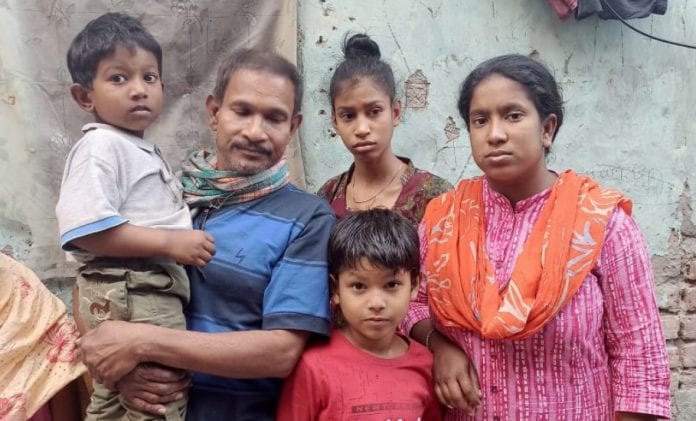 Thousands of people, including those with local ration and Aadhaar cards, have been waiting for over a week to get the essential food items from the Delhi and Uttar Pradesh governments.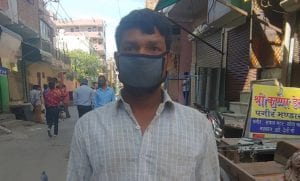 "I have been calling officials eight times a day to request for ration, but no one receives the call. I even went to the municipality office thrice but was sent back," said 34-year-old Manoj Kumar, a carpenter from Khoda, Ghaziabad, who has both a ration card and Aadhaar card from Uttar Pradesh.
Most of these people work in the unorganised sector, either as skilled labourers or unskilled ones — carpenters, rickshaw-pullers, tailors, artisans, cloth factory workers, house helps (mostly women), and contract labourers — were employed at factories or transporting goods.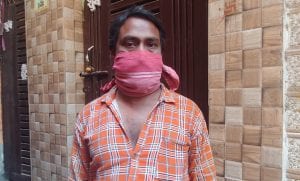 "They keep telling me ration will be sent to my house in a day, but that day hasn't come in a week," said 37-year-old Lallan Yadav, a rickshaw-puller from Vasant Kunj in Delhi, who's only source of income — the rickshaw — was stolen on April 1.
After the Centre announced a 21-day nationwide lockdown on March 24 to contain the spread of coronavirus, these people were rendered jobless.
Related news: With ₹3 in his pocket, this worker plans to walk 700 kms to reach home

Soon after the lockdown, the Union Cabinet rolled out a food security scheme to provide 7 kg of ration per month at subsidised rates to nearly 80 crore beneficiaries for three months under the Public Distribution Scheme (PDS). Under this scheme, only those with ration cards are entitled to avail of the benefit.
Are the efforts enough?
While the Yogi Adityanath-led Uttar Pradesh (UP) government said it would be giving free ration to 1.6 crore people covered under the PDS, the Arvind Kejriwal-led government in the national capital announced it would distribute cooked meal and ration to nearly 10 lakh non-ration card holders in the state, including those not covered under PDS.
Even as these efforts were announced, scores of people in Delhi and UP have claimed they were denied ration for not furnishing local ration cards or were asked to produce both ration and Aadhaar cards.
Those who have ration or Aadhaar from a different state, such as Bihar, West Bengal, Madhya Pradesh, Rajasthan and Assam, were asked to provide a local ration and Aadhaar card. And those that neither have neither of the two are left to fend for themselves.
People, who are either stranded or are dependent on their daily wages, are forced to rely on free food from langars (community kitchens) or buy ration on credit from local kirana (grocery) stores as their household income dried up by the 13th day of lockdown.
"We wouldn't have to beg for food if we could still work and feed ourselves. My employer shut down the factory and did not pay any money to 70 employees, including me," said 44-year-old Kamini Sharma, an artisan who worked at a lace factory in Khoda, Ghaziabad.
"Now the government is also not giving me ration, even though I have both ration and Aadhaar cards."
"We request employers to pay advance salary to their employees. We are transferring Rs 1,000 each into the accounts of lakhs of poor and daily-wage earners and also providing them subsidised ration," Khoda municipality chairperson Reena Bhati told The Federal.
Thousands, however, are still waiting to see some money credited to their accounts. "I filled up the form to get money a week ago and have been trying to reach out to officials for ration, but nobody is helping me. My children are starving," said Meena Kumari, 35, who hails from Etawah.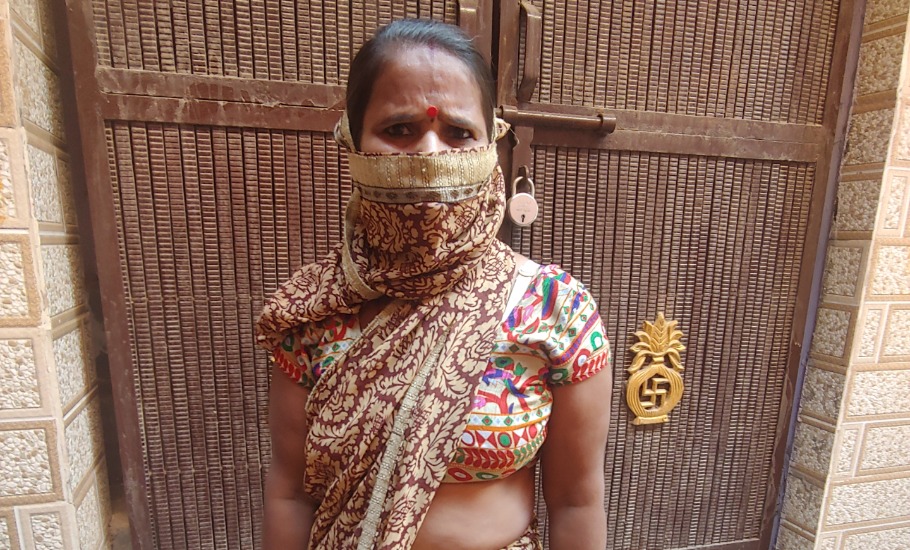 She was denied ration for not producing a local card from Ghaziabad, where she used to work as a household help. However, since the lockdown was imposed, she has been selling vegetables.
Even as the Centre and state governments have requested employers to pay full wages to their employees, many running small factories and hiring contractual labour have failed to do so.
As a result, 13 days into the countrywide lockdown, their purses are empty and resources to procure food have reduced, pushing them straight from earning their livelihood respectfully to being forced to seek assistance.
'We are sailing in the same boat'
Many people were paid way less than what they should have got for working until the lockdown was implemented on March 24.
"Instead of getting ₹4,000 for working until March 22, my employer gave me just ₹2,000," said Afroza Khatoon, 17, who works as a house help in a Noida housing society.
Related news: Quick intervention can reduce COVID-19 deaths by 90% in India
"When I called her for some additional money, she said we are both sailing in the same boat. I am as affected by the lockdown as you," Afroza added.
Hundreds of people who work as domestic help or staff in middle-class households have not been paid full salaries and are often seen crowding outside gated societies, demanding their hard-earned wages. But they are denied entry due to the fear of the highly contagious coronavirus.
'Is my Aadhaar not valid?'
"Why did the government force us to get an Aadhaar card if it serves no purpose in time of need? Is it not valid," 46-year-old Zayunnum Sheikh, an artisan from West Bengal, working in Khoda asked.
Zayunnum lives in a small, congested two-floor building with 20 rooms housing nearly 100 people from West Bengal. The building has just two toilets and one common un-gated bathing area. They have all been denied ration because their Aadhaar cards are from West Bengal.
On one hand, they have little to no food left, on the other there just cannot be any social (physical) distancing — an appeal repeatedly made by Prime Minister Narendra Modi — in such living environments.
Similarly, about 200 families in Delhi's Shakurpur, many of them ration-card holders, said they are waiting for ration for 4-5 days but to no avail. Those who have been given ration have got only wheat.
"What will I do with just wheat without pulses or oil? I don't even have money to get the wheat ground," said 55-year-old Babu Kumar, a mechanic.
Aam Aadmi Party's Delhi Assembly member Surendra Kumar from the Gokalpur constituency said, "We are distributing ration and cooked meals to poor families irrespective of whether they have ration card or Aadhaar. These include 1 kg pulses, 2 kg rice, 10 kg flour and 1 kg cooking oil."
Related news: Migrant exodus may lead to an explosion of COVID-19 cases
Even as the Centre and state governments try to help people in need, there are thousands who have been denied assistance and thousands more still waiting to receive some aid.
As of April 5, India had 3,374 confirmed cases of coronavirus infection, including 445 in Delhi and 227 in Uttar Pradesh.