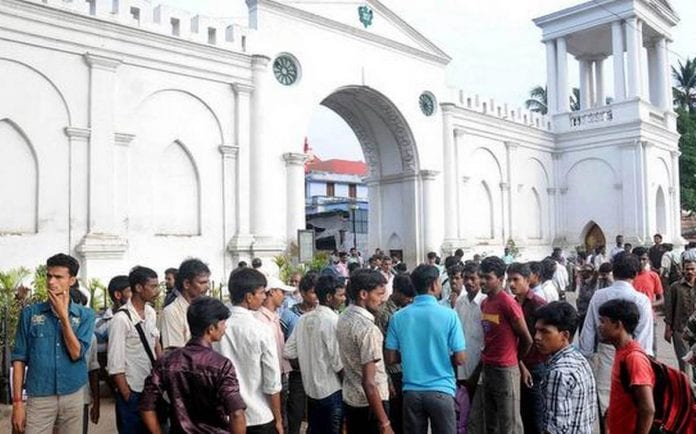 Thousands of migrant workers and laborers who lost their livelihood and have no money to sustain over the 21-day lockdown in Delhi are walking back to their hometowns. This mass exodus could trigger an explosion in the number of coronavirus cases in India. Maharashtra is also showing a similar trend.
Even if one per cent of migrant workers, 34,000 individuals, get COVID-19 and travel back, it will spread the infection to an additional 85,000 people at the reproduction rate (R0) of 2.5 infections per person. This will be more than the total number of cases in China over the past three months.
R0, which is used to measure the transmission potential of a disease, is the average number of secondary infections that can be produced by a single case of an infection.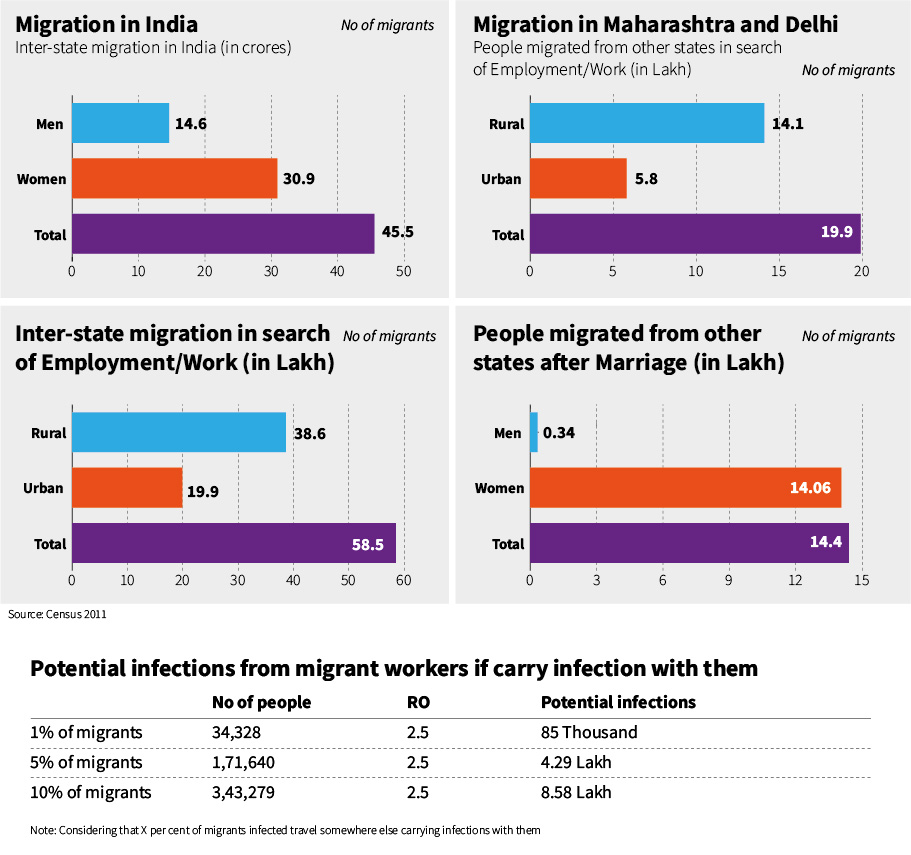 This kind of spread though the migrant community is possible due to reasons like closer interaction with peers, lack of private living spaces, and lack of awareness.
Also, migrant labourers are seldom tested for COVID-19 and thus pose a higher risk of transmission during their travel.
Maharashtra and Delhi together hosted around 34.32 lakh migrants from 2001 to 2011. The total comprised 19.91 lakh who relocated in search of employment and 14.41 lakh, after wedding. The actual number could be much higher as this figure is from the Census 2011.
The age of these migrants could also be a crucial factor that should be looked at amid the outbreak.
Related news | Lakhs of migrants gather at Delhi bus terminals amid COVID-19 lockdown
Around 1.34 lakh people were 50 years or above at the time of enumeration. This means, they should now be 60 years or above and are the most vulnerable to the disease.
Delhi NCT had around 6.63 lakh people who came in search of employment and stayed on. This includes people from both rural and urban areas. It also had around 10 lakh individuals who migrated after getting married.
Maharashtra recorded 13 lakh people in the state in search of livelihood. This included 9.3 lakh people coming from rural neighbourhoods of other states while 3.9 lakh from urban settlements.
Related news | Modi: Sorry for harsh steps, lockdown is for protection
Around 4.25 lakh women migrated to Maharashtra from other states post their marriage. Only 8,803 men reported having settled in the state for the same reason.
Migrations in India
India had around 45.5 crore migrants across the country. In this, some 58 lakh people who had migrated outside their states in search of work and around 20 lakh migrated from urban areas while 39.5 lakh from rural areas backgrounds.
Around 1.68 crore people reported 'marriage' as a reason for migration. Around 97 per cent of this figure was women and the rest 3, men.