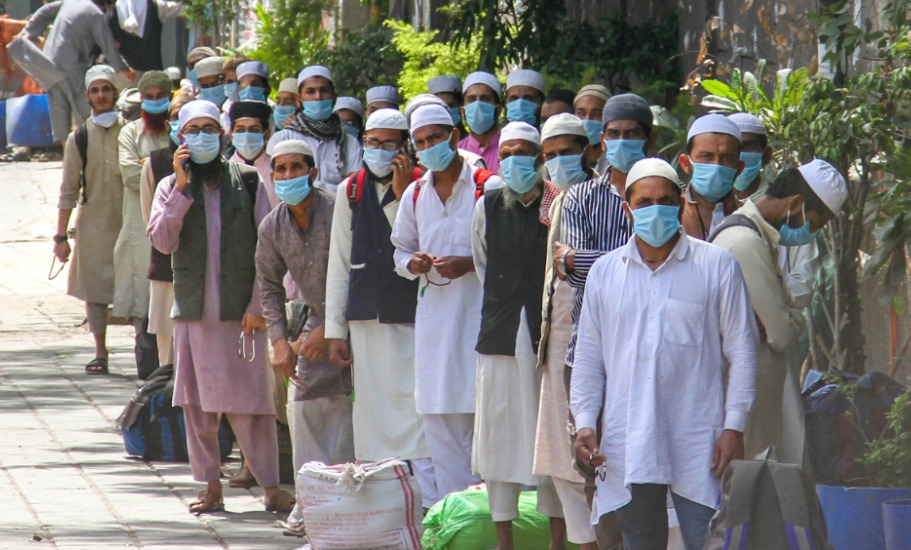 The Supreme Court (SC) is not happy with the Centre's response to a petition on the media reporting of the Tablighi Jamaat congregation in the initial stages of the spread of the  COVID-19 pandemic. The Centre, however, has maintained that the news reports on the congregation in Delhi "predominantly stuck to a balanced and neutral perspective".
The apex court asked the government to set up a regulatory mechanism to deal with such content on TV. "First, you did not file a proper affidavit and then you filed an affidavit which did not deal with the two important questions," a bench headed by Chief Justice S A Bobde told solicitor general Tushar Mehta. "We want to know… the mechanism to deal with these contents on television. If there is no regulatory mechanism then you create one. Regulation cannot be left to organisations like NBSA," said the bench, also comprising justices A S Bopanna and V Ramasubramanian.
Also read: Activists seek review of Supreme Court's Shaheen Bagh case judgment
Advertisement
Jamiat Ulema-e-Hind had on April 6 filed a petition in the Supreme Court seeking directions for the government and media not to "demonise entire Muslim community over spread of COVID-19 due to the Nizamuddin Markaz congregation of Tablighi Jamat".
The Centre filed its affidavit on August 7, arguing that the "news reports based on facts… cannot be censored".
Also read: In SC, Tamil Nadu opposes reopening of Thoothukudi Sterlite plant
The government reply to the SC read: "The plea by Jamiat Ulema-e-Hind raised grievances against certain section of media without naming any and certain news reports without producing these reports. Instead, it merely relied upon certain fact check news reports to contend that entire media is perpetrating communal disharmony and hatred towards Muslims, and is therefore required to be censured/gagged."
The SC has posted the matter for hearing after three weeks.