Congress leader Shashi Tharoor on Sunday (January 12) said Jawaharlal Nehru University (JNU) and Jamia Millia Islamia (JMI) have been sites of very "shameful misbehaviour" by the police, referring to the violence that the two premier institutions witnessed in the recent past. He said it is important to understand that the students "need our support".
Tharoor visited the two universities and Shaheen Bagh, where protests have been underway against the contentious Citizenship (Amendment) Act, on Sunday to express his solidarity with the protesters. From Jamia, the Congress leader took a metro train to reach JNU to talk on the citizenship law, he said in a tweet.
"In Jamia, the police burst into the hostels and library, and seriously injured and even killed a couple of students, while in JNU, we saw the police standing idle nearby when thugs and goons entered the campus and attacked the students," ANI quoted Tharoor as saying.
Stating that dissent was very precious in the country, he expressed his opposition to the manner in which students were dealt with, especially on university campuses. "The people who have come into power are claiming that they are big heroes, but they are not showing respect to the students, which they felt they deserve themselves. It is important to understand that the students need our support, and we are here to show our solidarity," said Tharoor.
The Congress leader said the new citizenship law discriminates by imposing a religious test. "The Act says that there would be fast track citizenship for the people of only six religions, which is completely violative of Gandhi and our Constitution, and reflects different thinking than that of our freedom struggle," he was quoted as saying.
He also pointed out that Home Minister Amit Shah was linking the CAA with a countrywide National Register of Citizens (NRC), and said it was "unacceptable".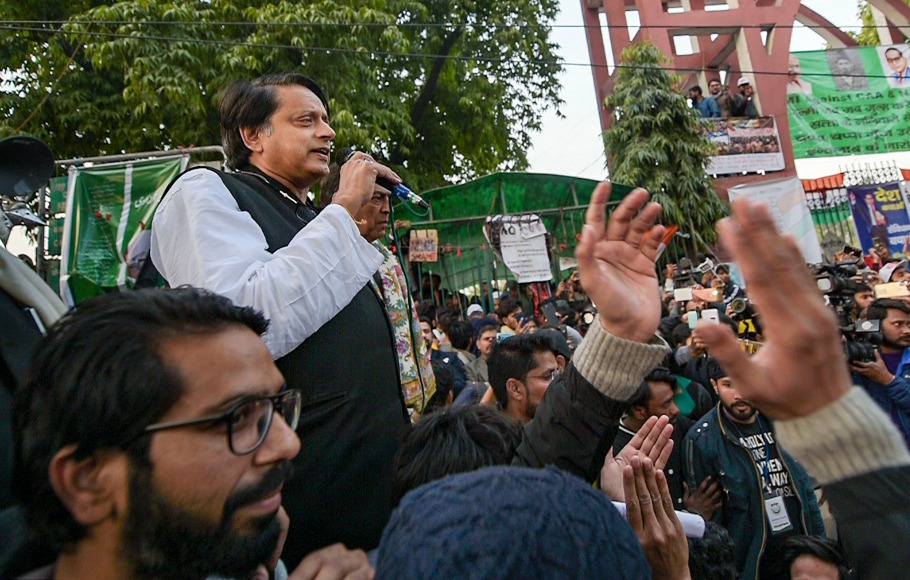 Also read | Tharoor joins 'azaadi' chanting in Kozhikode anti-CAA rally
Earlier in the day, he visited the Jamia Millia Islamia, where he told the protesting students not to let anyone tell them they have lesser rights than anyone else in the country. "We want an India where everyone is equal and free to be who they are. If you are an Indian you have the same rights and privileges," he told the students.
Tharoor was in the central university on Sunday along with Delhi Pradesh Congress Committee president Subhas Chopra. The students there have been protesting against the contentious Citizenship (Amendment) Act. The police had last month entered their campus and lathi-charged students and fired tear gas shells.
Addressing the students' gathering, the Congress MP said, "Today, Jamia is one of the greatest universities of our country. I have spoken in your auditorium. I have seen your campus. But today, the greatest thing about Jamia is your spirit — the spirit of resistance. Everyone in this country has given his blood to sacrifice for the unity of India."
(With inputs from agencies)