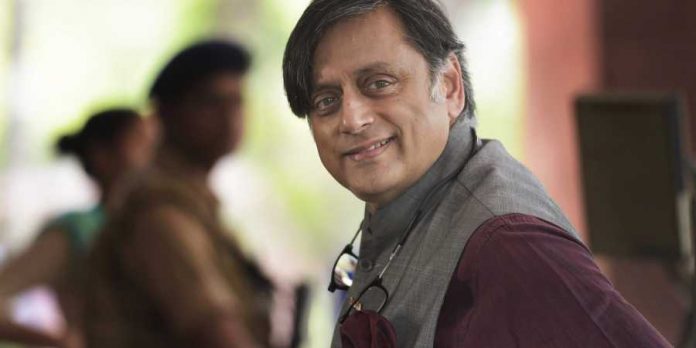 In a protest rally organized by the Congress against Citizenship Amendment Act in Kerala, Shashi Tharoor joined a group of students fervently chanting a song about 'azaadi' (freedom).
In a tweet from the event, Tharoor hailed the law student leading the chanting, Manu Arjun as 'Kerala's own Kanhaiya Kumar.' In the video, Tharoor was seen repeating 'azaadi' along with the other students in a catchy tune about 'azaadi.' Tharoor was seen clapping his hands to the tune and except Tharoor, other participants could be seen sporting headbands of various colours with 'Withdraw CAA' written on them.
Kerala's own @kanhaiyakumar! Law student Manu Arjun leads the chanting of "azaadi!" at the #IndiaAgainstCAA_NRC protest rally organised by @INCKerala in Kozhikode this morning. pic.twitter.com/4DABGAU5Vm

— Shashi Tharoor (@ShashiTharoor) December 21, 2019
The Sahitya Akademi award-winning author, in another tweet, also said that BJP agenda must be resisted. He added, "The people are aware of the dangers the government's present course pose to Indian democracy, constitutional values & civilizational ethos."
Also read: Sahitya Akademi Award for Shashi Tharoor for 'An Era of Darkness'
The beginning of the rally was marked by significant trouble as the Congress leader's tweet on Friday (December 20) appealing to people to join the protest had an inaccurate representation of India map. It showed Indian territory without Jammu and Kashmir for which he was trolled in Twitter.
Also read: Shashi Tharoor posts distorted map of India, gets trolled
Later, Tharoor removed his tweet and put a new tweet, which he said was a replacement for the earlier one. He said that the map was only a representation for the people of India and not the territory. He also slammed the BJP trolls and said did not want to encourage them more.
My first event this morning: leading an @inckerala #IndiaAgainstCAA_NRC protest rally in Kozhikode. All welcome! (Replaces an earlier post which sought to depict not the territory but the people of India, in whose name we would be speaking. No wish2feed BJP trolls more fodder.) pic.twitter.com/Qxtb8akRkH

— Shashi Tharoor (@ShashiTharoor) December 21, 2019
The rally was organized by Kerala Pradesh Congress Committee to protest against the Citizenship Amendment Act and National Registry of Citizens. Protest rallies are being held in various states against the contentious legislation which aims to provide citizenship to religiously persecuted non-Muslim minorities from Pakistan, Afghanistan and Bangladesh.