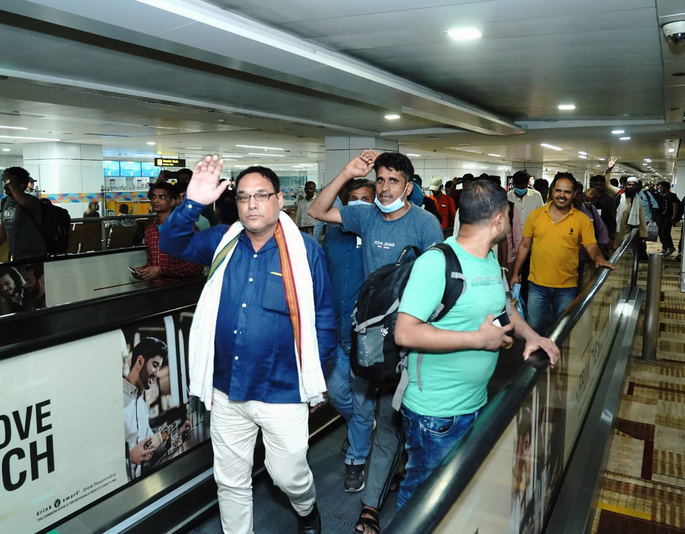 The first batch of Indians evacuated from Sudan as part 'Operation Kaveri' reached New Delhi on Wednesday (April 27).
India so far has evacuated a total of 670 Indian nationals from Sudan and is looking at rescuing more of its citizens from the strife-torn African nation before the end of a tenuous ceasefire between the regular army and a paramilitary force.
"India welcomes back its own. Operation Kaveri brings 360 Indian Nationals to the homeland as first flight reaches Delhi," External Affairs Minister S Jaishankar tweeted.
Also read: Sudan | Warring generals agree to 72-hour ceasefire, after fighting kills over 400
A C-130J military transport aircraft of the Indian Air Force brought to Jeddah 392 Indians from Port Sudan in three flights on Wednesday, a day after an Indian Navy ship rescued 278 citizens from that country. The total number of Indians evacuated from Sudan so far stands at 670, according to official data.
On Wednesday night the first group of evacuees arrived in New Delhi from Jeddah in a private aircraft.
Under its evacuation mission Operation Kaveri, India is taking the evacuees from Sudan to the Saudi Arabian city of Jeddah from where they are returning home.
MEA spokesperson Arindam Bagchi tweeted late on Wednesday that a fourth batch of 136 Indians and fifth batch of 297 Indians have left aboard INS flights from Port Sudan to Jeddah.
"INS Teg departs from Port Sudan with 297 passengers. This is the fifth batch of stranded Indians enroute to Jeddah," tweets MEA spokesperson Arindam Bagchi#OperationKaveri pic.twitter.com/K3L3dRrhtP

— ANI (@ANI) April 26, 2023

India has set up a transit facility at Jeddah and Minister of State for External Affairs V Muraleedharan is overseeing the evacuation mission from the Saudi Arabian city.
The first batch of 278 Indians were evacuated from Port Sudan by the Indian Navy's frontline ship INS Sumedha on Tuesday.
According to Jaishankar, the first C-130J aircraft brought to Jeddah 121 passengers while the second plane evacuated 135. "A second C-130 flight reaches Jeddah bringing 135 passengers from Sudan. #OperationKaveri moving steadily forward," he tweeted.
India stepped up its efforts to evacuate the Indians from Sudan as a 72-hour truce was agreed to between the Sudanese army and the paramilitary Rapid Support Forces (RSF) following intense negotiations. Sources said a C-17 military transport aircraft of the IAF has left for Jeddah on Wednesday to bring back the evacuees from Jeddah to Mumbai. The aircraft is expected to land in Mumbai on Thursday morning.
Also read: India launches 'Operation Kaveri' to evacuate stranded nationals
Sudan has been witnessing deadly fighting between the countrys army and a paramilitary group that has reportedly left around 400 people dead.
External Affairs Minister Jaishankar on Monday announced the launch of Operation Kaveri to bring back the stranded Indians from Sudan. India on Sunday said it has positioned two transport aircraft of the IAF in Jeddah and naval ship INS Sumedha at Port Sudan as part of its contingency plans to evacuate the Indians.
Apart from the Sudanese authorities, the MEA and the Indian embassy in Sudan have been in regular touch with the UN, Saudi Arabia, the UAE, Egypt, and US among others.
At a high-level meeting on Friday, Prime Minister Narendra Modi had issued directions for preparation of contingency plans to evacuate Indians from Sudan. Last week, Jaishankar spoke to his counterparts from Saudi Arabia, the United Arab Emirates and Egypt on the ground situation in Sudan with a focus on ensuring the safety of the Indians. On Thursday, Jaishankar discussed the situation in Sudan with UN Secretary-General Antonio Guterres.
Also read: After Saudi Arabia, France evacuates Indians from Sudan
(With inputs from agencies)