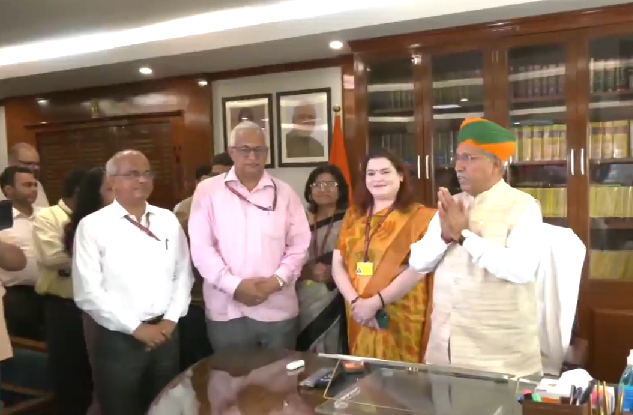 Bureaucrat-turned-politician Arjun Ram Meghwal on Thursday (May 18) took charge of the Union Ministry of Law and Justice, hours after Kiren Rijiju's removal from the high-profile ministry in a surprise development.
Rijiju has been given the Earth Sciences Ministry.
Meghwal, a three-term Lok Sabha member from Bikaner, is only the third person to hold the Law and Justice portfolio as a Minister of State with Independent Charge. He is also the Minister of State for Parliamentary Affairs and Culture.
His appointment comes ahead of the Rajasthan assembly election slated for later this year.
"My topmost priority will be to ensure speedy justice to all," Meghwal told reporters after assuming charge.
Answering questions on Rijiju's sudden ouster from the ministry, Meghwal said there was no confrontation between the government and the judiciary. Rijiju met Meghwal and extended best wishes on the new responsibility.
Also read: Kiren Rijiju removed as Law Minister, replaced by Arjun Ram Meghwal
In a surprise move on Thursday, Rijiju was divested of the Law and Justice portfolio, which was handed over to Meghwal. Rijiju was given the Earth Sciences Ministry, which was earlier held by Jitendra Singh.
In 1996, Ramakant Khalap, a Lok Sabha member of the Maharashtrawadi Gomantak Party, helmed the Law Ministry in the rank of Minister of State (independent charge) under then prime minister Inder Kumar Gujral. Later, Arun Jaitley held the portfolio in the same rank for nearly two years from 2000-02 under then prime minister Atal Bihari Vajpayee. He had a brief stint in the BJP as general secretary and national spokesman, before rejoining the government in the Cabinet rank in January 2003.
(With inputs from agencies)