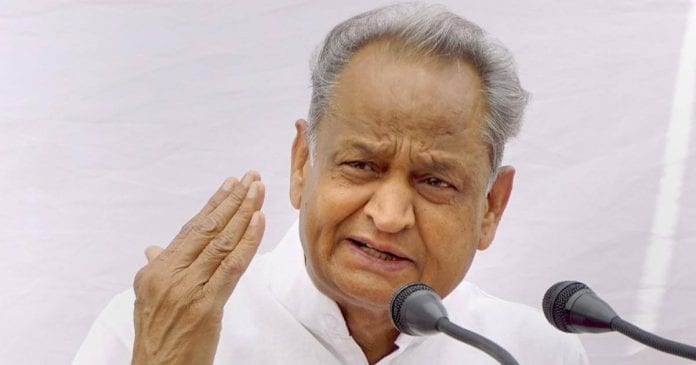 Rajasthan Chief Minister Ashok Gehlot has said that reports about him being close to BJP's Vasundhara Raje were just rumours and that he would have barely spoken to her for 15 times in the past 15 years.
Speaking at a public function in Nagpur on Saturday, Gehlot said people also misinterpreted his statement made in Dholpur that BJP leaders Raje and Kailash Meghwal had helped him survive the 2020 revolt by his then deputy Sachin Pilot and some Congress MLAs, saying that it was something that he had heard. Gehlot said that his government follows a policy of "zero tolerance against corruption.
Also read: Sachin Pilot: Seems Gehlot's leader is Vasundhara Raje, not Sonia Gandhi
The chief minister's remarks came amid Sachin Pilots ongoing "Jan Sangharsh Padayatra" from Ajmer to Jaipur which he had announced on Tuesday on the issues of corruption and recruitment exam paper leak cases. Pilot started the 125-km yatra from Ajmer on Thursday and it will conclude in Jaipur on Monday.
The move of Pilot to take out the five-day yatra came after Gehlot's allegations made in Dholpur on Sunday that the rebel Congress MLAs had taken money from the BJP to topple his government. Reacting to Gehlot's statement that Raje had helped in saving his government, Pilot had even went on to say in a press conference in Jaipur on Tuesday that it appeared from Gehlot's statement that his leader is Raje, and not Sonia Gandhi.
Making a clarification about the same, Gehlot on Saturday said that there is a vast difference in his thinking and that of Raje and that they would have talked hardly 15 times in the last 15 years. "I had said in Dholpur that Vasundhara ji and Kailash ji helped in saving my government. People misinterpreted it. She did not come to me and said that I am standing with you," he said.
Gehlot said that during the political crisis, Meghwal had given a statement that there is no tradition of toppling the government in Rajasthan. He added that what he had said in Dholpur on Sunday in the context of Raje was something that he had heard. "…it is not like that Vasundhara herself said (to me) that she is saving the government…," he said.
He said that when he was the PCC chief and Bhairo Singh Shekhawat was the chief minister, there was a conspiracy to topple the latter's government by some of the BJP leaders. Without naming anyone, Gehlot said that the BJP leaders had approached him and sought help in toppling the government when the then chief minister and BJP leader Shekhawat was undergoing treatment in America, but he refused to do so. Gehlot said that Raje's then "advisors" like present leader of opposition Rajendra Rathore never wanted a cordial relation between the chief minister and the former chief minister and therefore Raje and he were not in talking terms.
Also read: 'Big conspiracy': Vasundhara Raje's sharp rebuttal after Gehlot says 'she helped save his govt'
"I blame Vasundhara Raje, her way of working is negative. She works with the spirit of revenge, I work with love, she intimidates and threatens the officers in her own way and the worst thing is that she stops the work so that Ashok Gehlot does not get the credit," he said. He said that after becoming chief minister, Raje stopped several works done by his previous government and therefore there cannot be a friendship between him and her.
"Will I ever be friends with the one who has taken the contract to stop my works?" he asked. The chief minister also said that he never boasted about the party winning 156 seats in 1998. "I became chief minister in 1998, I had brought 156 seats but I never said that I brought. It was Sonia Gandhi and the high command that brought the seats. It was the victory of our policies and principles," he said.
Also read: 'Big Corona entered our party after pandemic,' Ashok Gehlot says in viral video
(With inputs from agencies)