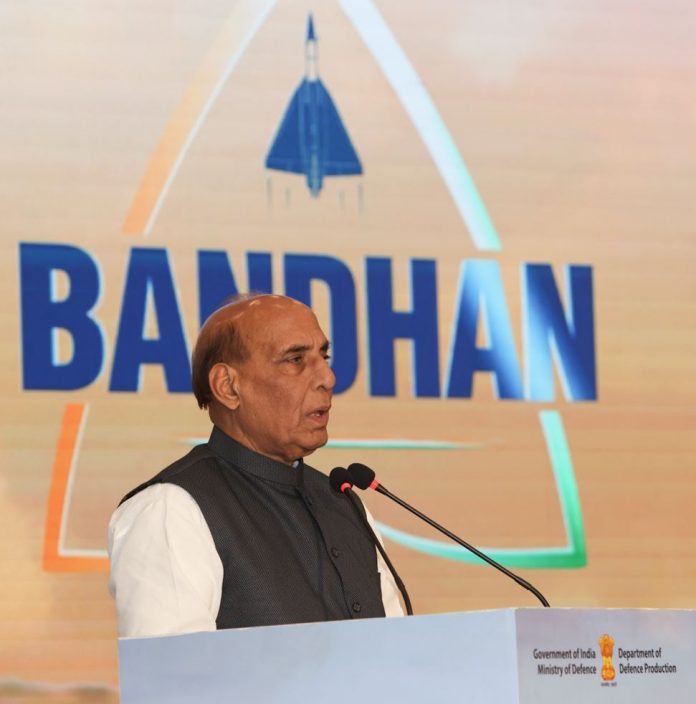 As many as 266 partnerships, including 201 MoUs, 53 major announcements and nine product launches, were firmed up at the Aero-India that could unlock business potential of worth around Rs 80,000 crore.
The Memorandum of Understanding (MoUs) included one between Hindustan Aeronautics Limited and Safran Helicopter Engines of France, for formation of joint venture for design, development, manufacture and life time support of helicopter engines.
Bandhan ceremony
The agreements and MoUs were formally signed at an event titled "Bandhan" ceremony that was attended by Defence Minister Rajnath Singh, top leaders of Indian defence industries and senior military officials.
Also read: Aero India 2023 | Developing critical defence components indigenously: DRDO chief
"The Bandhan ceremony also witnessed the forging of 266 partnerships including 201 MoUs, 53 major announcements, nine product launches and three Transfers of Technology (ToT), worth around Rs 80,000 crore," the defence ministry said in a statement.
The Bharat Electronics Ltd and Aeronautical Development Agency also inked an MoU for the Advanced Medium Combat Aircraft (AMCA).
State-of-the-art products
The product launches at Aero India included the vertically launched short range surface-to-air missile (Bharat Dynamics Limited).
It is a next-generation, ship-based, all-weather, air defence weapon which can be used by the Navy as a quick-reaction defence against supersonic sea skimming targets such as aircraft and Unmanned Aerial Vehicles.
In addition, the missile notably has a smokeless propulsion system with all-weather capability. It also has a highly agile configuration with state-of-the-art electronic counter-measures feature.
Another significant product launch was of the semi-active laser seeker based anti-tank guided missile developed by Bharat Dynamics Limited.
Also read: Aero India 2023: Argentina, Egypt show interest in LCA Tejas
The missile weighs 23 kg with the launch tube, and can be used in different kinds of terrains to incapacitate moving and stationary targets such as tanks and infantry combat vehicles.
Large participation
The 14th edition of Aero India at the Yelahanka Air Force station complex on the outskirts of Bengaluru was inaugurated by Prime Minister Narendra Modi on Monday and it saw participation of over 700 defence firms and representatives of around 100 countries.
The defence minister said that Aero India showcased to the world the New Defence Sector of New India, which has not only grown in the last few years, but is now fully ready to walk alongside the defence sectors of leading countries.
He also has expressed satisfaction that the event paved the way to strengthen the Indian defence industry, terming it as the beginning of a new era of aatmanirbharta.
The minister exuded confidence that the sector will move forward strongly on the path of progress with new energy and determination.
Also read: United States Air Force's F-35 fighter jets to make debut at Aero India
The MoUs and technology transfer agreements signed during Aero India will facilitate a new beginning for defence manufacturing in India, Singh mentioned further.