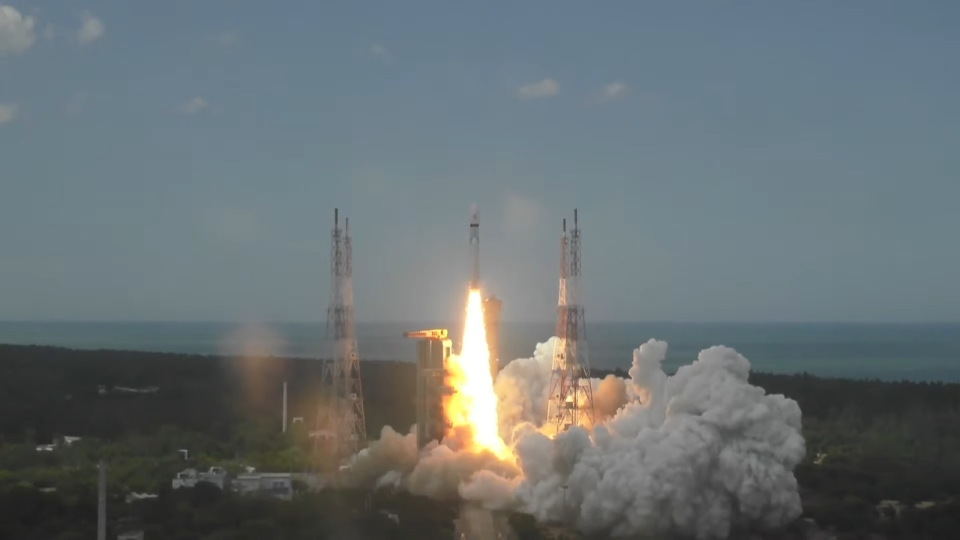 LIVE: Chandrayaan-3's journey to moon begins; PM says new chapter in India's space odyssey
The Indian Space Research Organisation (ISRO) on Friday (July 14) successfully launched Chandrayaan-3, India's ambitious mission to soft-land on the moon, from the Satish Dhawan Space Station in Sriharikota.
The LVM3-M4 rocket, known by the names of Fat Boy and Bahubali due to its capability to carry heavy payloads, successfully injected the spacecraft into the Geo Transfer Orbit, beginning its 40-day journey towards the moon.
The spacecraft is expected to reach the surface of moon by August 23.
Prime Minister Narendra Modi, who is in France, hailed the launch of Chandrayaan-3 as a "new chapter" in India's space odyssey and said it has elevated the dreams and ambitions of every Indian.
"Chandrayaan-3 scripts a new chapter in India's space odyssey. It soars high, elevating the dreams and ambitions of every Indian," Modi said in a tweet.
"This momentous achievement is a testament to our scientists' relentless dedication. I salute their spirit and ingenuity!" he said.
According to ISRO, Chandrayaan-3 consists of an indigenous propulsion module, a lander module and a rover. The propulsion module will ferry the lander and rover from the injection orbit to till 100 km of the lunar orbit. Its main function is to carry the lander module from the launch vehicle injection orbit till lander separation.
The mission will use the orbiter from Chandrayaan-2 which is still circling the lunar orbit.
The mission aims to soft land the rover Vikram on the South Pole of the moon where water molecules have been found.
The ₹615-crore mission also aims to demonstrate rover roving on the surface of the moon and study its environment.
A success this time would make India the fourth country to achieve the feat after the United States, China and erstwhile USSR.
Chandrayaan-3 is the third lunar exploration mission in the fourth operational mission (M4) of LVM3 launcher, formerly the GSLVMkIII rocket.
The Federal's coverage of Chandrayaan-3
Explained: 10 things you need to know about Chandrayaan-3 that takes off on July 14
Expert view: Chandrayaan-3: 10 key upgrades that improve chances of ISRO's Moon mission
Watch: What does the AI onboard Chandrayaan-3 do? | The Federal Interview
Chandrayaan 3: How Tamil Nadu is connected with ISRO's lunar mission
Chandrayaan-3: Timeline of ISRO's moon missions from 2003 to 2023
A successful Chandrayaan-3 mission would see India enter elite club: Nambi Narayanan