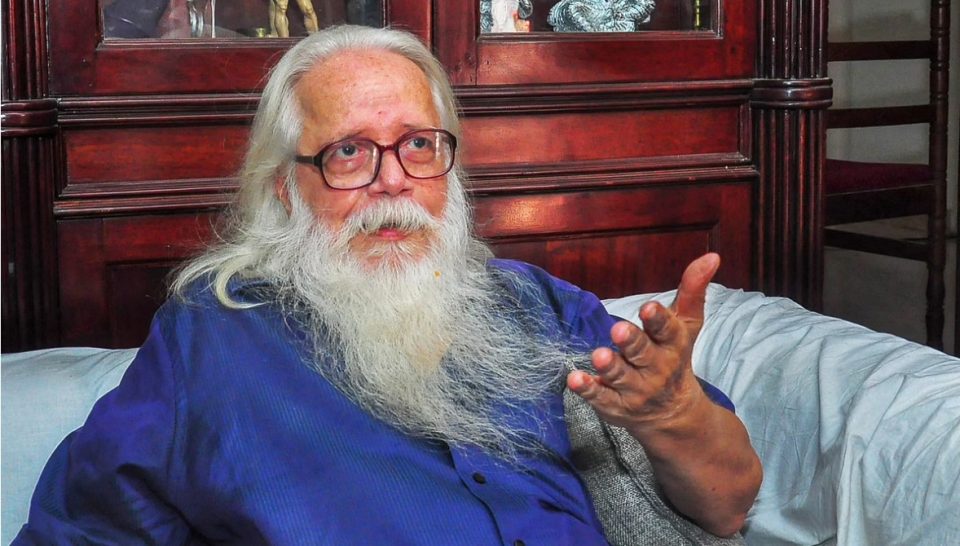 A successful Chandrayaan-3 mission would see India enter elite club: Nambi Narayanan
Ahead of India's ambitious space programme Chandrayaan-3, former ISRO scientist Nambi Narayanan on Thursday said its successful landing will make India only the fourth nation to achieve this and it would increase the potential for space science development in the country.
Talking to PTI in Thiruvananthapuram, Narayanan said this will also help India boost its share in the global space business. Currently India's share in the 600 billion-dollar industry is an abysmal 2 per cent. The former ISRO scientist said that as India is now inviting private participation in technology development, it would also increase the scope for more startups to enter the sector.
Also read: Chandrayaan-3 mission by ISRO aims to master lunar surface soft landing
'Huge potential for startups'

"It means a lot for many players to start their work. For example, I would imagine that many startups will come, and even the startups that we have will have better funding. Many foreign countries may also land here with their startups or add to an existing startup," Narayanan said. He said a successful Chandrayan-3 mission would be a big boost for space science and technology as well as the nation's economy.
Chandrayan-2 managed to land on the moon but failed to do a soft landing due to some software and mechanical issues. Now, they have worked on every aspect of it for four years and are hopeful to do a soft landing, the former scientist said.
Narayanan said that indigenously developed technology is essential for a country to survive. ISRO has been known to use minimum amounts for their ambitious space missions, he added. "When compared to other nations, our spending for such missions is a pittance," he said.
Bats for Asian Space Agency
Narayanan said, "We will have to wait till August 23 or 24 to know the success of the mission as the landing would take place on those dates."
Also read: 10 things you need to know about Chandrayaan-3 that takes off on July 14
He also pressed on the need for establishing something like an Asian Space Agency (ASA) along the lines of the European Space Agency (ESA), with or without China, for taking up such bigger space missions. The whole of Asia would be happy to partner with India, which already has established a space science infrastructure, he said.
The 25.30 hour countdown for the launch of Chandrayaan-3 commenced on Thursday at Sriharikota, the Indian Space Research Organisation (ISRO) said. Friday's lunar expedition follows the 2019 Chandrayaan-2 mission where space scientists are aiming for a soft landing on the surface of the moon.
A successful mission would see India enter an elite club of nations achieving such a feat, the others being the United States, China and the former Soviet Union.
(With agency inputs)