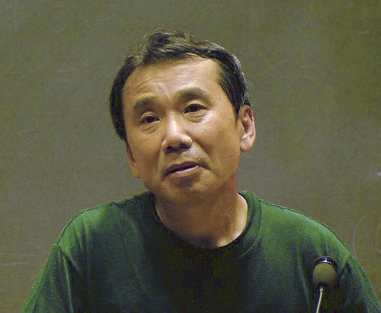 Six years after he published The Killing Commendatore, a novel that follows a portrait painter who moves to a remote mountain town and becomes embroiled in a series of strange and mysterious events, Japanese publishing sensation Haruki Murakami is back with another novel, The City and Its Uncertain Walls (Machi to Sono Futashikana Kabe), which was released in Japan on April 13.
The 661-page novel (nearly as long as his last door-stopper, which ran into over 700 pages)  is about a narrator who travels to a city with high walls to discover the "true self" of a crush. Sounds like a characteristic Murakami plot? Well, there is more to the story that will give you a sense of déjà vu. If you're Harukisuto, a die-hard fan of Murakami, you know you have been there before.
The novel is divided into three parts, each depicting a distinct phase in the narrator's life, starting from adolescence at 17 years old and progressing to the middle age. As the story unfolds, the reader is taken on a journey through the narrator's shifting perceptions of reality, seamlessly interwoven with dream-like sequences that enhance the surreal and introspective atmosphere of the book. Very Murakami-esque, right? It's, in multiple ways.
Also read: Haruki Murakami's fictional universe is one giant fever dream
A Murakami novel, at once hauntingly familiar and completely otherworldly, takes places in a realm that is vast, complex, and often difficult to categorize. It's a cocktail — sometimes deftly crafted and, at other times, loosely and predictably strung together — of elements of fantasy, magical realism, and dreamscapes.
City with a high wall: A metaphor
Like his previous many novels, The City and Its Uncertain Walls blends elements of reality and dreams to create a surreal and introspective narrative. A protagonist in Murakami's universe is often on a journey of self-discovery or truths about others. It's the same in this novel, too. The title alludes to "the question of whether the wall that separates one's self from another world is really solid," Murakami told Japanese news agency Kyodo.
Talking about the motif of walls, he told South China Morning Post: "In an age when society is going through rattling changes, whether to stay holed up inside the wall or to go to the other side of the wall has become a greater proposition than ever."
The first part of the novel is a reworking of a short story with the same title, originally published in Bungakukai, a Japanese literary magazine, in 1980 — a year after Murakami's first novel, Hear the Wind Sing, won the prestigious Gunzo New Writers' Prize. Though Murakami discarded the story as a 'failed work', the story's theme and title kept overing in his mind; his experience shows us that a writer's creative process is rarely linear or predictable, and that discarded ideas can often resurface and be reworked into something new and powerful.
Murakami's fans will see the setting of a high-walled city as another familiar trope, a recurring motif throughout his major works. In his 1985 novel, Hard-Boiled Wonderland and the End of the World, he presents a striking image of a city with a high wall that serves as a powerful metaphor for the barriers and limitations that individuals face in their lives. This image is particularly significant in the novel as it appears in both the "Hard-Boiled Wonderland" and "The End of the World" sections, representing different aspects of the human experience.
Foreboding and isolation
In the "Hard-Boiled Wonderland" section, the protagonist is a Calcutec, a human computer, who is employed by a mysterious organization to encrypt sensitive information. He lives in a city surrounded by a high wall, which serves as a physical and psychological barrier between the inhabitants and the outside world. The wall is described as "massive and gray, with a dull sheen, the surface pitted and scarred with age," creating a sense of foreboding and isolation. It effectively separates the inhabitants from the chaos and uncertainty of the world beyond, offering them a false sense of security and stability.
Also read: 'Novelist as a Vocation' review: How Murakami animates the surreal world of his fiction
The wall in this section of the novel can be seen as a symbol of the protagonist's mental and emotional state. As a Calcutec, he is trained to compartmentalize his thoughts and emotions, living a life devoid of feeling or passion. The wall represents the mental barrier he has constructed to protect himself from the pain of his past and the uncertainty of his future. It can also be interpreted as a metaphor for the limitations of human perception and understanding. It is only when he meets the librarian, a woman who challenges his way of thinking, that he begins to see beyond the wall and question the limitations of his existence.
In contrast, the city with the high wall in "The End of the World" section is a more surreal and fantastical representation. The protagonist is a dreamer who finds himself in a strange, isolated town with no memory of how he arrived there. The wall in this section also serves as a boundary between reality and the dream world. It represents the boundary between the conscious and unconscious mind, between what we know and what we cannot comprehend.
Murakami's masterful use of this image, which resurfaces in his latest novel, highlights the human's quest to break free from their limitations and explore the world beyond — unknown, mysterious, and inviting.
Walls as physical, psychological and emotional barriers
The theme of walls and barriers also appears in many of his works, including The Wind-Up Bird Chronicle (1994), Kafka on the Shore (2002), and 1Q84 (2009) — a vivid exploration of themes such as creativity, spirituality, and the nature of reality. These walls can take on various forms and meanings, ranging from physical barriers to psychological and emotional ones.
In The Wind-Up Bird Chronicle, the protagonist, Toru Okada, is searching for his missing wife, Kumiko. His search takes him on a surreal journey that involves encounters with a variety of strange and mysterious characters, including a psychic prostitute, a teenage girl with a limp, and a man who claims to have killed his own brother. Throughout the novel, there is a sense of isolation and detachment that permeates the narrative, with characters being separated by physical and emotional walls that prevent them from truly connecting with each other.
Also read: Meet the Japanese author who inspired 'Drishyam,' 'Monica, O My Darling'
Kafka Tamura, the protagonist in Kafka on the Shore, is haunted by a prophecy that he will kill his father and sleep with his mother and sister. This prophecy serves as a psychological wall that Tamura  constructs to protect himself from his traumatic past and his fear of fulfilling the prophecy. Tamura runs away from home and takes refuge in a library, where he constructs a metaphorical wall of books around himself, immersing himself in literature to escape from the real world and his problems.
In 1Q84, the two protagonists, Aomame and Tengo, find themselves trapped in a parallel world that is similar to but slightly different from their own. While Tengo is a math teacher and unpublished novelist, drifting rather aimlessly through his life, 'with no clear sense of purpose or ambition', Aomame is a fitness instructor, bodyworker and, most importantly, an assassin of men who have violently abused their wives. They are unable to return to their own world because of a mysterious wall that separates the two realities. This wall represents the barrier between reality and fantasy, between the known and the unknown.
The City and Its Uncertain Walls has been released only in Japanese. It will be followed by its English translation soon. Till then, we can always revisit some of his best-known works that I have mentioned above to understand how Murakami, often described as a 'unicorn' of modern Japanese literature, has cemented his place as one of the most critically acclaimed and popular — yes, the two can be congruous — authors of our time.