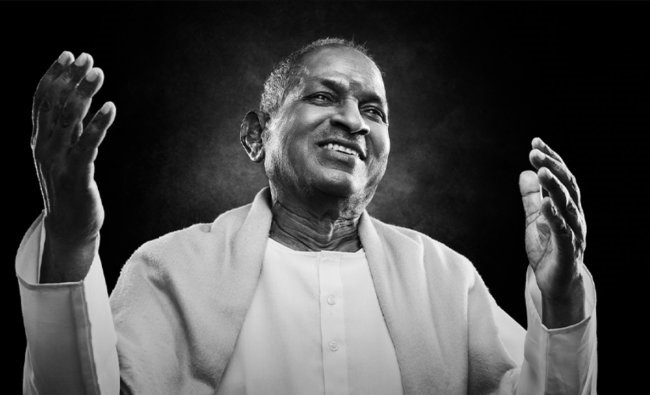 Ilaiyaraaja's associates paint the picture of a virtuoso who has little time or patience for anything else, including politics. Pic: Twitter
Getting to Pannaipuram, a small village in Tamil Nadu's Theni district, located in the deep south, is an arduous task even today. Direct bus services to Theni from Chennai or Coimbatore are infrequent and one has to disembark in Madurai and wait for hours to catch another bus to Theni. And then, to reach Pannaipuram, 27 km from Theni, by bus is another long wait.
For any ordinary Ilaiyaraaja aficionado, Pannaipuram is respected and loved as much as the composer himself. But, if they ever visit the village they would find it hard to spot any photograph or colourful illustration of the maestro adorning any of the walls in the village.
There's not even a congratulatory banner anywhere in the village, especially, after the announcement of his nomination to the Rajya Sabha. There're just two solitary banners erected by the district BJP.
Conspicuous by absence
The question "Where is Ilayaraaja's house?" is met with sulky answers. Pointing to his house, village residents say: "His house is our only pride. But he's forgotten our village long back".
This is the common refrain in the village, including from the school children. Pannaipuram's famous native is only remembered for not doing anything for his village.
S Gnanamuthu, a DMK supporter and a contractor in Pannaipuram, who regards Ilaiyaraaja as his thatha (grandfather), reveals the maestro had midway stopped the building of a CBSE school in the village. "If the school had been completed, the village children could have got access to English education. He is an MP now and can at least complete this building. He will be remembered by Pannaipuram for ever," Gnanamuthu told The Federal.
The villagers point out Ilaiyaraaja's father's samadhi and also where his wife and mother are buried in Lower Camp, a place which borders Theni and Kerala. In that same area, he has built a veda patashala, say the residents eager to share details.
United by caste discrimination
Ilaiyaraaja's house is located in an area earmarked for scheduled castes. "Angittu irukkum parunga (Look there)," said a villager in a disparaging manner.
Also read: With Ilaiyaraaja as MP, rising demand for SC/ST reservation in Rajya Sabha
The acclaimed music composer's house is the third one in a row of houses, which line both sides of the street. It is recognisable as a musician's house as the iron grill sports musical instruments such as the guitar, violin, mridangam and clarinet.
"The houses on the left side are occupied by scheduled castes, while the SC-A live in the houses on the right side," said T Parameswaran, who claims the renowned composer is his uncle. His reluctance to say even the word 'Arunthathiyars' (SC-A, a community which belongs to the lower rung of Dalits) reveals the deep discrimination between Dalits. The space between the two rows of houses is narrow but the divide between the two communities is wide.
Born in a family of five children, Ilaiyaraaja was the fourth child and the second son to his parents Daniel Ramasamy and Chinnathaayi. The latter was Ramasamy's second wife. Though some printed references say Ramasamy had four wives, Ilaiyaraaja's relatives insist he had just two.
"Pavalar Varatharajan, the family's eldest son, was Ramasamy's son from his first wife. Ramasamy died soon and Varatharajan became the sole breadwinner of the family. A staunch communist, he used to write songs for the party using film tunes. He was a self-taught musician and Ilaiyaraaja's first guru," said Parameswaran.
"Whenever Ilaiyaraaja missed a beat on stage, Varatharajan would give a sharp rap on his head with his fist," recounted Parameswaran. Music, literature and photography are Ilaiyaraaja's three passions and he devoted most of his time pursuing them, he recalled.
"I am happy to hear that he has been nominated to the Upper House. But what pains us is that he has been defined by his caste. It is sad considering that he is not at all conscious about his caste. His fans too have never seen him as a Dalit," he observed.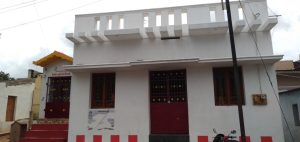 Parameswaran also points to a separate community hall built for scheduled castes, in which Ilaiyaraaja, along his troupe, had performed live songs. It was after he had completed Annakkili, his first film as a composer. Even before the audio record hit the market, the musician travelled to his birthplace and and did a live show, recounted Parameswaran, brimming with pride. His live performances continued in this hall till the late 1980s – considered the golden age of Ilaiyaraaja, before AR Rahman stormed the scene with Roja.
Also read: Ilayaraja's melodies aren't pouring out but his words are — harsh and abrasive
Escaping caste
Ilaiyaraaja and his family did not face caste discrimination, said the villagers. Pon Chandramohan, a former journalist and author who hails from Theni and shared a close bond of 30 years with the composer, explained the socio-economic milieu in which the music composer grew up.
The region was economically and socially backward, he said. "The majority of people in this region were under the clutches of dominant caste landlords. They didn't know that the country had got Independence. Such was the level of their awareness about their surroundings," he says.
"It is in this discriminatory backdrop that religious conversion came as a succour. Even before  Independence, the conversion had started. Many converted from Hinduism to Christianity to gain education and to fight poverty. The forefathers of Ilaiyaraaja too embraced Christianity for the same reason. However, practising Christianity stopped with Daniel Ramasamy," said Poncee (Pon Chandramohan's pen name).
From Theni to Kerala
Theni is the place to source labourers for businesses in Madurai, Dindigul and Kerala. It is an hour's journey from Kerala to Theni. And, that's how Daniel Ramasamy ended up as a kangani (literally a 'supervisor') under a Britisher in the cardamom plantations in Kerala.
"Ilaiyaraaja, who did his schooling in nearby areas like Kombai and Thevaram, dropped out at class 9 due to abject poverty. He used to assist his father along with his brothers in the plantations. He even worked on the construction of the Vaigai river bridge," said Poncee, adding that it was during his stint as a labourer that Ilaiyaraaja came into contact with various kinds of folk songs sung by women in Kerala.
If children did not have the money to continue with their education, they would join drama troupes, where they earned while they learned to sing and play instruments. They used to travel extensively. Ramasamy's sons – Baskar, Gnanadesikan Rajayya (Ilaiyaraaja) and Amar Singh (Gangai Amaran) – chose to join a drama troupe under the aegis of elder brother Varatharajan.
"Though they were born in a Christian family, the brothers never went to church or associated themselves with Christianity. Similarly, though Ilaiyaraaja, in his younger days ,performed on the Communist stage, he never showed an inclination towards the ideology or party," he added.
Also read: As Ilayaraaja heaps praise on Modi, his fans wonder what drove him to it
Gnanamuthu said: "When Ilayaraaja came to realise that he belonged to a scheduled caste in class 7 or 8, he had already started working in plantations and taking music lessons from his elder brother. Also, his friendship with Chinnasamy, who later went on to become the director Bharathiraja, a Thevar from the nearby village Allinagaram, who was then working as a health inspector in Pannaipuram, made Ilaiyaraaja weave a different kind of dream.
"Besides, his Christian family kept him away from any kind of brush with caste discrimination or clashes," he said.
Ramesh, a youth who runs a butcher shop, recalled discriminatory practices such as the 'two tumbler system' was prevalent during Ilaiyaraaja's youth. (It does not exist anymore, he insisted). "In my 30 years, I have never seen the 'two tumbler system', at least in Pannaipuram," said Ramesh.
However, caste discrimination continued to thrive in village temples. For instance, Pannaipuram has three different temples, each for a separate caste.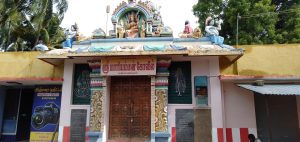 While the scheduled caste has the Mariamman Temple, the SC – Arunthathiyar has the Karuppasamy Temple. The other dominant castes have a common Kali Temple. The temple has a stone carving with Ilaiyaraaja's name inscribed on it. It is the only place where you can spot his name with the initial 'R'.
'An infant in anybody's arms'
Poncee believes Ilaiyaraaja is not politically savvy. "Till now, he believes that he was given the MP seat by Prime Minister Narendra Modi. He doesn't know about the process or politics behind such a nomination. He tells me – 'MGR, Karunanidhi, Jayalalithaa, Congress…no one gave me the MP post, but Modi gave it to me'," said Poncee.
Once, Ananda Vikatan, a Tamil weekly magazine, decided to run Ilayaraaja's autobiography, said Poncee, giving an example of his naivete. He himself wrote some chapters but the editorial team of the magazine felt that it should be rewritten and that process took some time. Meanwhile, Dina Thanthi, a Tamil daily, also approached Ilaiyaraaja for his autobiography. At that time, Poncee was handling all the communications related to the maestro. "He asked me to photocopy the chapters he had written and pass it on to the newspaper. I was shocked and asked 'But why?'."
Ilaiyaraaja had ostensibly told him, "Let both the publications run my autobiography. Vikatan comes once in a week. The newspaper comes daily. Then what is the problem?"
On Ilaiyaraaja penning the preface to the book Ambedkar & Modi, Poncee feels he was misguided. "Now, he cannot say that he didn't write the preface. Nor he can reveal the reason behind such a move. He was forced to pay obeisance to the BJP. Except music, Ilaiyaraaja never has his own views about any subject. He is like, what we say in Tamil, 'eduppaar kai pillai'. An infant in anybody's arms," said Poncee.
Respect for Brahmins
Poncee said Ilaiyaraaja respects Brahmins because of their knowledge of music. "'What do you know about music?'," he would ask Poncee. "'But, the Brahmins know it. They traditionally practice music and they know the nuances. I am learning from them every day. Hence, I respect them so much'," Ilaiyaraaja once told him.
Whenever the composer had a doubt on a raga, he would immediately seek the help of three musicians: V Dakshinamurthy, M Balamuralikrishna and TV Gopalakrishnan, who all belong to the Brahmin community (the former two are no more). "Ilaiyaraaja used to call Dakshinamurthy 'Swamigal' and the other two anna (elder brother). They all called him Raaja," he said.
Of late, Ilaiyaraaja, who is basking in their admiration, has started to imitate their mannerisms, the language and even the dress code. "Till the late 1970s, he wore modern  attire. But in 1974, after his visit to Kollur Mookambika temple, he completely changed. When he placed his foot on the steps of the temple, he felt some spiritual vibration. From then on, he gave up all the 'negative' things which he followed till then and considered them as 'enemies for music creation'. He got the rudraksha from Tiruvannamalai after knowing Sri Ramana Maharishi's life and work," Poncee recounted.
What the trip to Theni and the interactions there revealed is that there are numerous layers to the maestro, his thought and his music. It is next to impossible to distil them into neat compartments such as religion, caste and political affiliation.