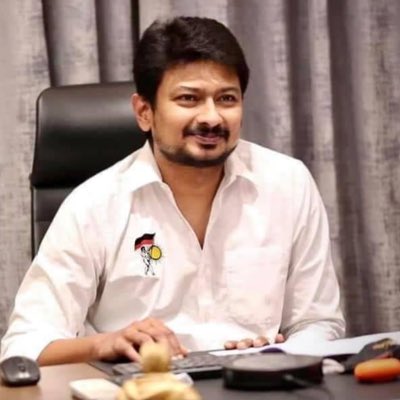 Udhay said he has been choosing 'serious' roles over comic ones in recent years | Pic: Twitter
Producer, distributor, actor and politician (in that order) Udhayanidhi Stalin is currently busy wrapping up his upcoming films, but the plan is to quit acting and focus more on politics. As an MLA in the Tamil Nadu Assembly, and the scion of the state's first political family — he is the son of TN Chief Minister MK Stalin and grandson of late DMK patriarch M Karunanidhi —  Udhay has his hands full.
The Federal caught up with Udhay ahead of his latest release, Kalaga Thalaivan, directed by Magizh Thirumeni.
'Missed doing Thadam'
"I was supposed to do Magizh Thirumeni's Thadam (the role was subsequently played by Arun Vijay). When I sent the script  to a production house, the budget of Magizh's script was compact but they preferred a high-budget commercial film," recalled Udhay. "Thanks to the massive success of my debut film Oru Kal Oru Kannadi, everyone wanted to produce light-hearted entertainers with me.
However, Manithan (remake of Jolly LLB) changed the trend. "I was bored doing the same genre of films repeatedly and decided to take up roles that challenged me," said Udhay. "Before the shoot of Kalaga Thalaivan, Magizh got a chance to work with a big hero. I was firm about my decision and asked him to complete my film before starting any other new movie," he added.
On dark films and comedies
When Udhay decided to try acting, he convinced his family, saying that he would only do dark and award-winning films. "My choice to foray into acting was Mysskin sir's Yuddham Sei but Shenmagamoorthi sir (co-producer of Udhay's Red Giant Movies) suggested a light-hearted commercial movie for my debut. That is how we started Oru Kal Oru Kannadi. It went on to become a massive hit and I was in the mood to quit cinema with a 100 per cent success rate that no other hero in the industry has," he said.
Also read: Kantara makers vs Thaikuddam Bridge: Kerala band to file another case
Later, plans changed. "I started doing comic scripts again and again. But as I said earlier, these days, I am acting in films that challenge me. For example, Boney Kapoor sir offered me the remake of Badhaai Ho but I preferred the Article 15 remake."
Udhay had reservations about the title Kalaga Thalaivan, which translates to 'Leader of Mischief'.  "I was initially not fine with the title, as it would send out wrong signals. Later, Magizh told me that it would suit the script as the lead character is a rebel in the film," said the actor-politician. He explained that the confusion arose because many people mistook  kalagam ('mischief') with kazhagam ('federation'; his party DMK stands for Dravida Munnetra Kazhagam).  
"Kalaga Thalaivan will be a Brand Magizh film with his violent action, crime, and engaging screenplay. Even I was surprised and shocked about pulling off such heavy action scenes," said Udhay.
Kollywood today, Stalin's favourites
Udhay feels that Tamil cinema is doing well compared to other film industries. "Every month, the industry scores at least one hit, and audiences are coming in large numbers, although everyone was sceptical about the theatre-going habit post-pandemic and the boom of OTT platforms," he told The Federal.
"They decide which film they would like to watch in theatres from the trailer. The perfect examples are Vikram, Ponniyin Selvan, and the recent small-budget film Love Today. The boom of OTT platforms is also helping producers with additional revenue. Another interesting point is that Tamil cinema is producing multiple genres of films these days and is not stuck with one formula," he observed. 
Another big film fan in the family is dad Stalin, shared Udhay. After a long day of work, films help him relax. "Sometimes, I recommend some films so that he can relax after hectic work. Recently, he liked Love Today. I was surprised because the film has many references to Instagram (which the older generation is not expected to be familiar with) but he enjoyed watching the film. He loved Kamal sir's Vikram and also Mani Ratnam's Ponniyin Selvan."
Also read: Vikram effect: Kamal Haasan open to work with new-age directors
The Tamil film industry has been seeking redress for a tax issue. The DMK government had earlier implemented a 30 per cent exemption for Tamil films with Tamil titles but later, the AIADMK had tweaked it a bit by exempting tax for films with 'Tamil culture'. Now, local body entertainment tax is not exempted for any Tamil film. 
"Representatives from the Tamil film industry have given a request to our Chief Minister. Very soon, a formal decision will be made in this regard," said Udhay.
On quitting cinema
While several actors are looking to enter politics, Udhay, who enjoys popularity both in films and politics, wants to give up his acting career. "If the shoot is in Chennai, I can at least concentrate on my constituency (Chepauk-Triplicane). When I'm shooting elsewhere — for example, when I was shooting for Mari Selvaraj's Maamannan in Salem —  I felt like I was not doing justice to my people. Besides being an MLA, I am the DMK youth wing secretary. I have more work to do and the Lok Sabha elections are also coming up. I have to be with my party and dad at this time, so acting will have to take a backseat. 
"Maamannan was supposed to be my last film but since Kamal sir insisted, I am doing one more film for his production house. That would be my final film as an actor."
However, Udhay's Red Giant Movies will continue producing and distributing films because he has a dedicated team.  "We are producing Kamal sir's next with Mani Ratnam. Red Giant will also be producing my wife Kiruthiga's next and also Paper Rocket 2 for theatres," he added.
Well-kept secret of Kamal-Mani Ratnam film
No one in the industry smelled the reunion of Kamal Haasan and Mani Ratnam. "Only five to six days before the announcement, Kamal sir called me and asked whether I would be comfortable joining hands with him for his film with Mani Ratnam. My only question was whether it would be a political film; he said no and I agreed. I did not expect Kamal sir to ask me to produce his film, so I took it up. Everyone including director H Vinoth (also doing a film with Kamal Haasan) thought that the big announcement that day would be about his film but Kamal sir asked me to maintain the secrecy (on joining hands with Mani Rathnam)."
Kamal Haasan and director Shankar's Indian 2 — which Red Giant is producing with  Lyca Productions —  is also shaping up well but they haven't locked the release date yet, added Udhay.
Stalin, a chill dad but strict CM
Stalin as a dad is very chilled out and gives his family members a lot of freedom, said Udhay. ""As a Chief Minister and the president of DMK, he is very strict. During the recent rains, he called me at 7 am and urged me to visit my constituency. He made sure to call all the MLAs to enquire about water stagnation. Thankfully, as we had all done our work before the monsoon, there was not much water stagnation in many places. We immediately drained out the water from low-lying areas," explained Udhay.
Also read: 'Black Panther: Wakanda Forever' review: Heartfelt ode to a Marvel hero
In his penultimate film Maamannan, Udhay is not playing the titular role. "Vadivelu sir, who is playing my dad in the film, is Maamannan (emperor). It will be my best work to date because Maari Selvaraj sir has extracted the best out of me. It took some days to get in sync with his style of work; he also went for multiple retakes. Maamannan has a trace of politics. Even my last film with Raaj Kamal Film International (Kamal's production house) has a political shade to it," he signed off.