A new Tamil film, Oru Pakka Kathai (one side of the story) landed on an OTT platform last week. The film has an offbeat plot — what happens to a young, middle-class girl when she gets pregnant without being with a man? It is not such an outrageous premise apparently as fatherless pregnancies, or what is known as 'virgin births', are common in Nature.
This has been reported a few years ago in scientific journals, along with the case of a lone female shark in an aquarium, which had inexplicably got pregnant.
Also read: Netflix donates ₹7.5 crore for daily wage entertainment workers in India
This shark story in the news had piqued the interest of Chennai director-writer Balaji Tharaneetharan, who loves unusual plots. His first film, the well-received Naaduvala Konja Pakkatha Kaanom (NKPK) was about a young man (played by a raw Vijay Sethupathi) who loses his memory a day before his wedding; while in his Seethakaathi, a dead veteran stage actor ingeniously continues to act and live on, with his soul inhabiting his former co-actors. His movies are not your regular revenge or horror Tamil film drama.
In the strange times we live in, Tharaneetharan's off-the-wall theme around a virgin birth does not strike you as being odd. And, his trademark style of telling a story — which may seem painstakingly drawn-out in places — is peppered with delightful moments.
He is clearly a master at capturing a middle-class household milieu and crafting comic scenes from simple situations. In his latest outing Oru Pakka Kathai', Tharaneetharan shows that he is adept at handling children, too — and comes up with an entertaining comedy track steered by two school kids. One of them believes he is an avatar of god and conveys this closely-guarded secret to his school friend, who is suitably wonder-struck at this divine miracle!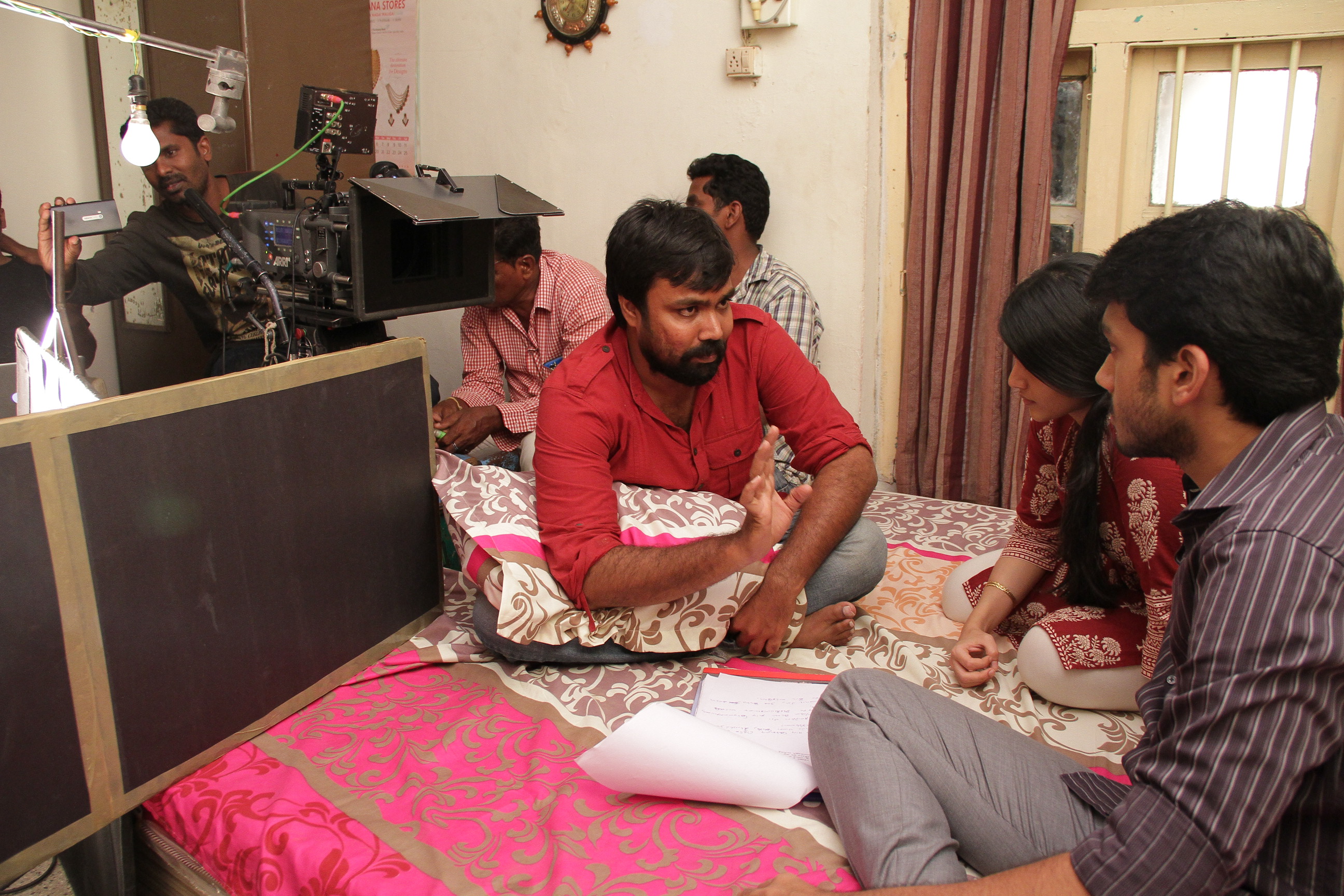 In an interview with The Federal, Tharaneetharan admits he is most comfortable directing children. "I find it is easy to work with kids. Though, the core of Oru Pakka Kathai's story is about virgin birth and avataram (incarnation of God), I introduced this parallel track. This track, in fact, stems from my own childhood — I remember watching the Ramayan serial on TV and for a long time, I used to childishly imagine that I could be an avataram," says the director, with a dash of impishness.
Also read: Dhanush — How the boy-next-door became 'The Gray Man'
It is this natural flair for feistiness which pops up in all his films. The characters in his films are also clean, fair-minded people firmly rooted to the ground. In Oru Pakka Kathai, the boy (Kalidas Jayaram) never questions the fidelity of his girlfriend (Megha Akash) who miraculously becomes pregnant. There are no such discordant notes at all. However, Oru Pakka Kathai falters in the second half, as it wades into the realm of superstition and blind faith, which may end up costing a child's life. It plods on at a ponderous pace, as the characters, too, do not react to the turns and twists in the plot in any significant way.
Tharaneetharan admits that he could have handled the second half better. But, when asked if the film carries a message, he replies, "There is bound to be confusion when you introduce a topic like virgin birth. But, I was just trying to capture what would happen to a middle-class girl in love in such a situation," he explains. In the film, a religious mutt takes away the little girl from her doting parents staking their claim over her since they consider her to be a goddess.
Striving to side-step controversial issues, the director adds, "I am not trying to convey any message through my film. It is up to the audience to come up with a conclusion. However, there is a fine line between belief in god and superstition. Both are different things, but most of the time we approach situations with our belief systems. We need to rise above that and look at issues for what they are. I agree that we cannot force our beliefs on anyone as well. Frankly, there are no easy answers to all of this," he says.
Tharaneetharan, an alumnus from the MGR Madras Film Institute, however, is vocal about curbing the creative freedom of a filmmaker. "You cannot tell a filmmaker not to make a certain kind of film. The filmmaker should have his own sense of responsibility but you cannot stop anyone from making a film," he states firmly. OTT platforms have indeed come to the rescue of filmmakers, he agrees.
"OTT platforms have opened the doors wide for filmmakers to explore all kinds of themes, including sensitive subjects like honour killing. And, it is because of OTT platforms that a film like Oru Pakka Kathai, too, got life. The year has ended on a positive note for me," he says happily. Tamil cinema is in a good space today, asserts Tharaneetharan, who is a fan of Tamil directors such as Balu Mahendra and Bhagyaraj.
Also read: Tamil film industry settles contentious fee dispute, new releases soon
"Today, you can do any kind of cinema. Look at me, I was able to do the films I wanted. It is up to me now to take this forward," he says. His next project has nothing to do with the extraordinary or the bizarre. Instead, he hopes to bring to the fore the day-to-day dramas in the life of an ordinary man leading an ordinary life. Let's hope, he continues to keep the laughs coming!