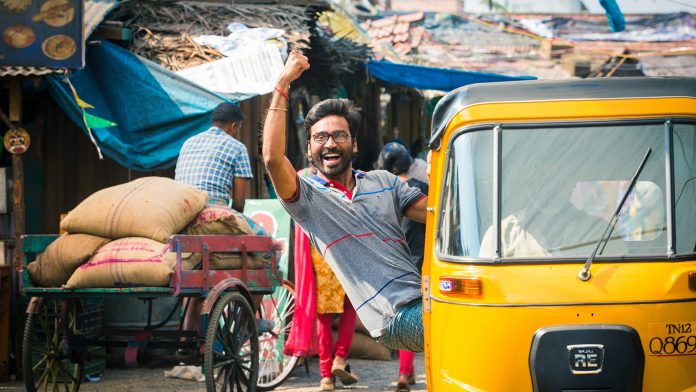 From being a boy-next-door to a world class artist — Dhanush has come a long way. His recent role in Netflix's The Gray Man has added one more feather to his cap.
In 2002, there he was — an army officer with thick moustache that didn't go with his face in the opening scene of Thulluvadho Ilamai. The audience laughed and booed because of his lean physique bereft of an added value in his visage such as a pair of powerful eyes, or, the least of all, a unique hairstyle.
The character Mahesh in that film did all the things that a student in the school final does. He smoked, drank and had eyes looking for the opposite sex. He even walked half-naked.
Though the audience pooh-poohed his acting, the film directed by his father Kasthuri Raja was a commercial hit since the script faithfully reproduced the feelings — likes, dislikes and confusions — of an adolescent student.
"I was 16 then. All I wanted was freedom. But my family pushed me into films. I thought I could go back to my world after this film," says Dhanush in an interview.
A male sex bomb
Fate led him to other choices. He got a lead role in Kadhal Kondein directed by his elder brother Selvaraghavan. Dhanush did justice to his character Vinod, who was a mentally disturbed youth. The acting and dance sequences helped him to stand out as an actor. The same year he came out with Thiruda Thirudi, in which he became an eponymous of the song Manmadha Rasa. These back-to-back hits made producers believe that he could be a minimum guarantee hero.
Then there were repeated flops. At one time he was being called as a 'male sex bomb', since the films he acted until then contained scenes which were equal to any B-grade movie. Possibly it was because of his age that he was continuously given the roles of a stalker.
In 2006, his acting prowess was again brought to the fore by Selvaraghavan through Pudupettai. Dhanush acted as a gangster and his performance as Kokki' Kumar has became a cult character. The film Polladhavan (2007), where he joined with filmmaker Vetri Maran for the first time, gave him a star appeal. The six-pack physique that he displayed in the climax fight scene led his fans to call him 'Indian Bruce Lee'. The 2008 Yaaradi Nee Mohini took him to the family audience for the first time.
It was then that the magic started to happen. One of his dialogues from Padikkadhavan (2009) came true: 'Ennai mathiri pasangalai partha udaney pidikkathu. Parkka parkka thaan pidikkum' (you won't like boys like me at first sight. But you will start liking me only after repeated sights).
In the 17 films he acted in the last decade, he did most of the talking. But the opportunity to show his real stuff through body language came only in this decade.
An award winner
In Aadukalam, Dhanush joined hands with Vetri Maran for a second time. It was sent to the National Film Awards in 2010 immediately after the certification. It fetched six awards, including the Best Actor award, for Dhanush. The movie was officially released in theatres in 2011. In a way, the actor literally started collecting credits from this film.
Dhanush underplayed in the song Otha Sollala known for using exact Madurai slangs. It then became a wont — whenever Dhanush would act in a Vetri Maran film, he'd go into an underplay mode, carrying the entire film on his shoulders while talking less.
For example, the way Dhanush squats on the ground holding a rooster in his right hand makes the audience to believe that he could be a regular contestant in rooster fight competitions. This kind of "body acting" continued in Vetri Maran's other ventures such as Vada Chennai (2018) and Asuran (2019).
In Vada Chennai, his gait after a meeting with Samuthirakani and his gang in a public hall doesn't elicit emotions associated with a masochist hero walking with raised shoulders and running his fingers through the hair for nothing with a face filled with anger. On the contrary, he walks with a calm face. In Asuran, most of his scenes showed him with a half-bent head, as if he was passing his helplessness to the audience.
All the four films in which they came together were super hits. Vetri Maran has been able to bring out the best in Dhanush because of the 'bromance' they share. "He tolerated me. I tolerate him. We both share a good understanding. He is a like a brother figure to me. He always stood by my side in difficult times," Dhanush had said.
While in the past decade, most of his characters came from a middle-class background, the characters he did this decade came mostly from subaltern groups like fishermen, Dalits, etc. The film Maryan (2013), where he donned the role of a migrant labourer, could be one of the films he can be proud of.
In 2019, we saw a more stylish actor in Enai Nokki Paayum Thota, a very different from his usual disheveled looks, costumes and even the smile.
In this decade, he also stepped into Bollywood with Raanjhanaa (2013) and Shamitabh (2015). His third film in Hindi, Atrangi Re is in post-production.
An actor turned 'filmprenuer'
Between 2011 and 2020, Dhanush started venturing into other aspects of cinema. He wrote songs and sang them. He produced films. He even went on to direct a film.
His Kolaveri number for the film 3 (2012) garnered worldwide attention. That made him  write songs under the credit 'poet' Dhanush instead of the traditional tag of 'lyricist'. His songs in Ethir Neechal (2013, Boomi Enna Suthuthey), his 25th film Velai Illa Pattadhari (2014, all songs) and in his directorial debut Pa Paandi (2017, Venpani Malare) were well-received for their earthy words. Recently, his song Rowdy Baby in Maari-2 (2018) crossed 1 billion views on YouTube, the first-of-its-kind achievement by a south Indian film song.
Through his production house 'Wunderbar Films', he has produced 18 films, of which the notable ones are Kaaka Muttai (2015), Visaranai (2016) and the Rajinikanth-starrer Kaala (2018). While Kaaka Muttai won the National Award for Best Children's Film, Visaranai was an official entry into Oscars from the country. As a director, his debut movie Pa Paandi received positive reviews for portraying a matured love story.
In 2018, Dhanush shot into the international arena by playing a lead role in the English-French adventure drama The Extraordinary Journey of the Fakir.
In this decade, he acted in 23 films without including his cameo appearances, of which a dozen did commercially well at the box office.
However, he has always had to face the 'Oh… he is the son-in-law of Rajinikanth!' barb despite his success. To this, Dhanush had once said: "If I grow using his name or with his help, it is not a proud thing either for him or me. He likes to enjoy me playing in my own ground.
"We are from a small village of not even a hundred houses. In 1976, when I came to Chennai, I had no place to call my own. I didn't know anyone here. But, in 2020, we got a place in the United States. That's the message I sent to my son when I came to know his Netflix announcement. He replied by saying 'Om Namashivaya'. That's really a long way we have traveled. Opportunities came his way and he used them fully," said Kasthuri Raja, father of Dhanush and a filmmaker.
"Though I introduced Dhanush, it was his brother who brought out the best in him", said Raja, the director of Thulluvadho Ilamai and the producer of Kadhal Kondein.
"While stars like Sivaji Ganesan, Kamal Haasan or even Rajinikanth learned acting from drama companies and institutes, Dhanush got no such opportunity. He has natural talent," says film critic and film historian Ajayan Bala.
The lack of flesh in the face of Dhanush and his lean physique help him express characters sharper, says Bala.
Speaking about Dhanush being an entrepreneur, G Dhananjayan, producer and founder-dean, BOFTA Film Institute, said his films either as an actor or a producer have a 90 per cent success rate.
"As a producer, most of my films had a success rate of 60 per cent. But the films produced by Dhanush have 90 per cent success rate. How? It's because being an actor, he knows what can do well. That's an advantage for him," he said.
"He is not even 40 and Bollywood has accepted him, not because he comes from South in the tradition of Kamal or Rajini, but because of pure talent. He has good communication skills and that is the reason he is able to do eight films at a time. Though he doesn't know Hindi, he can communicate clearly what he needs or what he intends to do. That clarity earns him respect," he said.