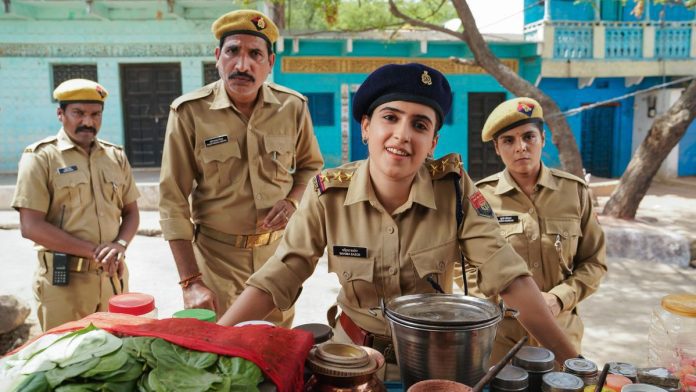 Let's begin by getting the obvious out of the way — Kathal: A Jackfruit Mystery, starring Sanya Malhotra, runs quite parallel to Dahaad, starring Sonakshi Sinha. Both play cops treated inferiorly because of their gender and caste (Basor and Meghwal), while inspecting the retrogressive borderlands of Bundelkhand and Rajasthan, respectively.
Even the crime they are investigating seem similar — where Dahaad's Anjali Bhaati/Meghwal probes a case of several missing women, and a serial killer on the loose while working on a bogus love jihad case, Mahima Basor comes across a series of missing women when investigating the theft of two jackfruits from an MLA's house.
What sets these two shows apart in the most distinct manner, despite having similarities in plot, character arc, and overarching themes of gender, and caste, is their treatment and genre. While Dahaad is a true blue crime-thriller, Kathal comes in the form of a satire that uses humour to address some of the most significant subjects.
Also read: Dahaad review: A perfect antidote to toxic propaganda, unveils truths of our times
It's in the zone of Darlings, where a serious issue is spoken about through the medium of comedy. It's a tightrope to walk because a slight stumble here or there, and the film can easily come across tone-deaf and callous, but thankfully, Kathal manages (even if not as artfully as Darlings).
The wild goose-chase
Directed by Yashowardhan Mishra, Kathal utilizes the jackfruits simply as a MacGuffin to propel the plot forward, while also using it to highlight the flippant whims of politicians and how they take light away from far more consequential matters.
The wild goose-chase begins when MLA Munnalal Pateria (Vijay Raaz) wakes up to find that his 2 Malaysian breed jackfruits, 15kg each, have gone missing. It comes to the audience's notice that Pateria, using these jackfruits, was going to make a pickle that the Chief Minister of Uttar Pradesh found delicious while visiting his home in Moba, and thus he was promised a jar of it.
An amused and appalled officer, Mahima Basor (Sanya Malhotra), is tasked with finding these jackfruits, with her team that comprises constables Kunti (Neha Saraf), Mishra (Govind Pandey and Saurabh (Anant Vijay Joshi), who is also her lover whom she wishes to marry, but hasn't because the former's family is unhappy with her caste, as well as the fact that she is an inspector while their son is a constable.
Amidst this, there is also Anuj (Rajpal Yadav) from Moba News, who wishes to find sensational news from this incident, as he pries and pokes around, representing the press of the country, and its place in the sordid state of affairs.
An investigative satire, laced with dark humour
Thus begins the quest to find these kathals, which eventually unearths a much larger and menacing crime. The investigative satire is laced with dark humour, deadpan comedy, and intelligent punch lines that land well, if you have the sight to laugh at straight faces that say more than they speak.
Also read: Killers of the Flower Moon: Martin Scorsese's intimate tale of racial reckoning in America
Given the film's deliberate but nevertheless leisurely treatment, there is opportunity to truly soak in the nuances of a scene, because Kathal for most part, relies on the audience's ability to read between, behind, and beneath the lines, for such is the ironic grammar that Mishra opts for.
Kathal, through its cheeky dialogues, creates a marvelous commentary on several matters, but particularly about the converging territories of politics, police and the press. "We go by the IPC, Indian Political Code,' says the Superintendent of Police, while Anuj complains how journalism in this country is a 'thankless job' that gives neither money, nor peace, only respect. 'Arey izzat se ghar thodi chalta hain,' he quips quite relatably.
Sanya Malhotra reaffirms her reputation as an astounding actor in the way she nails her role of an Inspector who has climbed the ladder of success and risen in ranks, but is still seen subordinately because of her gender and caste.
For instance, when she visits the MLA's home to probe, the politician uncaringly asks her to keep her feet away from the carpet, or when she schools Saurabh for abusing a poor man, another constable sneers as to how 'crows are teaching swans civility,' alluding to how Saurabh is upper-caste while Mahima comes from a lower-caste.
Surface-level subversiveness
However, the film does much less when it comes to challenging these casteism than Dahaad, for instance, which provides a great monologue by Sinha, reclaiming her space as an officer, and even more so as a person. Kathal, unfortunately, is left with only eye rolls and awkward glances when it comes to questioning the status quo. A lot of the subversiveness is surface-level, with a disgruntled Mahima, merely scoffing or throwing off sarcasm here or there.
Also read: 'Air' review: Ben Affleck soars as a director in affecting Nike sports drama
All that said, it is Anant Vijay Joshi, who comes out shining from this satirical comedy. There is earnestness to the way his brings about the essence of a complex masculinity on-screen — a good man who is not robustly virile, chauvinistically casteist, but is still not good enough, for there is much learning and unlearning left to do as Mahima brings to his notice. Joshi's scenes with Malhotra are perhaps the most beautiful of the film, given the innocent spark that they lend to an otherwise sardonic and tongue-in-cheek film.
Vijay Raaz, sadly, is left with being only Vijay Raaz — his is a character you've seen him play one too many times irrespective of the film. It's a tired version of the same deadpan, disgusted negative character who is there only in the film to serve as the singular compilation of all things problematic.
Alas, Kathal is a fine watch, that is if you have the appetite for sly and silly humour that attempts to dive into discourses using the aid of comedy. There is an understated simplicity to Kathal that makes it easy on the eyes, therefore even if it's not one of the 50 best films to come out of this decade, or even year, it is a light-hearted comedy, with more meaning than froth.